Tyndall in a Day — Page 4
Shepherd Pass
Climbing through the night proves to be a challenge in and of itself—like traveling a hostile, unfamiliar landscape laced with unexpected dangers.
A rising wind has been blowing since Mahogany Flat, and the air is now bitter cold. I've moved my water bottle inside my pack to keep it from freezing solid. The snow beneath me is frozen as well, making the climb on skis to Anvil Camp a dicey gambit.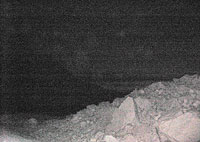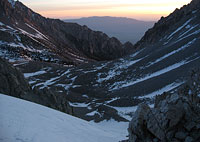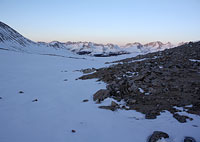 Always there is this pervasive sensory deprivation: my universe consists of the small circle of bluish light cast forward by my headlamp.
Nothing else exists.
At Anvil Camp I find a sheltered nook against a boulder, lay down a foam pad, and take a mini-nap to try to replenish my strength. That wind makes sure I don't doze for long. When my shivering gets too intense, I gear up and resume ascending.
Somewhere in the cirque below Shepherd Pass, the first dusky appearance of light at last makes its entrance.
After climbing so long in utter darkness, this dim glow along the eastern horizon is nothing less than magical.
I have timed my pace to arrive atop the pass at first light. Now, with my present elevation around 11,000 feet, I am optimistic I will exactly hit that target.
The sky continues to lighten, revealing somewhat less than ideal snow coverage. Between Anvil Camp and the base of the Shepherd Pass headwall, much of the cirque is now bare talus.
I am able to find and connect fingers of snow hidden within shallow gullies, but occasionally I must also pop out of my skis and scramble across uneven rocky patches.
The transitions are slow and tedious: snap out of bindings, scramble over rocks, toss skis down and snap back in.
Repeat.
Colors! Painted light touches granite walls. At the base of the Shepherd Pass headwall I switch to ice axe and crampons and begin working my way up frozen snow. An unarrested fall here would not be good. I make sure to keep crampon points secure to the snowy surface, belaying each step carefully with my axe. The wind continues to strengthen.
Wind makes everything harder and slower—and of course much, much colder.
Exactly nine hours after I left my car, I push up the last of the headwall and top the pass. Mount Tyndall at last springs to view, along with the Sierra's vast interior. The sun glows pink and violet across Tyndall's broad, trapezoidal north face. Like Clarence King before me, the sight of so much undiscovered country stirs my spirit. All the effort of the past nine hours has been gladly given to reach this point of vantage. Here, at last, it feels as if my adventure has truly begun.