Tyndall in a Day — Page 5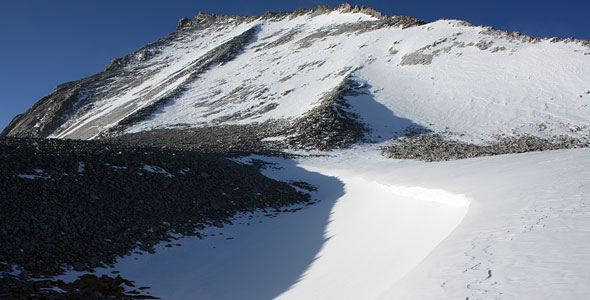 Climbing Mount Tyndall
Today's route of ascent up Mount Tyndall will be via the same path Clarence King took—the North Rib, an aptly-named bony feature that angles left to right.
Tyndall's impressive north face is comprised of a mixture of very loose talus and slick sheets of granite. In summer the combination of these two alternating traits can make for hazardous climbing. Today, there appears to be enough snow—just—to avoid such unpleasantries.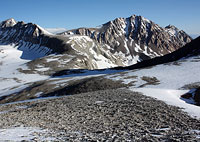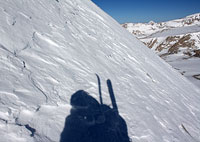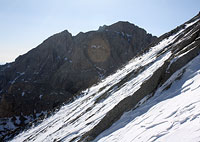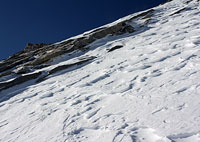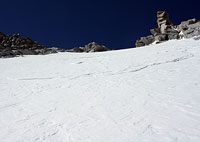 I plan to begin ascending a bit to the right of the north rib, hoping I'll be able to stay on skis and skins to save energy.
Already, the combination of altitude and effort has me gasping.
Also, as feared, the wind is now raging in great, angry gusts that momentarily force me to halt and hang on.
If that breeze doesn't quiet soon, I fear I'll be forced to abort my summit bid.
I've no desire to walk Tyndall's summit ridge while being blasted by gale force winds.
I get the sense that wind is a common feature here.
Much of the face has been simply scoured clean of snow. Where there is snow, it is sculpted and molded into dramatic shapes that will likely not make for great skiing.
The angle of the north face proves surprisingly steep—much more so than expected. I am forced to put my skis on my back and climb in crampons, though this means I'll be post-holing all the way up.
At least I get to enjoy spectacular views of the surrounding Sierra, including Mount Williamson just to the east.
The wind refuses to quit, sending immense, swirling clouds of spindrift up and down the face.
I close my eyes and wait till these blasts pass before continuing.
Mount Tyndall, I'm realizing, is one of those big mountains whose summit always seems just a little bit ahead. I've had the feeling I was just about to gain the summit ridge for well over an hour now.
Somewhere high upon the face, the snowy thread I've been climbing gives out, feeding me into a slabby section. This affords me the opportunity to scrabble up smooth Sierra granite in my aluminum crampons—no fun at all. The exposure below suddenly looks quite a lot more alarming.
I work diligently to find cracks and grooves in the rock for secure purchase. And I'm very glad when I return once again to the relative security of snow.
The summit ridge is now within my grasp. Wonderfully, the wind is starting to quiet, and the air even feels a tad warmer. I boost my estimation of my summit chances to 50-50, wanting to stay on the conservative side. But it's starting to look like I might actually pull this one off.