Tyndall in a Day — Page 6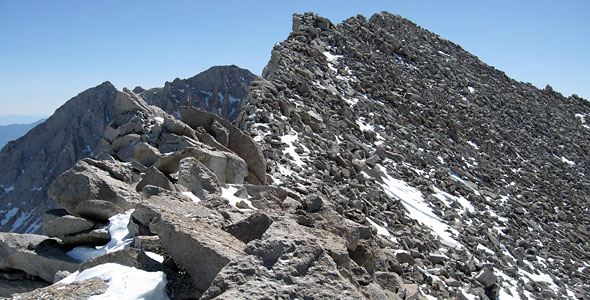 Summit Ridge
At 9:30 a.m., twelve hours after I started, I crest Mount Tyndall's summit ridge. Contrary to expectation, I find not an easy Class 2 hike to the summit but rather a steep dropoff.
With a sinking feeling, I realize I've upheld a time-honored fourteener tradition here at sierradescents: I've climbed the wrong chute. While traversing through the slabs I inadvertently veered too far west. Now, instead of having an easy walk to the top, I'm facing a difficult scramble along a steep and broken ridge line.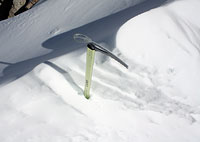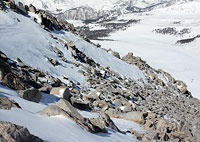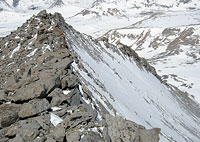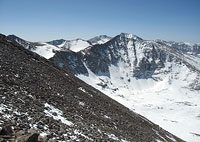 My running summit odds suddenly plummet.
I make a game effort to scramble up the knife-edge ridge, leaving skis behind atop the snow chute, but after fifteen minutes or so, I come to realize I'm much too far west.
Scrambling in ski boots across the rough talus is simply too taxing. The decision to turn back is sealed when I reach an icy, exposed section.
Well, I think, there's no shame in it. I've given my best.
Twelve plus hours in now, I've got to start thinking about conserving enough energy to make it back home safely.
It hurts to come this close and get thwarted by getting lost, but as I said, I've done it before. I'm sure I'll do it again.
I'm just about to give up and turn back when a terrible thought occurs to me: if I stop now, I'm going to have to come all the way back up here to do it again.
Oh no, no, no—that's not going to happen!
The idea of repeating this hike-through-the-night madness is more than enough to motivate me to reconsider quitting.
I return to my skis, and instead of putting them on my feet, I put them on my back and downclimb back to Tyndall's north face. Back on snow, I start traversing east across the face, eyeing the summit ridge just above, trying to decide where Tyndall's true summit is. I'm exhausted, yes, but I've got a rallying cry now—not again!—and it's pushing me to keep going.
Perhaps a hundred yards to the east, I see another snowy chute leading upward. Do I dare give it a try? I know if I pick the wrong chute again, I'm going to have to turn back for good. I can't keep this up forever. What are the odds now, I wonder? Blast it, but I'd love to summit this magnificent bastard of a mountain...