Tyndall in a Day — Page 7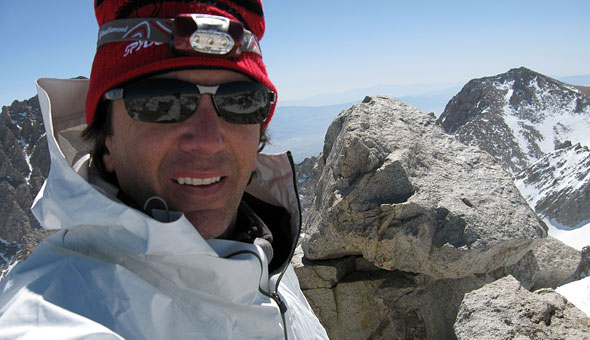 Apex
The apex of the second chute leads to an inviting section of ridge leading gently upward to the east—this, I realize at once, is the expected Class 2 route to the summit.
A few minutes of easy scrambling gets me to an odd, loose-looking boulder perched alarmingly atop Tyndall's incomparable east face. It's 10:30 a.m. I've made it. I've reached Tyndall's summit. Despite my exhaustion, elation surges through me. Odds of success have just hit 100%.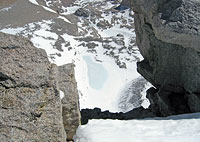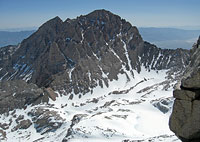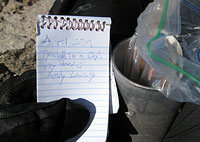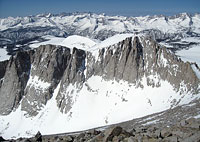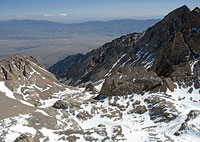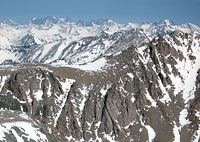 My mind tries to process the magnificent views in all directions.
I've greatly underestimated Tyndall's beauty, I realize. This small, exposed summit electrifies my senses.
Cautiously, I peek eastward around Tyndall's summit block.
The view makes my hair stand up. Williamson bowl sits some 2000 vertical feet down—straight down, apparently.
I decide to give that edge a wide berth.
A glint of metal hiding between two blocks of granite proves to be the summit register.
I don't always feel compelled to sign my name, but today I'm bursting with a sense of accomplishment.
Truth is, I didn't really think I could pull this off—especially not after last weekend, when the Shepherd Pass approach tossed me off the hill with a not-so-gentle shrug.
I know, I know, I love to give speeches about the power of positive thinking, but I'm a realist also, especially in the mountains.
Crazy ideas like extreme Tyndall Death Marches may pop into my head, and maybe every now and then I even try them, but I've crashed up against my own limits often enough to know that success is never guaranteed.
That's part of what makes this one feel so sweet. It all just seems so...unlikely.
Easy there...We'd better not start celebrating too soon. There's a whole lot of work still to be done.
This monster-big day doesn't end until I'm safely home, sipping tea on my sofa.
Scratch that—I want a Pacifico. And food. Lots of food. It's time, I realize, to head back down. I take a last lingering gaze at the 360° panorama surrounding me. It's official. Tyndall has just become one of my very most favorite summits. I love looking at Mount Williamson, that sadistic granddaddy beast just to the west of us.
I love the way I can see the immense interior of the Sierra, stretching westward to the horizon, as if the Pacific didn't exist, as if there were only snowy peaks all the way to infinity. Looking south, there is Whitney, and Mount Russell. Not so much snow on the north faces this year. And what a teasing glimpse there is of Mount Williamson's north face and the Williamson Drainage, leading off to Owens Valley!
I try to catch photographs of it all, gasping in the high mountain air, though of course the images will hardly show what the reality is like. And then, as if some imaginary timer had just gone off, I check to make sure I haven't left anything behind, and I start moving back down the summit ridge, heading back toward my waiting skis.