Tyndall in a Day — Page 8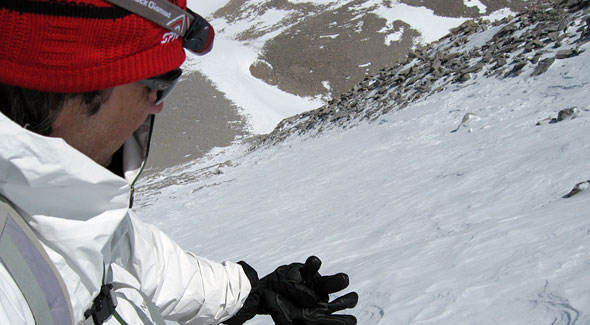 Skiing a Fourteener
The difference between a backcountry skier and a ski mountaineer, in my opinion, is that backcountry skiers go to the mountains to find great skiing.
Ski Mountaineers go because they want to ski great mountains. This is a good distinction to keep in mind if you ever find yourself interested in skiing a fourteen thousand foot peak. Skiing on these big peaks often consists of finding ways to cope with extremely challenging snow—though on rare days, you might just find a great mountain and great skiing.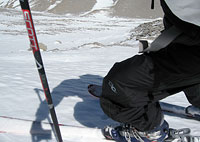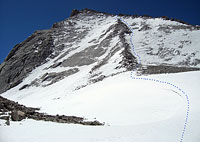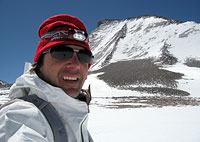 Today's conditions tilt more toward the challenging side of the equation: wind-affected snow, icy patches, streaks of bare talus to navigate around.
I snap into my skis on the edge of the summit ridge, looking down the steep chute of snow I ascended.
The first turns are good.
Heck, they're terrific—smooth, easy snow at a surprisingly steep angle, a view that sweeps down two thousand vertical feet to Williamson Bowl below.
My legs and lungs aren't going to make this easy, but the sheer joy of the 14K experience keeps me grinning regardless of sleep deprivation and fatigue.
I know it's not supposed to feel any different, but it does. There's something especially fine about skiing a fourteener, though that number be arbitrary and even meaningless in the metric system.
Below the chute I traverse westward to get to the skier's-left side of Tyndall's North Rib.
Here, the snow is rougher, more wind-affected powder and semi-hard slab. Challenging, but still doable.
Alongside the North Rib I find a narrow gully of snow that leads me all the way back down to Tyndall Plateau. I stop to take a photo of my route, then add one of myself with Tyndall beyond for posterity. For those who are not skiers, it's hard to express how rapidly it's possible to travel a snow-covered mountain. I've probably covered the entire distance from summit ridge to base in less than fifteen minutes—and even that qualifies as poky.
It's also hard to express how extraordinarily intimate the experience of skiing a mountain is. Laying skis upon snow affords us a feel of a mountain's shapes and curves unlike anything a foot-bound mountaineer can ever know. I know powder skiing is supposed to represent the ultimate apex of our sport, but in my mind a day like this can't be topped: carving elegant turns down an austere giant of a mountain, warm wind in my face, skis singing like angels on gleaming spring snow.