Tyndall in a Day — Page 9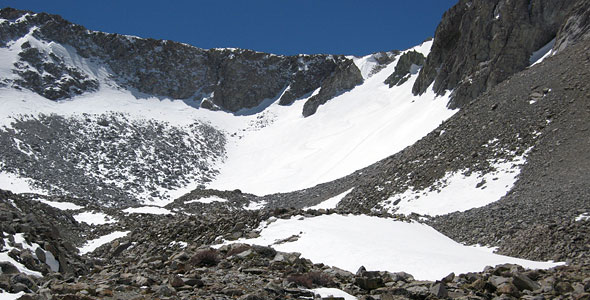 Skiing the Cirque
Getting back to Shepherd Pass forces me to hike a hundred yards or so across bare ground. Soon enough, though, I'm back on snow and skiing the Pass's headwall into the cirque.
In better years much if not all of this area would be covered in snow. This year, alas, much of it consists only of bare talus, forcing a little creative routefinding on my part.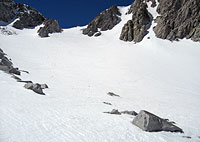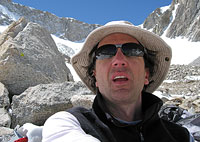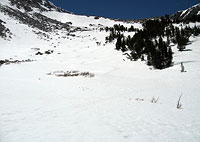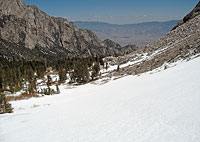 Thankfully, the headwall offers 500 vertical feet of terrific skiing on sun-kissed snow.
Now just shy of noon, the day has remained cold, allowing the sun to soften hard-frozen corn to a perfect consistency.
It's been a long time since I've seen such smooth, silky snow in the Sierra backcountry. This is an unexpected treat, and it is most welcome.
All too soon, of course, I've reached the bottom of the headwall, where the snow abruptly gives out.
A short hike will put me back on the network of snowy fingers that connect above Anvil Camp, but first I've got to stop and take a break.
I pull off my skis and flop against a chair-like rock, chest heaving, heart pounding.
The many hours of effort behind me are making themselves known in no uncertain terms.
I do my best to drink some flavored water, and I break out my emergency food: peanut M&M's.
It seems to help. After a short break, I'm scrambling across the talus, working those snow patches, scrambling again, then back on snow again for the last hurrah. I skirt the drainage's north aspect, finding good snow and great skiing toward Anvil Camp. The fun continues over the bench here, leading all the way down to Mahogany Flat.
A modest creek crossing leads me into a thick stand of hated Manzanita, which I tromp across with gusto, skis on my shoulder, looking to rejoin the Shepherd Pass trail. Once I find the trail, I veer toward a shady patch beneath a tree and collapse. There, I struggle to compose myself, sorting through my gear, beginning the final equipment change for the long walk home.