Tyndall in a Day
A 19-hour Push to Climb and Ski the North Rib
SHEPHERD PASS, CALIFORNIA — the plan was simple: climb and ski Mount Tyndall in a single day. There were good reasons to try it—and good reasons to run screaming for the exit.
But it is the lot of the occasionally ambitious ski mountaineer to want to do something interesting every now and then, so I drove to the Shepherd Pass trailhead and started climbing at midnight. Ten hours later I turned back, crushed by the scale of the effort. Now, exactly one week later, I am back to try it all over again.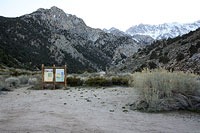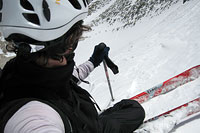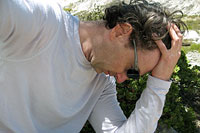 As a rule I am quite fond of creature comforts. I like to sit on my sofa; I like warm beds and down pillows, indoor plumbing, a cup of jasmine tea. I am not an ultramarathoner or a triathlete. I do not consider myself a hardman.
So how do I explain an episode like Tyndall in a Day?
Sometimes it's as if these ideas are beamed remotely into my head. Next thing you know, I'm soloing in the middle of the night, climbing up, up, up as if nothing else matters. Afterward I stand around a little lost, a lot sore, thinking well thank goodness that's over.
14,025' Mount Tyndall is easily California's most remote fourteen-thousand-foot peak. The shortest approach starts at a meager 6300' in Owens Valley, climbs a hard 3000 vertical feet to Symmes Saddle, whimsically drops and regains 500 vertical feet, then climbs the hard push to Shepherd Pass.
That puts you about a mile from the base of Tyndall. Figure roughly 24 miles round trip to the actual summit, with a combined vertical gain and loss just under 18,000 feet, and you've got about as tough a haul as you can find in the Sierra. The route is especially ill-suited to the needs of the skier. Much of the trail travels waterless south aspects, and much of these can be expected to be bare even in a big winter.
I have long wanted to get up Shepherd Pass with skis. Williamson Bowl accesses some of the Sierra's most formidable ski descents—if you can get to them. But as I contemplated ways to somehow ski the region, I found myself always rejecting this strategy or that as lacking feasibility. The sticky point was always the same: for a 140lb climber, the extra weight of overnight gear seemed untenable.
And then it came to me: why not forgo overnight gear altogether? To avoid carrying skis plus boots plus overnight gear up the abominably long Shepherd Pass Trail, I'd try to do the whole bastard in one continuous push, starting in the middle of the night. The proposition was madness—sure—but compared to all the alternatives, it looked the closest to sane.