Skiing Whitney's North Face — Page 4
The North Face
Up Iceberg Col Trevor and I go, and the big question is, what will we see on the other side? The plan is to traverse around the base of Whitney's north face until we see a skiable line to the summit.
But when we do gain the col, and look southward, what we see is mostly just one unbroken wall of sheer granite slabs and massive cliffs. I feel a twinge of guilt as I realize I may have downplayed the technicalities of this adventure a bit when I was selling it to my partner.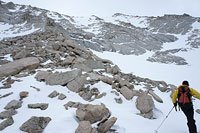 A word about the cliff: this is the same rock that sits beneath the notorious north chute. Currently Trevor and I are below it, rather than high above, where I and my friends were so terrified on our long-ago Whitney climb.
You might wonder what happens when you have a cliff that big sitting beneath an icy traverse on one of the most popular mountaineering routes in the country.
The answer is: fewer accidents than you'd expect. Perhaps mountain climbing in general isn't as dangerous as we think, or perhaps (more likely) people are a whole lot luckier.*
Trying to muster a bit of optimism, Trevor and I begin traversing around the massive base of Whitney's north face, stopping occasionally to look up at the cliffs, hoping for some snow.
Snow eventually does appear about a mile ahead, in the form of a slender white ribbon that winds its way through an impressive network of slabs roughly in the center of Whitney's north face.
There's our highway.
Skis go on our backs and crampons go on our feet. We're right around 13,000 feet now, fifteen hundred vertical feet to go, the day beginning to feel like a marathon.
It's 4 p.m. Shadows are starting to lengthen. Time to put some kick into the legs, suck some air, get this thing going.
Aside from some initial iciness below the start of the slabs, the snow quickly softens, offering us both secure climbing and the promise of good skiing.
The pitch here is steep—much more so than I was expecting.
As we get above the slabs, I soon realize how important it is that we've climbed this route from the base, rather than tried to find it from above. Looking down, all we can see is a steep snowfield feeding into what appears to be (and rightly so) a large cliff.
Wind sweeps the clouds away, revealing sparkling sunshine. Where on earth is that summit plateau? The climb seems to go on forever. I'm really starting to feel that thin air now, taking a big whooshing breath with each and every step. But the legs are strong and so is the spirit—we're in end-of-season form here, and there's no question we'll soon be atop the highest point in the continental U.S.
And that thought certainly puts a little more fire in my eyes. Because, today, we'll be standing on top of Whitney with our skis ready for action. A quest that has spanned over a decade and a half stands poised to come to an end...
*note: this should not be taken as an safety endorsement—over the years, there have been several fatalities in the vicinity of the notch