Mount Whitney - The Mountaineer's Route
Revisiting John Muir's Classic High Sierra Climb
MOUNT WHITNEY, CALIFORNIA — The Mountaineer's Route was my introduction to Sierra climbing, and it scared the hell out of me. At the time, I was an avid hiker with little to no rock climbing experience.
A group of friends had secured a permit to climb Mount Whitney, and they invited me to join their party. Rising 14,505 feet above sea level, Mount Whitney is the highest point in the contiguous United States, making the peak one of the most coveted summits in North America.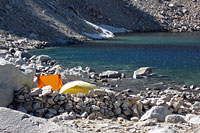 Most hikers test their stamina on the heavily-traveled Mount Whitney Trail. But our group had a different objective in mind: the Mountaineer's Route, a challenging scramble up Whitney's east couloir, first climbed by John Muir in 1873.
Our guidebook assured us the Mountaineer's Route was no more than a Class 3 scramble, which sounded easy enough. After battling gullies clogged with willows, merciless talus and scree, heavy packs, and altitude, we at last gained the 'Notch' atop Whitney's east couloir, elevation 14,000'+.
Here, instead of an easy traverse to the summit plateau, we found bare ice blocking our path. We talked about turning back, then made a dicey, unroped scramble up exposed rock along the left side of Whitney's North Face.
The experience was harrowing: one slip meant an uncontrolled slide down the icy chute toward a waiting 300-foot high cliff. When we finally gained the summit, it was with a sense of relief rather than triumph—and we still had to make our way back down.
That day made a lasting impression. Mount Whitney's Mountaineer's Route was big, spectacular, and, under the wrong conditions, absolutely treacherous. Hearing reports that Mount Whitney was essentially snow-free this spring, I decided to return to the Mountaineer's Route.
It had been a while since I'd climbed Whitney, and I was eager to return. After all, height is but one of many excellent reasons to climb California's highest peak. From the lowly deserts of Owens Valley to the Sierra's lofty summit, climbing Mount Whitney is a diverse journey through an unforgettable, constantly-changing landscape. To follow in John Muir's footsteps as you work your way up the Mountaineer's Route is to truly appreciate the magnitude of Muir's 1873 accomplishment.
And for my own benefit, I was particularly interested in revisiting Mount Whitney's North Face. I wanted to return to the Notch under better conditions to rewrite the terrifying memory I had of it. Without snow and ice, I doubted that section of the route would once again scare the daylights out of me. But then again, you never know...