The Grandest Hike on Earth
Rim to Rim Across Grand Canyon in a Day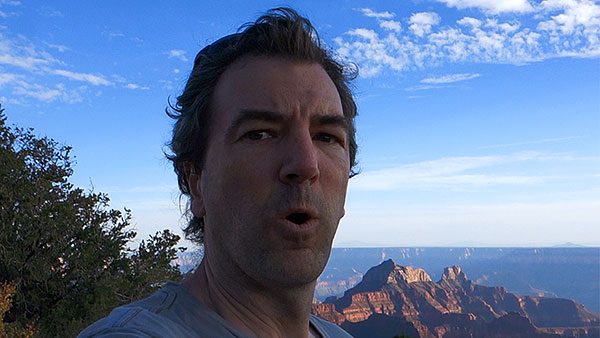 FLAGSTAFF, ARIZONA, 3:30 A.M. — The call comes in the middle of the night. In record-setting fashion, my brother has pushed this decision to literally the last minute.
If he says go, we'll hop in the car and drive to Grand Canyon Village for a grueling but no doubt extraordinary day hike across the Grand Canyon. If not—if his cold has flared up, or if he otherwise just isn't feeling it—I'll get back into bed and that will be that for this year's Canyon ambitions.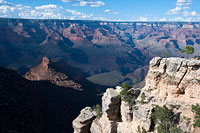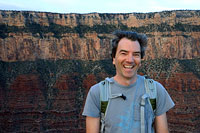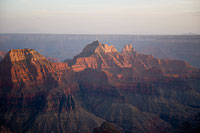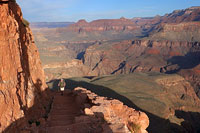 Truth be told, I'd be fine with staying home. I'm still recovering from an unexpectedly brutal training hike on Sedona's Wilson Mountain, still pulling cactus needles out of my fingers, still nursing sore muscles and blisters. It's cold outside. It's dark.
Sure, I know I'd be missing out on one of those once-in-a-lifetime wilderness opportunities, but this year has worn me out, honestly. Maybe I just want to go back to bed. Maybe I'm just getting too old for these kinds of things.
And then my phone beeps and the verdict is in: we're on, and I feel my enthusiasm perk up immediately. I don't get to spend a lot of time with my brother these days, hiking or not, and I don't get to spend a lot of time in Grand Canyon, either.
Maybe I've been kidding myself as to just how much I really want to do this hike.
Maybe I want this one more than any other hike I've done.
As an objective, hiking rim to rim across the Grand Canyon offers a rare convergence of the logical and the aesthetic. It's just plain obvious, standing at the Canyon's rim, that the proper thing to do is try to cross it. Indeed, that very question—how do I get across this damn thing?—was probably the very first thought that struck most of the Canyon's first visitors.
But whereas in the time of the pioneers and explorers there was no real choice but to go around, today we have the excellent corridor trails to utilize, offering not just a straightforward (if also strenuous) path, but a way to experience the Canyon, in all its glory, in perhaps the most singularly spectacular fashion. All you have to do is make it across!
I don't have a bucket list but if I did, hiking rim to rim across the Canyon would likely be at the top. It's a hike I've dreamed of doing for a long, long time. And, for no good reason, it's a hike I've never done. Or maybe there are reasons: logistics, effort, planning, training. No matter. It's all come together now, last minute colds notwithstanding. I grab my pack and my boots and I'm out the door into the darkness of a chilly October night.