Skiing Snow Creek
10K in a Day on Southern California's San Jacinto Peak
If there has been one singularly conspicuous omission in the SierraDescents repertoire, it is unquestionably a ski descent of San Jacinto Peak via Snow Creek. There are many fine peaks and routes to covet in California, but among ski mountaineers in the know, Snow Creek stands alone.
To those unfamiliar with the San Jacinto Mountains, their scale may well sound like a misprint. From the bottom of Coachella Valley, some two hundred feet below sea level, San Jacinto Peak rises over 11,000 feet to its 10,834-foot summit*, creating one of the largest spans of vertical relief in the lower U.S.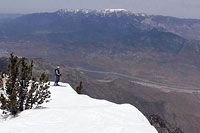 But it is the abruptness of San Jacinto's rise above the desert and nearby Palm Springs that is most arresting. The massif gains over 9000 vertical feet in less than four horizontal miles.
This close proximity of high alpine and low desert landscapes creates one of the most striking juxtapositions in North American geology—and the pathway connecting it is San Jacinto Peak's Snow Creek drainage.
Climbing Snow Creek, the massive 9600' net vertical gain from where you park in the desert to the summit above is itself a formidable challenge—but it is far from the only challenge.
The route has no established trail, and it passes through an often hellish combination of boulders, cliffs, and brush-choked gullies. The lower reaches can be insufferably hot any time of the year, making heat exhaustion a constant concern. Get off route, which is easily done, and you'll soon find your way blocked by impassible cliffs and plunging waterfalls.
Stay on route, and you must still contend with a mandatory class 4 or 5 pitch known as "the Chockstone." Above the chockstone you'll encounter giant piles of frozen avalanche debris, where collapsing snow bridges can pose a mortal threat. The upper vertical mile or so of the route is steep, often icy, and avalanche-prone, making for treacherous passage (in summer, the route is considered too dangerous to attempt).
Finally, as if all that weren't enough, the entire north face of Mount San Jacinto encompassing the Snow Creek drainage and beyond funnels into one lone bottleneck which provides essentially the only viable passageway up or down. That bottleneck happens to pass dead-center through one square mile of land owned by the Desert Water Agency, which provides water to the city of Palm Springs. And in a terribly cruel twist of fate for mountaineers, the DWA is adamant in its refusal to grant permission to anyone who wishes to cross their land.
*note: the latest NAVD88 elevation for San Jacinto Peak, adjusted for the position of the benchmark, is 10,842 feet. By the metric of Peak Prominence, SJP is ranked #6 in the lower 48 states and a remarkable #32 within the whole of North America.