The Hotlum-Wintun Ridge
California's Premier Backcountry Ski Descent
MOUNT SHASTA, CALIFORNIA — It feels like a dream. I am camped around 8000 feet, watching the sun drop behind Mount Shasta's Hotlum Ridge, casting giant rays of light that stream across the sky.
Hotlum-Wintun Ridge splits the divide between Shasta's Hotlum and Wintun Glaciers, offering 7000+ vertical feet of spectacular skiing right from the mountain's 14,132-foot summit. Unlike the popular—and crowded—Avalanche Gulch climbing route, you may well find yourself alone on Shasta's northern aspects, making this route a Soul Skier's paradise.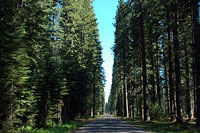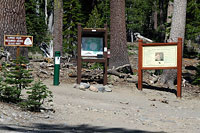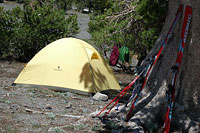 The Hotlum-Wintun Ridge is accessible once Military Pass Road opens, usually in mid-April. The road to the Brewer Creek trailhead, however, may not be fully open until June or even July, depending on how much snow fell during winter.
Driving 590 miles from Southern California to see Mount Shasta in person for the first time, I really had no idea what to expect. After the seemingly endless stretch of the Central Valley, I at last passed Redding and got my first real glimpse of Shasta.
To those who have not yet stood in person at the foot of this magnificent mountain, I will say only this: go now, and be awed like all the rest of us.
Collect your supplies in the village and the requisite Summit Pass from the Ranger Station in the tiny town of Mt. Shasta, and then make your way to the Brewer Creek Trailhead.
Here, you'll likely find almost supernaturally-easy access to Shasta's snowy north flank, which is broad, sparesely treed, and walk-about gentle. And, unlike those delightfully dry Southern Sierra approaches, you may well encounter snow right at the trailhead—assuming you haven't already been stopped by snowbanks even lower down the road.
Today, July 20, I find smooth snow perhaps fifteen minutes from the parking lot. My plan is to camp low and wake early, so I find myself in the unusual but welcome position of having an abundance of free time. I amuse myself for a while by melting snow. That done, I wander about the lower reaches of the Brewer Creek Drainage, taking pictures, scouting the mountain, enjoying the day.
When you drive nine hours to reach a mountain, weather is naturally a concern. I eye the sky warily, but it's sparkling-clear from horizon to horizon. Everything looks good. The weather looks good. The snow looks good. The Route looks good: massive, gleaming white above, a dramatic spine and a triangular spit of snow dividing two bona-fide glaciers.
I find a nice warm rock and lean back against it, gazing up at Shasta, basking in the mountain's incredible magnetism. Tomorrow, if all goes well, I will stand upon that summit and enjoy what must surely be an extraordinary panorama of sights. And then, as if that weren't incentive enough, I will snap into my skis on a warm July day and begin a 6000-vertical-foot ski descent.