Split Mountain
Skiing the North Face
SPLIT MOUNTAIN, CALIFORNIA — it is one of California's big mountains, colorful, complex, and consequential, and for ski mountaineers, it holds not one but several of the range's most coveted lines.
Split's south face is a backcountry skier's dream—if you can get there. Wrap around to the east, and you'll quickly encounter an astounding (or perhaps terrifying) abundance of ski extreme options. But it is Split's snowy north face that has caught my attention today.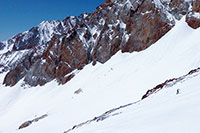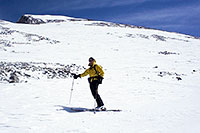 14,058-foot Split Mountain was initially known as South Palisade, a logical consequence of its proximity to the Palisade group to the north. But the name did not stick.
Though physically close to the Palisades, Split's geology is quite different—strikingly colorful granite below, ominously black sedimentary rock above. Known as a 'roof pendant', that dark capping layer not only makes Split beautiful, it also makes the terrain heavily fractured and unstable.
From Owens Valley, Split is a reclusive mountain, largely hidden from view by neighboring summits Birch, Cardinal, and Tinemaha.
Closer in, however, it is immediately obvious why South Palisade became the far more evocative 'Split' Mountain. A tremendous fault divides the massif through its very core, creating a uniquely beautiful and technical landscape, with twin summits north and south plus a pair of stunning and severe hidden couloirs, east and west.
Split Mountain is perhaps most famous for its east couloir, but it is only via the north face that one can expect to ski from the mountain's higher north summit without down-climbing—Split's north face is just a big, broad, moderate ramp. If you and your skis can get there, you'll enjoy easy skiing right off the top of a California fourteener. But first, of course, you have to get there.