North Palisade Via The U-Notch Couloir
Technical Alpinism in the Heart of the High Sierra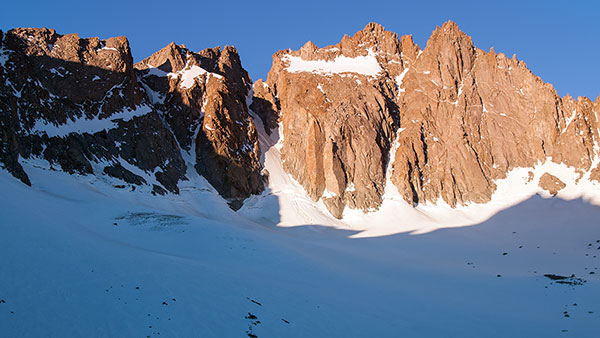 NORTH PALISADE, CALIFORNIA — I am standing outside the Country Kitchen in beautiful Big Pine, California when Neil Satterfield drives up in a dusty old Subaru and slides out to greet me.
Tall, tan, and fit, Neil looks exactly like you'd expect a mountain guide to look: rock-solid. Along with fellow guide and co-owner Howie Schwartz, Niel runs Sierra Mountain Guides, a Bishop-based company that guides climbers and skiers throughout the Sierra.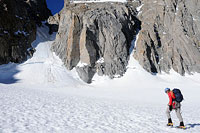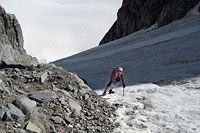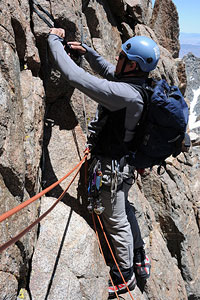 If your goal is to climb all of California's fourteeners, at some point you come to realize there is a break in the progression. It is possible, at first, to summit the easier peaks with little more than motivation, a map, and persistence.
Each time, you come away with a little more experience, allowing you to tackle the next summit on the list, and the next again. And then you come to North Palisade. Though it is not the highest peak in the range, North Pal may well be the symbolic apex of High Sierra mountaineering.
To reach North Palisade's 14,242-foot summit, you first cross a glacier, then a bona-fide bergschrund, then climb snow and ice in a 700' couloir, then tackle two pitches of Class 5 rock above.
While I'd acquired some confidence in my ability to scramble around Class 3 terrain in the Sierra, safely climbing and descending technical rock and ice was another realm altogether.
Without any roped climbing experience, it seemed foolhardy at the least to attempt something like North Palisade on my own. And so I began contemplating the possibility of climbing North Palisade with a guide.
I'd never tried a route with a guide before. To be sure, it seemed a little out of character for a dedicated soloist like myself.
But first and foremost I am a pragmatic climber, and if being stubborn meant staying home, I was willing to be flexible. I also knew there were potential benefits to be had. Working one-on-one with a trained professional would provide an outstanding opportunity to learn about roped climbing procedure and technique.
Call it an in-the-field clinic: I envisioned soaking up every possible bit of knowledge from my guide, learning the best, most current techniques on a wide range of subjects: setting protection, rappels, footwork, gear. There was also the issue of safety. If I was going to enter as risky a world as high-alpine rock climbing and mountaineering, I wanted all the odds in my favor.
I wanted to ensure, as much as possible, that I'd have a safe and positive experience, and that at the end of it I'd be coming home if not smiling at least in one piece. Time passed, and as I usual I got distracted by one project or another. Just as it began to seem as if I'd never find the right guide for my North Palisade objective, a funny thing happened: my guide found me instead.