Mount Whitney: The East Face
Vertical Dreams & A Little Fresh Air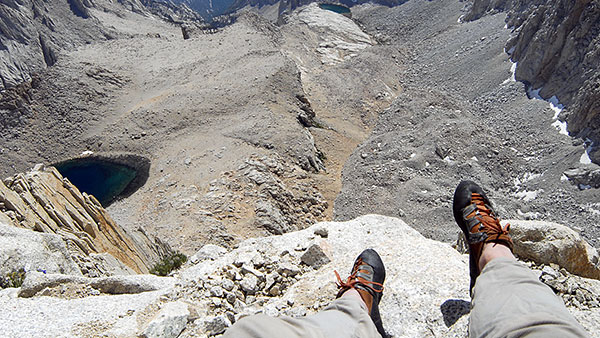 MOUNT WHITNEY, CALIFORNIA — When I close my eyes I see granite. Bone-white blocks of rock angle sharply beneath my feet, plunging downward just inches beyond the rubber toes of my climbing shoes.
I press my back against a wall of rock as if I could somehow dissolve myself into it. Everything feels like it's moving—the rock, the air, the fractured granite shelf beneath my feet—all conspiring together, pushing me out toward that incredible void...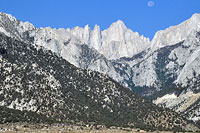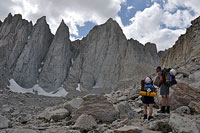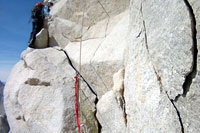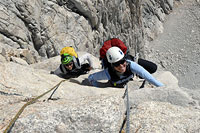 Like most of my schemes, my idea to climb Mount Whitney's east face was born of a curious blend of desire and improbability. Two friends and I had just climbed Whitney for the first time via the Mountaineer's Route.
As we sat breathless upon the summit, worrying about how we were going to get back down, two climbers suddenly materialized from the void to our east and scrambled up alongside us.
They came from the east.
That such a thing was even within the realm of the possible seemed to defy imagination. Just to creep toward the edge of Whitney's east face and look down required courage—if not madness.
Seen from the town of Lone Pine—the postcard view—Mount Whitney's east face appears as a grand and utterly sheer wall of granite, two thousand vertical feet high.
To climb a wall like that was in a league so far beyond my own realm of experience as to seem like a feat of magic.
At that time I did not in the least know anything about technical roped climbing. In fact, our own ascent of the Mountaineer's Route had well and truly terrified me.
Whitney's (allegedly) class 3 north chute had seemed close enough to dead vertical to me. There were moments when I'd just wanted to close my eyes and will myself back home. And yet, I was utterly captivated by the climbers' daring in tackling that immense wall of sheer rock to our east. What would it take, I wondered, to accomplish the same feat myself—to climb Mount Whitney's east face?
That question lodged itself firmly in my imagination over the following years. And time itself was part of the answer: I undertook an apprenticeship of years spent hiking and scrambling in the Sierra, slowly gaining experience and confidence in high country terrain.
This to me is one of the great joys of climbing mountains: you can set any goal for yourself that you choose, and if that vertical dream proves too lofty, you can always find something a little lower, a little closer, a little shorter. Collect enough of those easier routes, however, and a funny thing tends to happen—sometimes those loftier goals come back into range.