The Couloir to Nowhere
A Ski Descent of Iron Mountain's North Couloir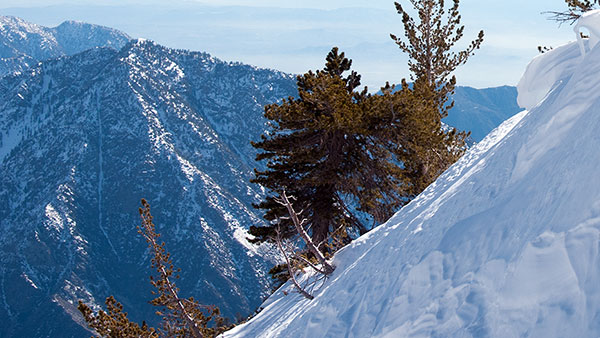 I FIRST SAW IT in January 2008. My friend Bill Henry and I were climbing Mount Baden-Powell for a modest day tour in Southern California's San Gabriel Mountains.
As we stood atop Baden-Powell and looked across the deep chasm to our south, we noticed a pencil-thin couloir shooting down an unknown peak several miles away. The line looked steep, remote, and desperate—maybe skiable, maybe not...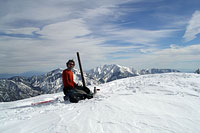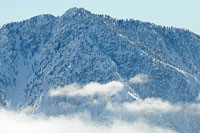 When I was a kid, my dad drove us to Colorado nearly every weekend for my brother's ski races.
I went along not to bash gates but to enjoy the skiing at those many fine Colorado resorts—a nice perk of having a FIS-ranked sibling.
I never thought much of it at the time, but today, as a father myself, I'm humbled by the effort my dad put in to get us to those ski races—and to encourage and support my brother's and my skiing.
We spent countless hours driving across the Navajo reservation, often arriving back home in Flagstaff past two or three a.m. Typically, my dad was due at work early that same morning.
The drive in either direction was always exhausting. Still, I remember clearly the excitement I felt each time we left home yet again, crossing Four Corners country and entering Colorado and the foothills of the Rocky Mountains.
I would press my face against the glass of our Ford Bronco and watch the mountains rise higher and higher above. And whenever I saw a particularly lofty or inspiring peak, I played a little game with myself: I looked for ways to ski it. I drew imaginary lines all over the mountains of Colorado and Southern Utah from the back seat of my dad's car, and I pictured myself skiing each and every one of them.
It is comforting, all these years later, to know that in many ways I am still that same kid with his face pressed against the glass. I still love to look at mountains. And I still—always—love to look for ways to ski them. The difference today is that instead of gazing at the summits of the Rockies, or the Wasatch, or Arizona's San Francisco Peaks, I find myself looking instead at the formidable granite faces of the great range to the West—the California Sierra, and the ever-surprising subranges encircling the Los Angeles Basin.
And perhaps the most significant difference of all is that when I see a mountain today, and I find myself looking for ways to ski it, connecting patches of snow from top to bottom, through forests and steeps and cliff bands, instead of just driving on and letting those lines of potential pass forever from memory, I get to stop now and then to take a closer look. And—sometimes—I even get to ski them.