Mount Shasta: Avalanche Gulch
7000 Vertical Feet of California Backcountry Skiing
MOUNT SHASTA, CALIFORNIA — Yes, Shasta is big and certainly it is beautiful. But there is something more about this mountain, something elusive, mysterious, difficult to quantify.
Whether or not you believe in vortexes and energy centers, Mount Shasta will inspire you. Hikers will find spectacular vistas. Climbers will find a rich palate of unforgettable Alpine routes, big, bold, and challenging. Pilgrims and Life-Force seekers will find a great spiritual center.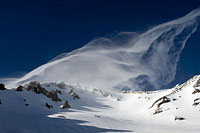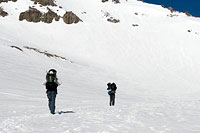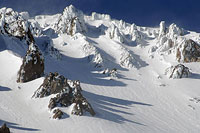 And backcountry skiers may blend all of the above at their leisure as they discover immense, sweeping lines that may well offer the best off-piste skiing of their lives.
Of Shasta's many climbs, Avalanche Gulch, also known as the Traditional or the John Muir Route, is by far the most traveled on the mountain.
The paved and plowed Everitt Memorial Highway takes hundreds of visitors daily to the Bunny Flat Trailhead, elevation 6929', from which many will strap on crampons and ice axe for the first time ever on their way—hopefully—to Shasta's lofty 14,162' summit.
As you might expect, the route can be extremely crowded. Some Backcountry Skiing guidebooks advise against skiing Avalanche Gulch, in favor of the mountain's north-facing lines, such as the Hotlum-Wintun Ridge. And for pure skiing, that is probably good advice.
Avalanche Gulch's southwestern aspects can be plagued with rotten, sun-cupped snow, especially as the season draws closer to summer. But to avoid Avalanche Gulch entirely is to miss one of the great North American climbs. And a 7200 vertical foot ski descent isn't a bad way to cap it all off—particularly when you're surrounded by poor souls who have to slog all the way down.
By any measure, Avalanche Gulch features a fine collection of interesting ski terrain, including the steep Trinity Chutes, the striking Casaval and Sergeant's Ridges, the Heart and the Red Banks, and countless variations between.
On your journey to the summit you'll pass numerous landmarks, including Horse Camp and the Sierra Club Hut, Lake Helen, Thumb Rock, and of the course the infamous Misery Hill. If that's not enough, the sheer prominence and majesty of Shasta (second highest mountain in the Cascades, but arguably the biggest) can overwhelm the senses, painting a smile upon your face that just might never go away.