Top of the World
Skiing Mount Whitney's North Face
MOUNT WHITNEY, CALIFORNIA — Whitney has eluded me. When I first tried to ski this mountain the defeat was so humbling and so absolute it was years before I dared return to the Sierra backcountry.
But, every winter, the thought remained on my mind. The allure of climbing Whitney is obvious. The allure of skiing Mount Whitney, perhaps not so obvious. Like many of the Sierra's big peaks, Whitney does not readily lend itself for ski descents, particularly if you want to ski from the summit.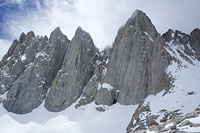 I first climbed Mount Whitney in my early 20's, right after moving 'temporarily' to California. A group of friends and I ascended the Mountaineer's Route, expecting an easy scramble.
At the infamous Notch, however, we found lingering winter snow hardened into ice blocking our expected easy traverse across Whitney's north face.
Having no ice gear but unwilling to turn back, we began scrambling unroped up the exposed rock along the left side of the so-called North Chute. It was by far the most intimidating climbing I'd ever done.
Beneath us lurked a massive cliff, waiting with infinite patience for the slightest mistake. Dizzy from the altitude, clinging to Whitney's high-angle rock, scared out of my wits, I crabbed my way upward, ever-conscious of the cliff below. You might expect, in that situation, a normal kid would be bargaining with deities for safe passage home. But no, somehow, in the midst of my terror, eyeing that ice-laden north chute, a very different thought occurred to me: I could ski this mountain...
My backcountry skiing experience to that point consisted of a few years of short but spirited touring on the slopes of my hometown volcano, the San Francisco Peaks, plus an opportunistic climb-and-ski of a striking but easy couloir adjacent La Parva, Chile, and a bit of eye-opening dabbling in Chamonix, France. So—perhaps I wasn't completely crazy to think I could ski Whitney.
Still...there was a vast gulf between my prior hiking, climbing, and skiing experience, and an undertaking of Whitney's magnitude. It is impossible for me now to look back at that moment on Whitney's north face and not be struck by how little I knew about skiing big mountains—and by how much that impulse would come to possess me.