Telluride Dining Guide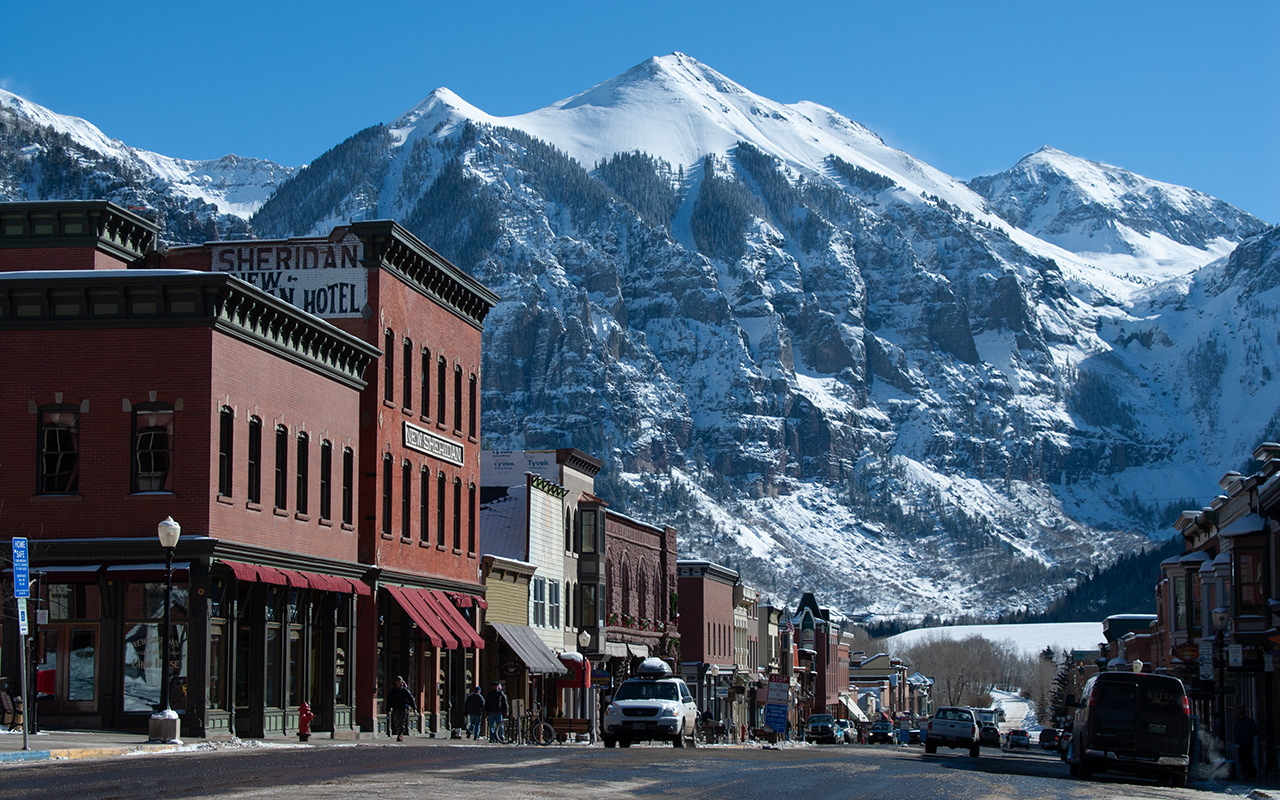 Okay, you've made it to Telluride in more or less one piece, you've settled into your condo, and if you're lucky, your luggage will arrive sometime tomorrow. Wondering where the heck to get something to eat?
Never fear: here's our first-ever, somewhat irreverent, certainly non-comprehensive, and hopefully not too libelous guide to fine dinning in the Town of Telluride, written from the snobby perspective of L.A. city dwellers whose restaurants are much, much better than yours (and less expensive too!)
A little more preamble—reservations are probably a good idea, if not required, just about anywhere and any day of the week in Telluride. Expect things to get crowded soon after 6 p.m. as hoards of hungry skiers descend from the mountain. And remember: one especially busy night night can turn any restaurant from a smooth-running machine into your worst nightmare, so avoid peak weekend hours if you can and be willing to give a place a second chance if it all goes to hell anyhow.
Alred's — 970.728.7474 — at the top of the Gondola
With an average table elevation of 10,551', Alred's offers unsuspecting Telluride diners an unparalleled opportunity to get whacked by altitude. Do it right: fly in from the city, take the Gondola up to Station San Sophio right away, and get a steak and a bottle of red wine. Retreat back to the city immediately with AMS and never return.
Did I forget to mention the view? Watching the sunset from Alred's might just be on those "life lists" of things to do before you die. As for the eats, Alred's has tried valiantly to get its food to match its stunning location—with mixed success. Don't let that stop you from visiting. Focus more on the view than the food, and get an in-law to pick up the check. Or just pop in at sunset for a drink, and head down the gondola afterward to find a meal.
Bluepoint Grill — 970.728.8862 — 123 South Oak Street
Formerly one of my parents' picks, Bluepoint is Telluride's seafood specialist, with fresh fish flown in four times a week from the coast. Okay, look, you're not going to impress us with your seafood: we are the coast. When we want a fish, we wade out into the pristine waters of Santa Monica Bay, grab whatever strikes our fancy with our bare hands, and put the rejects (two-headed fish, green spots, etc.) in a FedEx box marked "Telluride". Enjoy!
Now that we've gotten that out of the way, if I want seafood in Telluride, which I probably don't, Bluepoint is where I'd go. I give the place extra points for ambiance—they have a 'vibe'—and if memory serves me, their prices are actually a little more reasonable than par for the town, and there's a decent bar downstairs for the youngsters.
Cosmopolitan — 970.728.1292 — 300 W. San Juan Avenue
So, Cosmo, we meet again. Of all Telluride's restaurants, Cosmopolitan has the most legitimate claim of being nationally recognized since it's been...well, recognized nationally (I think by the Wine Spectator). Located conveniently in the historic Hotel Columbia, Cosmo offers perhaps the most reliably upscale dining experience, with sharp service, a pleasant ambiance, and an imaginative menu.
And yet...I've grown weary fighting with Cosmo's chefs over the definition of medium and medium-rare, and there are times when Cosmo seems to overreach to maintain its "innovative" tag.
This to be fair is an issue with many Telluride restaurants. They concoct excessive creations (ie, free-range Elk and brushed mango in a cherry-ginger-marmalade sauce braised with wild mint oil and butterscotch) in the mistaken belief that demanding patrons judge their meals by the raw quantity of absurd juxtapositions. There are times when you just want to go back to the kitchen and shout, "Chill out you Freaks!" Though of course I'd never do that.
New Sheridan Chop House — 970.728.9100 — 233 West Colorado Avenue
Unquestionably the site of some of my favorite steak dinners in Telluride and beyond, the Sheridan has over the years acquired an unfortunate reputation for inconsistency. "Is the Sheridan good this year?" we'd ask the locals, to which the answer was invariably, "Yes" "no" or "huh?".
If they're having a good year, the Sheridan absolutely makes my recommended eating list. If not, the problem is more likely to be one of missed expectations rather than a poor meal. This is a top restaurant, and anything less than four-star food is likely to sit funny in your craw.
La Marmotte — 970.728.6232 — 150 West San Juan
Yes, it's true, La Marmotte has overtaken the Chop House as my favorite place to eat in Telluride. Year after year, La Marmotte delivers the right mix of quirky French-but-not-too-French ambiance, attentive but not annoying service, and outstanding, unpretentious food. We've enjoyed so many good dinners here that I must strongly advise you stay away, at least when I'm in town, because I don't want the place to get too crowded.
When you've finished the last of your meal and the check arrives, La Marmotte delivers perhaps the ultimate in restaurant satisfaction: the feeling that every penny was well-spent. This is one of the few restaurants in Telluride where I don't find myself comparing food, service, and prices to Shutters' One Pico in Santa Monica.
Well, that's it for now. Time to do some skiing, I think. If I've listed a restaurant here, I'd visit again. These are the places on our short list. If you see a glaring omission, or have more to add, let me know. And remember: you can always hit the grocery store and cook your own world-class dinner, provided you were smart enough to get a full kitchen with your condo.
— February 24, 2008
Andy Lewicky is the author and creator of SierraDescents