Route 2 – Mt. Waterman Report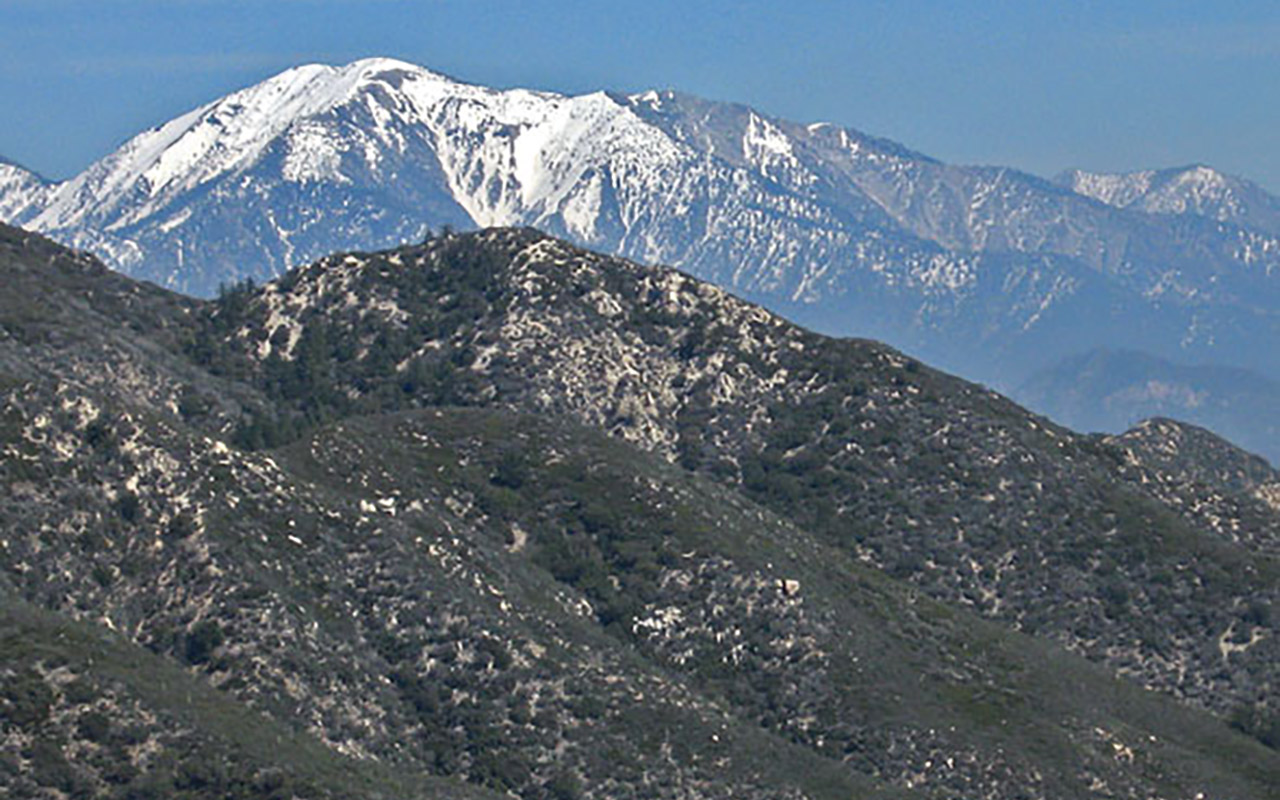 But is there snow? That was the question, so I packed up the skis and the boy and hit the road. Figuring I'd try to find snow a little closer to home, I drove up Route 2 from La Canada.
I'll tell you, things looked pretty bleak at first. When I passed the turnoff to Mt. Wilson, there wasn't a speck of snow as far as I could see. Thankfully, snow appeared a bit later, when I reached Mount Waterman (and the Mt. Waterman Ski Area - closed).
I parked the car around 6700', put the boy in the Ergo, and did a very modest tour up to the ridge crest around 7300' via some sort of decrepit rope tow path at the east end of Waterman (this, I've since learned, is the Buckhorn Ski Club—currently defunct. Or is it?).
Terrain for ski touring would be better straight up the peak from Route 2 a mile or so to the west, but I was looking for lower-angle fare today, seeing as I had a copilot.
At the crest, we played in the snow a bit, and I got to scout the surrounding area. Nearby Twin Peaks, which would be loosely accessible from the summit of Waterman, looked like it would make for a fine ski earlier in the season, when the south slopes of Waterman are covered. I'm always amazed by the steepness of the San Gabriel range, and its abundant (and technical) little summits. Put snow on these mountains, and there's always a treat to be had.
Conditions at Mt. Waterman ski area looked totally doable. For such a small ski area, the terrain looked diverse and quite lively. I'll have to give it a try sometime. Maybe the resort is still opening on weekends—I don't know. Really, the only downside here (compared to the farther drive to Mt. Baldy Ski) is the slow, windy road, which pushes travel time up a bit.
I also got a chance to scout Mount Baldy's north and west faces, which are easily snow-covered enough for skiing. Just be aware that either option requires you to summit first, then ski into no-man's-land, then hike back to the summit to get home. Lots of work. Still, that's probably where I'll be this Saturday.
Bottom line: north-facing aspects in the eastern San Gabriels are still in good shape above 7000', with a dense, 2-4' snowpack that shows no sign of going anywhere in the near future.
— March 20, 2008
Andy Lewicky is the author and creator of SierraDescents
Paul March 21, 2008 at 10:46 am
If you don't mind divulging such sensitive information, what peak is pictured in the photo? That couloir looks tempting.

-Paul
Andy March 21, 2008 at 12:08 pm
That is Mount San Antonio, aka Mt. Baldy, the highest peak in the San Gabriel range. The photo shows the west face/gully, which is a big, steep, technical line that unfortunately is often unskiable due to ice and/or poor coverage.