Rain, Hail, Lighting, Snow…Tornado?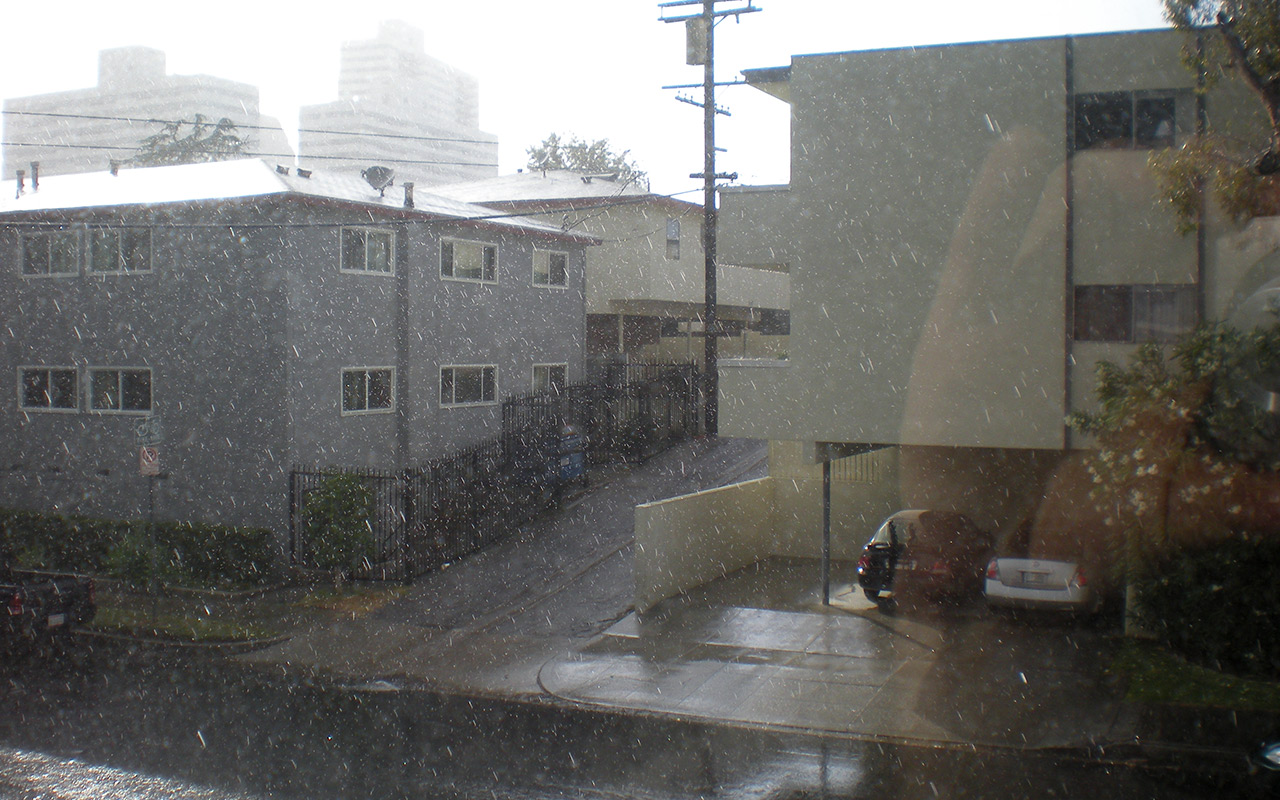 I was walking today around 5 p.m. on the way to the grocery when the sudden rumble of thunder stopped me. Hmm...I guess those black clouds on the horizon weren't fog, after all.
SoCal weather took a turn for the bizarre today, with the full gamut of weather phenomena. Here at the SierraDescents command center, we got heavy rain and lightning. For those unfamiliar with Southern California, rain this time of year is exceedingly rare, and thunder is rare year-round.
I was greatly relieved when I first moved here to get away from Arizona's Summer Monsoon, and the ubiquitous lightning storms that hit Flagstaff every summer (I came much too close for comfort to lightning strikes many times in Flagstaff, leading to my potent fear of lightning that persists to this day). Now, whenever there's lightning here, I always go on high alert. I figure the lightning still has an axe to grind. And getting zapped in Los Angeles would be like an especially unlikely reverse-lottery win.
I drove to the grocery.
On the radio, the news reports mentioned heavy rain and mudslides in Orange County, heavy snow in the local mountains, and a tornado in Paris, California (near Santa Clarita/Palmdale).
Tornado?
Yes, oddly enough, tornadoes do occur in Southern California. Despite the perpetually stable air mass over the L.A. basin, Los Angeles County is actually the 'tornado capital' of California. Additionally, I've actually heard that tornadoes occur here more frequently than anywhere else west of the Rocky Mountains. In any case, the L.A. basin's tornado frequency by square mile is reportedly on par with the Great Plains states—aka, Tornado Alley.
Lest this worrisome news send Angelenos moving to Texas and Oklahoma, we can take comfort in the knowledge that the overwhelming majority of LA tornadoes are so-called 'cold funnel' or weak tornadoes, ie F0 on the Fujita Scale, with little ability to do mischief save knock over the tree in your neighbor's yard.
There are of course some notable exceptions.
History records that Downtown Los Angeles was destroyed by an F-6 tornado in the film, The Day After Tomorrow. And I also recall once reading about a major tornado that hit downtown L.A. around the 1920's (though I can't find any info about that online).
Anyhow, soon after the rain began here at my apartment, the skies actually cleared (see photo). But the rain continued. Heavy rain, pouring down, from a cloudless sky. And it kept raining for nearly an hour. I take that as a sign that this storm is featuring a particularly volatile air mass. So, for all you folks to the east, hunker down. I'd expect a very nasty tornado cycle in the plains states over the next 24-48 hours, if not sooner.
— May 22, 2008
Andy Lewicky is the author and creator of SierraDescents
neha September 26, 2008 at 11:45 am
sexy lighting