Baldy Bowl – Hourglass Chute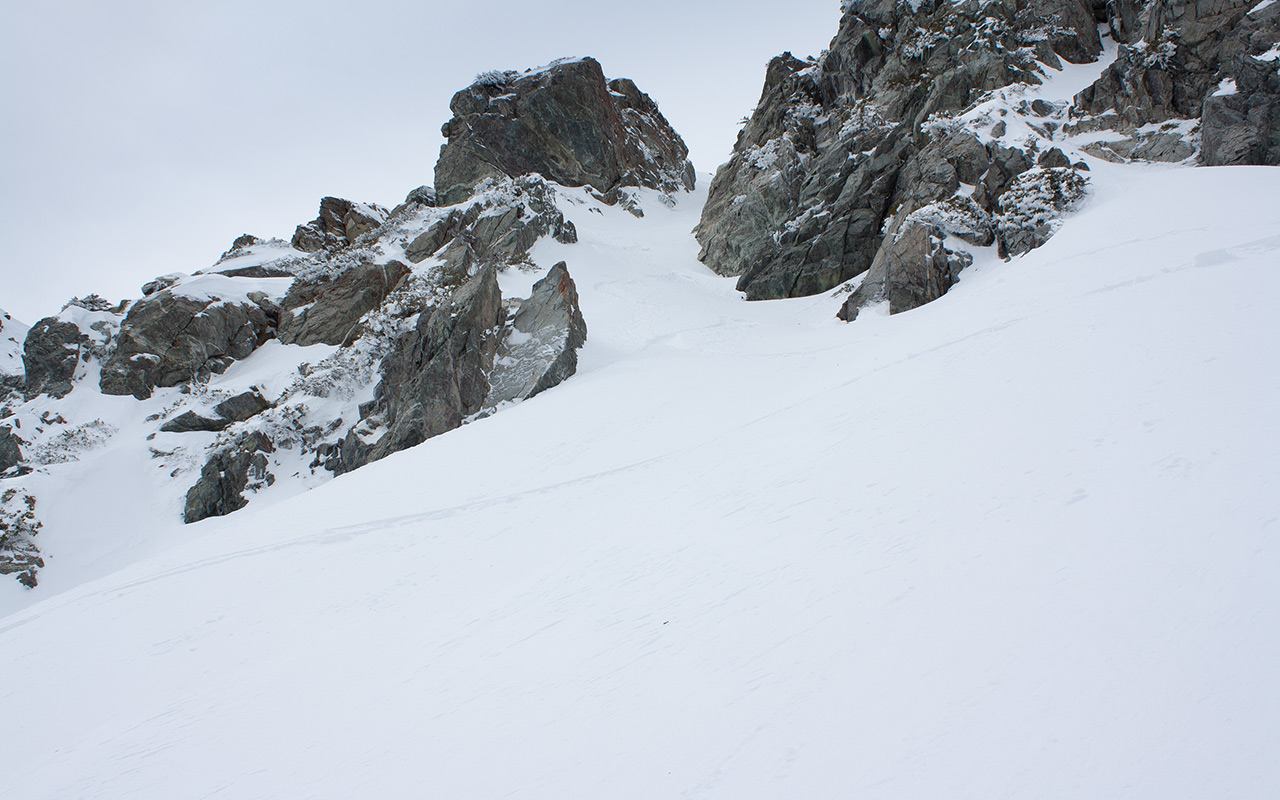 Maybe Yes Maybe No was kind of the theme today. I was looking for an excuse to stay home, but with our ever-changing forecast pushing the expected storm one more day yet again, I figured Mount San Antonio's Baldy Bowl had had time to stabilize, so why not go tromp around in the snow and look around?
The thing I'm learning about Baldy Bowl is it's almost impossible to catch it in good powder conditions. If you wait for the storms to clear, the snow gets nuked by the sun and turns into a hideous mushy mess until it corns up. On the other hand, if you push the envelope and go early, you are absolutely entering avalanche country, with several key portions of the bowl (esp. stage right) really capable of ruining your day.
Yesterday was supposed to be stormy. Instead, it was clear and calm—and cold. Good enough to let the recent fresh snow settle without spoiling, or so I hoped.
And I have to say, when I saw how much snow was covering the San Gabriel Mountains, I was delighted I had left the comfort of my sofa.
Starting from Manker Flat, I was on a solid three foot base of fresh snow. Coverage only got better as I climbed higher toward the Ski Hut. Whether or not the snow is stable enough to safely ski is a decision you'd best make for yourself, but coverage in the Southern California mountains is currently outstanding on almost all aspects.
At the Ski Hut, things looked very powdery, and I was starting to think I was about to set a new personal best for consecutive weekends of fantastic SoCal powder skiing (current record: 1).
That suspicion was reinforced by the extensive post-holing I was soon doing as I climbed up the center of Baldy Bowl. I was trying to follow the boot pack punched out by the regular crowd of weekend summiters, but the snow was just a bit too soft, making for a very slow, tedious climb to the top of the chutes.
No problem. Today I was motivated by the idea of skiing one of Baldy Bowl's southeast chutes. These spicy lines, which include the Girly Man Chute, are all short, steep, and very much worthy of respect.
In the wrong conditions (ice, thin coverage, ice again, anything capable of sliding), the chutes have mayhem written all over them. In good conditions—say nice sticky powder—they've got all the necessary ingredients for a top-drawer day of steep-skiing fun.
Since I'd already skied the Girly Man, I thought it would be nice to check off one of the other lines. In particular, the Hourglass Chute was on my agenda. This nifty little drop isn't quite as steep as the Girly Man, though it does have its own special charm—as we'll soon discover.
From the top of the Southeast Ridge, I traversed down to the top of the Girly Man Chute. Holy Moley that thing is steep! As-is today, the Girly Man entrance looked to be offering about 150 vertical feet of skiing in the easy 50° range before the choke and the dogleg-right. Whoa! Looking down the Girly Man, I realized that just because I've skied something in the past does not by any means imply I will ever ski it again.
Let's keep traversing. Next stop was the top of the Hourglass Chute—or at least, what I hoped was the hourglass. I wasn't really sure. Adding a little more pressure to the situation was a little feature I had previously failed to notice: two pointy shark's teeth of granite which sat at the very bottom of the chute, just waiting to gnaw on any hapless steep skier foolish enough to blow a turn in the gully.
Well, I suppose it's time to earn our paycheck.
I dropped into the Hourglass, where I found slightly crusty but mostly comforting powder, at an angle around 45°. Interesting thing about the hourglass—it gets narrow in the middle. Really narrow, actually. Go figure. Other interesting thing: right at the narrow spot, the powder gave way most unexpectedly to icy crust.
Nuts! This wasn't supposed to be on the agenda.
Okay, I side-slipped the icy section. I get a lot more prudent when I'm solo, which is a tactic I strongly recommend adopting if you ever find yourself alone in less than ideal conditions.
After the choke, the crusty powder returned. The fall line shifted enough so that I was no longer hanging over the shark teeth, making for a less anxious exit to the apron below. At the bottom of the chute, the slightly crusty powder became very crusty indeed, making for a gritty ski back to the hut.
I have to admit, I was surprised. One clear, cold day in February is enough to wreck the powder in Baldy Bowl? Like I said, getting these lines in good condition is almost impossible unless you're willing to go out during an active storm cycle—which I can't recommend.
The snow back down to Manker Flat was, well...manky. Crusts and cement garnished with ice balls fallen from the trees above. All in all, very typical SoCal skiing conditions, and something of a rude shock after the pristine powder I found on San Jacinto Peak a week ago.
A final word on the Baldy Bowl Chutes: they are short, perhaps only averaging a very modest 250 vertical feet or so. But they are quite steep, with abundant terrain features that make for very serious skiing. These are lines you only want to try when you're absolutely sure conditions are right. If there's even a hint of ice, ski elsewhere. That is all.
— February 15, 2009
Andy Lewicky is the author and creator of SierraDescents
ScottP February 16, 2009 at 8:44 am
I had a very similar experience on San Gorgonio this weekend. Seems like all it needed to turn beautiful deep powder into boilerplate was a couple hours of wind.
Andy February 16, 2009 at 10:00 am
Yeah, it kind of brought me back to reality after the incredible skiing last weekend. But the big news is that in two weeks, we've gone from near-record drought to a normal or even above-normal winter. Coverage after this latest massive storm system should be as good as we've seen in years!
Skiing the Backcountry February 16, 2009 at 2:26 pm
Nice job! That line looks sweet!
ScottP February 16, 2009 at 7:45 pm
Yeah, I'm just waiting for it to get warm now so I can get some corn!
Gary K February 17, 2009 at 10:37 am
On Saturday, the day after the storm, we skinned from the 6000 foot mark off the 2 up onto the broad ridge that eventually leads to the summit of Mt. Waterman. We found epic powder conditions at the top, and sticky heated snow on the bottom half. All it took was 2-3 hours of morning sun to bake the lower half. Still, the top was the best powder skiing I've ever seen in So Cal. Here is a video I made from the last couple of weekends.

http://www.its.caltech.edu/~kleiger/Buckhorn.html
Andy February 17, 2009 at 10:51 am
Gary that looks incredible! Definitely better than the real thing. :)
snorider14 February 22, 2009 at 11:41 am
I skied Figure 11 on Saturday (2-22-09) and saw your tracks down Hourglass on the way up. I thought I was skiing the Girly Man but entered one chute too early. The snow was softening nicely in the chute and some slushy point release avy debris in the bowl. All in all it was good snow though. It was nice to be able to ski all the way back to the car!
snorider14 February 22, 2009 at 11:42 am
correction... 2-21-09!