Gold Hill No. 9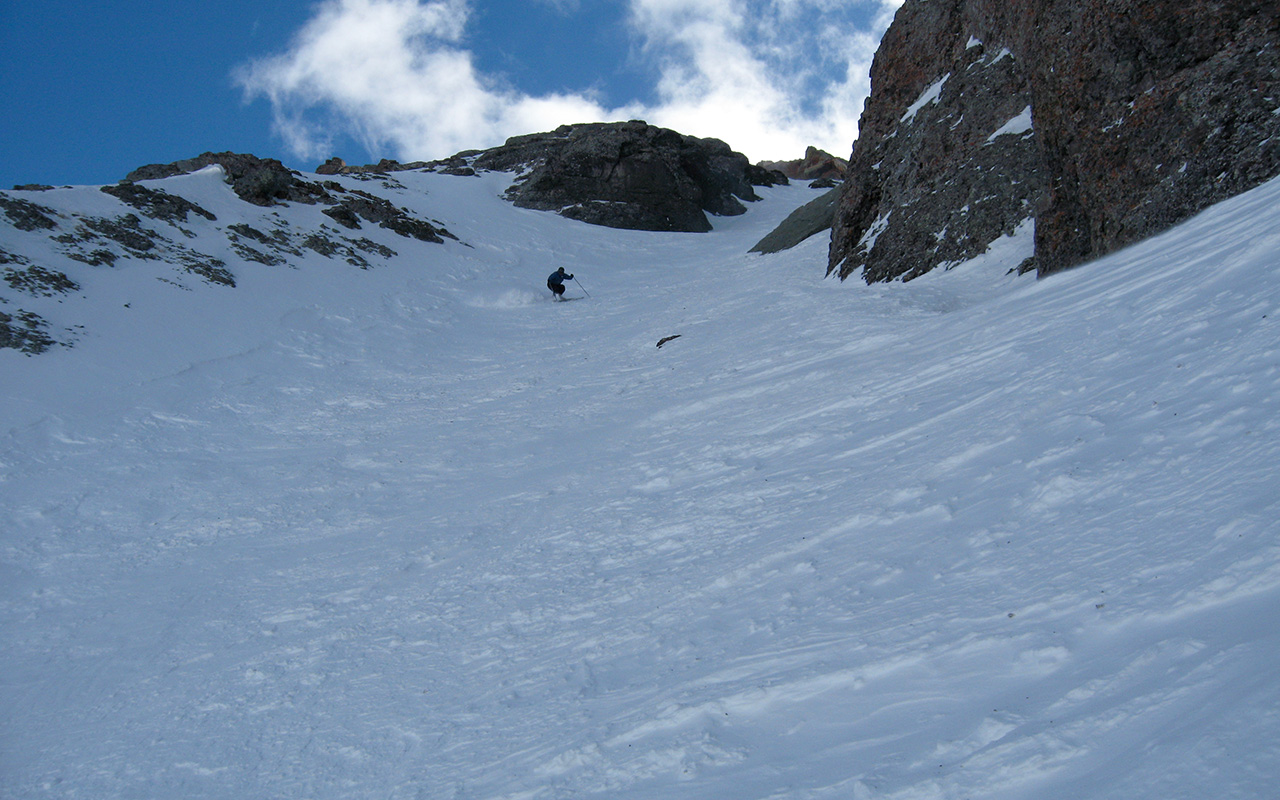 9:44 am atop Telluride, elevation 12,570'. A cold wind blasts across the ridge as my brother and I hop off the Revelation Lift and check the signs near the patrol hut. The verdict: the Gold Hill Chutes are open.
It's our last day here this year, and this will be a fine way to cap off the visit—hiking the latest addition to Telluride's seemingly ever-growing offering of stunning hike-to terrain.
Our target today is Gold 9, the second farthest of the chutes. The scouting report on Gold Hill Chute No. 9 suggests that this is the safest and least technical line, at least given current coverage.
The hike to the Gold Hill Chutes takes us immediately out of bounds, though the resort's backcountry access gate. This is perhaps a good reminder that we're entering wild country here. Though the chutes themselves may be controlled terrain, the hike is anything but trivial.
In fact, with the wind constantly rocking us, the hike atop the often-steep and exposed ridgeline will be by far the scariest part of the day.
The views, as usual, are stunning. San Joaquin bowl is to our left, as well as the uber-aesthetic San Joaquin Couloir.
A last bit of steep, rocky ridge climbing gets us to Gold 9's entrance. Access points to the Gold Hill Chutes are tightly controlled. Entry is through gates only—to help prevent the hapless from dropping into cliff-bound lines.
I take a peek down the chute and am pleased to see first of all that we are where we though we were (always good) and that Gold 9 does indeed look (to me!) like a modest descent: 40-45 degrees on hard windslab, with only a few rock gardens below to add a bit of drama.
The fact of the matter is that this kind of skiing is what I do. But how can I convey how unusual it is to be accessing terrain like this as part of a major U.S. ski resort's controlled in-bounds terrain?
It makes me want to kiss the nearest ski patroller.
I bang out a few happy turns, being careful to keep things well under control. My brother follows, looking perhaps a tad more wide-eyed as he drops into the chute.
On hard snow this is somewhat committing skiing, but it's easy to imagine dropping in to smooth tasty powder. Telluride's ski patrol are doing an amazing job of opening up these lines, along with nearby Palmyra Peak, even when the snow is fresh.
Lower in the chute the angle stays interesting. I stop to take a look at our neighbor, Chute No. 10. A ski patrol is currently doing the delicate dance of making his way through the narrows.
Gold 10 definitely looks like a more ambitious line.
We'll have to give it a try next time.
A few more turns get us into the rolling terrain of Black Iron Bowl. Here, the snow is not so friendly: breakable crust alternating with windboard, with flat light to boot.
We pass through easily enough, and just like that we're back into Telluride proper, skiing perfect corduroy groomers back to the Gold Hill Lift. This abrupt transition of in and out-of-bounds terrain can take some getting used to—but it surely puts a smile on my face. We've just skied the kind of terrain that ordinarily takes hours to access. And now we're back in time for lunch.
— February 27, 2009
Andy Lewicky is the author and creator of SierraDescents
aaron puckett May 24, 2010 at 5:36 pm
That looks sick as hell