Avalanche Rescue Course – Overview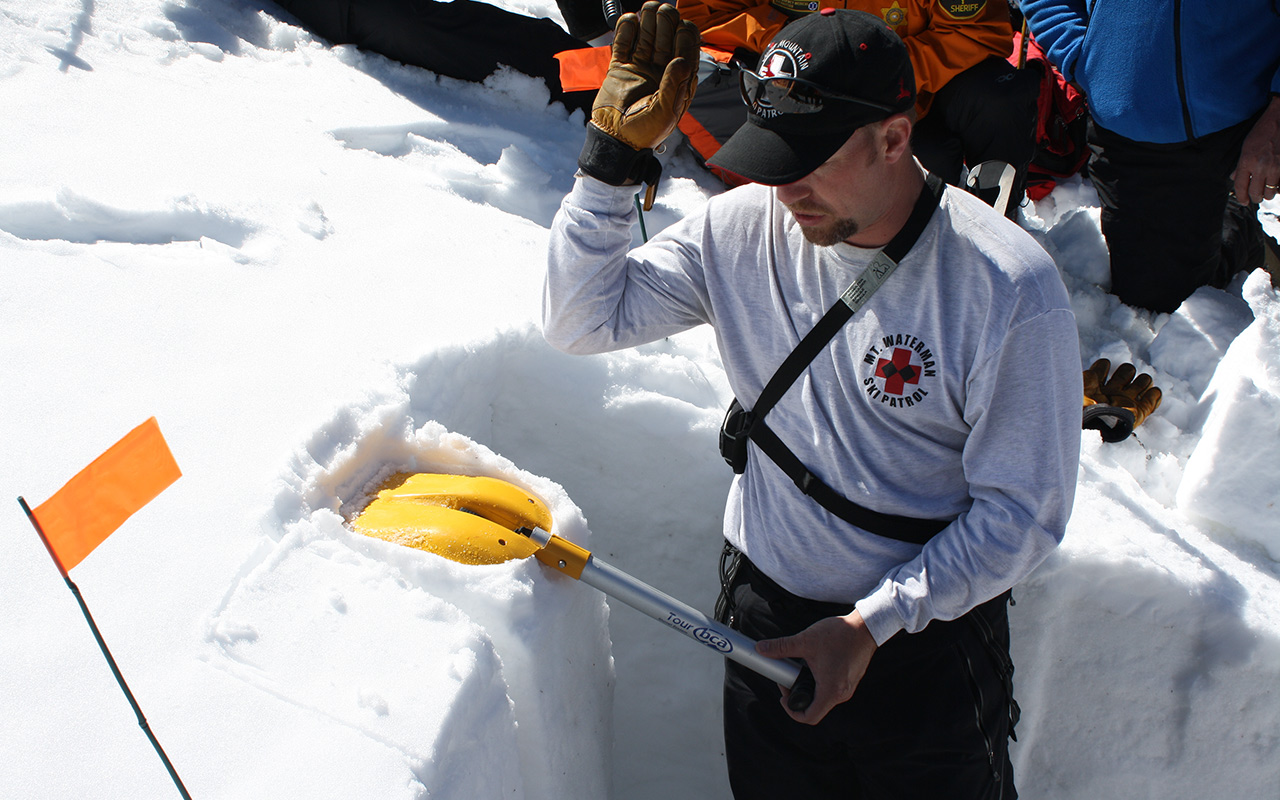 Last Sunday I participated in a one-day avalanche rescue course offered by the Southern California National Ski Patrol. This course was specifically intended for rescue personnel who might be called upon to participate in an actual avalanche incident. Over a hundred people attended, including members of regional agencies like police and fire, and also numerous search and rescue organizations in Southern California.
The primary goal was to offer a crash course in avalanche fundamentals culminating in a mock burial and rescue walk-through. A secondary but perhaps equally important goal was to facilitate communication and coordination between these separate agencies. While I was obviously not representing a rescue agency myself (if anything, I represent the client side of the equation), I found the experience highly rewarding.
The course was held in Wrightwood and nearby Mountain High East ski resort. It was clear from the beginning that the memory of last January 2008's fatal avalanches in nearby Sawmill and Government Canyons remained fresh in the minds of both organizers and participants, many of whom took part in the actual recovery operations.
The course was therefore by no means an abstract exercise.
In fact, a significant portion of California's historical avalanche fatalities have occurred right here in Southern California.
Regarding the Sawmill and Government Avalanches, I noted that both apparently led to much soul-searching afterward, particularly concerning the coordination of rescue efforts between agencies, and the decision to put rescuers into harm's way.
We spent the morning in a chilly classroom blazing through a variety of technical avalanche information. Our instructors stated that this one-day barrage would not make us capable of snowpack assessment. Rather, it was hoped that the course would motivate us to continue on with Formal Level I and Level II avalanche coursework.
I was struck by the diversity of experience levels amongst the participants. I suppose prior to this course I never really gave much thought to who shows up when a search & rescue call goes out. Sunday's course gave me a ground-level view of the various agencies and volunteer personnel who arrive on-site when there is a call for help.
While outwardly they seemed a motley bunch, I saw them as united in their passion for the outdoors, and in their willingness to risk life and limb for strangers stuck out in the wild. Over the length of the day, I learned a great deal about how much logistical wrangling is involved in managing all these various players.
The first priority of any rescue is to not add to the casualty list. That is, it is critical that rescuers do not themselves become victims.
When you contemplate the dynamics of an actual rescue, you soon realize how challenging this seemingly-simple goal actually is. Time, of course, is rarely on the side of either victims or rescuers. In an actual avalanche, victims have only a 50-50 survival chance past 30 minutes of burial time. The impulse, then, is for rescuers to arrive on the scene and immediately want to race in and start doing something.
This sentiment was palpable when our mock rescue began: we marched into the area's staging area, and then we waited...and waited. But you can't just shout "GO" and send 100 people running out into the hills. You've got to record who your people are, to begin with. You've got to assess and assign your resources—human and otherwise. And you've got to keep all of them safe: rested, fed, replaced as needed. It's a huge task.
Later this week: I'll take a more detailed look at several of the individual phases of our mock rescue. Stay tuned!
— March 18, 2009
Andy Lewicky is the author and creator of SierraDescents
sean hayes March 28, 2009 at 8:05 pm
Very nice, thanks for writing this up... I had no idea a course like this would be offered in SoCal. Could you post contact info, what it cost you etc. Thanks!