3 Storms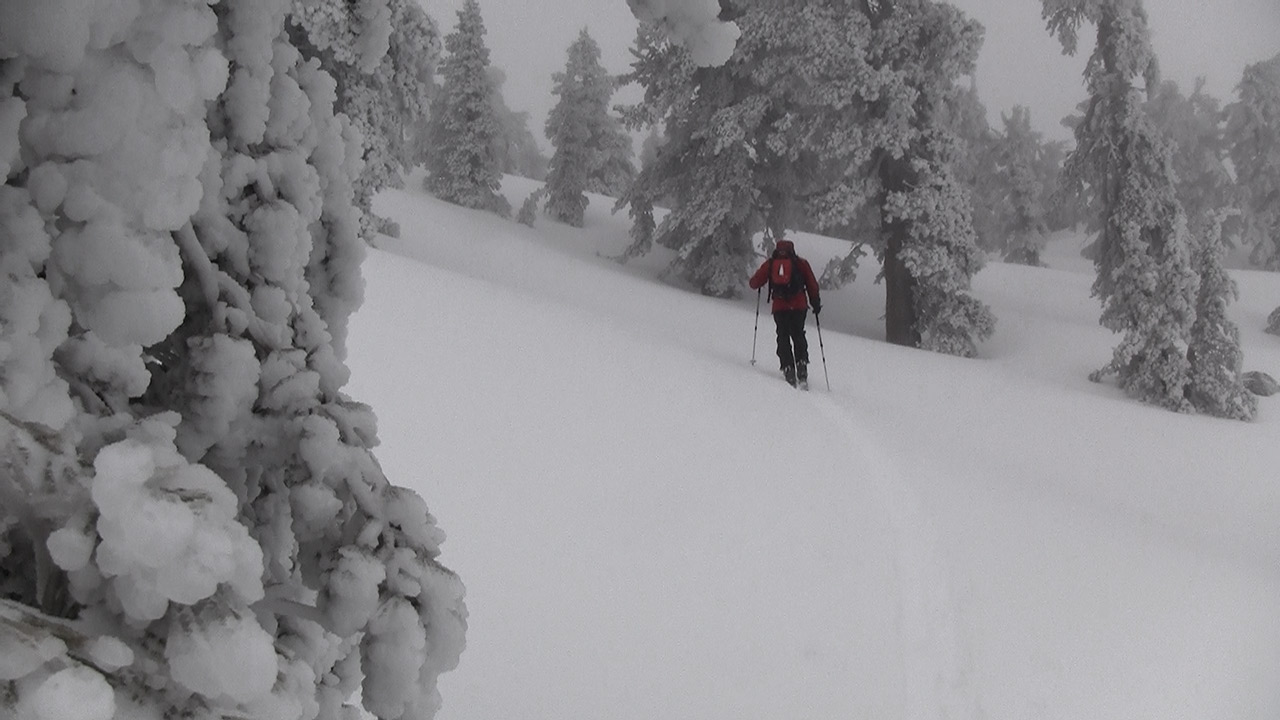 Just got back last night—drive home from June Lake was very challenging. I'll be writing quite a bit over the next month about my Avalanche class experience. For now, let me say I'm really glad I did it. Did the class make me an expert on avalanches? Absolutely not. But I did learn a great deal, and just as importantly, I got motivated to keep learning.
Obviously the big news right now in the skiing world is the storm cycle. Whether or not this is a classic El Nino pattern I'll leave to the experts. Suffice to say I've seen potential rainfall totals (for the combined systems) estimated in the 8-20" range (that's rain, not snow!), meaning we're going to be seeing a wide range of impacts, some good, some not so good.
Sierra snowfall totals should be in the 6-12 foot range, which is massive. Local mountain snowfall is harder to call, as many areas will see rain mixed with snow, making the totals misleadingly low. Still, Mount Baldy is reporting 7-16" of new snow this morning.
It should go without saying that only the most experienced winter mountaineers should even consider going out into the backcountry this week, and even they are probably best advised to stay home.
Even those thinking about heading to the mountains for inbounds skiing should beware potential road closures, mudslides, bridges destroyed, traffic accidents, etc. Whatever you do, be conservative. As I was reminded just last night, it's not a good feeling when you know you're right on the edge of spending an unplanned night in your car (or worse) in a raging blizzard.
— January 19, 2010
Andy Lewicky is the author and creator of SierraDescents
Taylor January 19, 2010 at 2:20 pm
Is there any backcountry around Los Angeles that has shallower aspects that could be taken advantage of this weekend? I can always go inbounds at Baldy if not.

Also, I'm looking at hiking/skinning to the top of Baldy and skiing the bowl(sometime). I've got backcountry experience, but would not want to do anything on my own, just in case of a wet slide. Is there usually a group of people skiing baldy out of the ski hut or on a dayshot when conditions are good?
Andy January 19, 2010 at 4:12 pm
Taylor I don't know of any place close with a good combination of easy access and easy to find moderate-angle terrain. Maybe someone else has a suggestion? As far as finding partners, your best bet by far is to look up the Ski Mountaineer's Angeles Chapter group. They organize a variety of trips in our area for all levels, are both formal and informal, and can connect you to a lot of good partners. Other options include trying message boards. On weekends, the Ski hut trail is typically packed with climbers and usually a few skiers--but this is not always an indication that conditions are safe.
Chad January 19, 2010 at 4:28 pm
I'm thinking of heading up to San Jacinto on Sunday. If it stays cold I think we can expect some snow to stick around. Need to call the Park later in the week to check on conditions. Lot's of trees. Skinning through the valley should be safe. Some care needed traversing the southern bowl to the top, but if you ski down the same way or on the shoulder I think it'll be a shallow enough aspect with realatively little risk. Besides there's bound to be a handful or more of people up there doing the same.
Andy January 19, 2010 at 5:43 pm
San J is a great choice. I might have to drive out there this weekend too and take a look around. :)
Scott January 19, 2010 at 6:48 pm
There's some good low angle trees that're fairly approachable by San Gorgonio and its sister peak, even if it's a long drive. And traffic will be miserable because of everyone heading out to Big Bear. You think LA drivers are bad in the rain...

For this week, I think Baldy inbounds will be the best bet, provided your vehicle can handle the road up when it's slippery. Baldy Bowl is going to be dangerous for at least the duration of the storm. And like Andy said, just because there are hordes of climbers on it doesn't mean it's safe. Many of the climbers down here are under the impression that avalanches don't happen here (false). I'm hoping to hit it the weekend after this one, provided I can round up a posse to do so and the snow settles a bit. Who knows, maybe we'll get more storms (please, please).

I'm pretty dang excited about all this snow. Once it melts down here, there's still the Southern and Eastern Sierra (though ESAC reports that you should stay off them for now). Let the season begin!
Dan Conger January 20, 2010 at 8:22 am
Thinking about in-bounds at Alpine Meadows this weekend. Have a free pass. Regardless of where you go, be safe and have a blast.
Taylor January 20, 2010 at 3:00 pm
Thanks for the advice. I guess I'll do Baldy inbounds this weekend. Looks like they're getting some snow(hopefully soft as the weather gets colder starting today). I think the storm will have moved out by saturday, or just have some lingering that will keep some of the masses away from the mtn.
Maybe next weekend the snowpack will have settled.
Scott January 20, 2010 at 5:46 pm
I have a feeling that if one goes to Baldy Bowl the weekend after this, one will find out just how many BC skiers there really are in SoCal. I'm planning on going there then myself, barring new storms..
Chad January 20, 2010 at 6:42 pm
I think you're right Scott. I know a Sierra Club group will be up there next weekend for sure. And if your timing is right, someone else will have laid down the skin track for you.
Chad January 25, 2010 at 6:55 am
I skinned up to the summit of San Jacinto on Sunday. Weather was perfect. Light winds on top. Snow hut completely burried. 5-6 feet of deep powder. Wet and a little heavy by noon. Skied down the South East bowl. Giggling like a school girl the whole way down.
Taylor January 29, 2010 at 9:33 am
I'm planning on skiing baldy bowl tomorrow. As I've never done it before, had a couple of questions that maybe you guys could help with(Trying to plan gear).
1. Can you skin up the ski hut trail from Manker, or is the terrain too steep/difficult to do so? I'm sure I can hike 5 mi in ski boots, but if I'm going to end up hiking most of it, i'll probably take ski boots and wear another pair.
2. I'll probably start in the dark(I want to avoid the Mt Baldy traffic mess as I'm sure it will occur again this weekend), is the trail easy to follow(meaning well marked or heavily foot trafficked so there will be a path in the snow) or is it just a free for all to the hut? I'm very experienced in land navigation, just wondering if I'll need to do some map + compass prep.

Appreciate your thoughts.
Taylor
Andy January 29, 2010 at 12:41 pm
Taylor, if you've never gone up the Ski Hut trail on snow, I wouldn't recommend trying it in the dark. It's easy to miss the critical turnoff, and there are some exposed sections.


I've done it both ways: skinning or booting up to the hut. Booting with crampons is probably the easiest and safest, but that's certainly debatable. Have fun and be safe!