The San Jacinto Report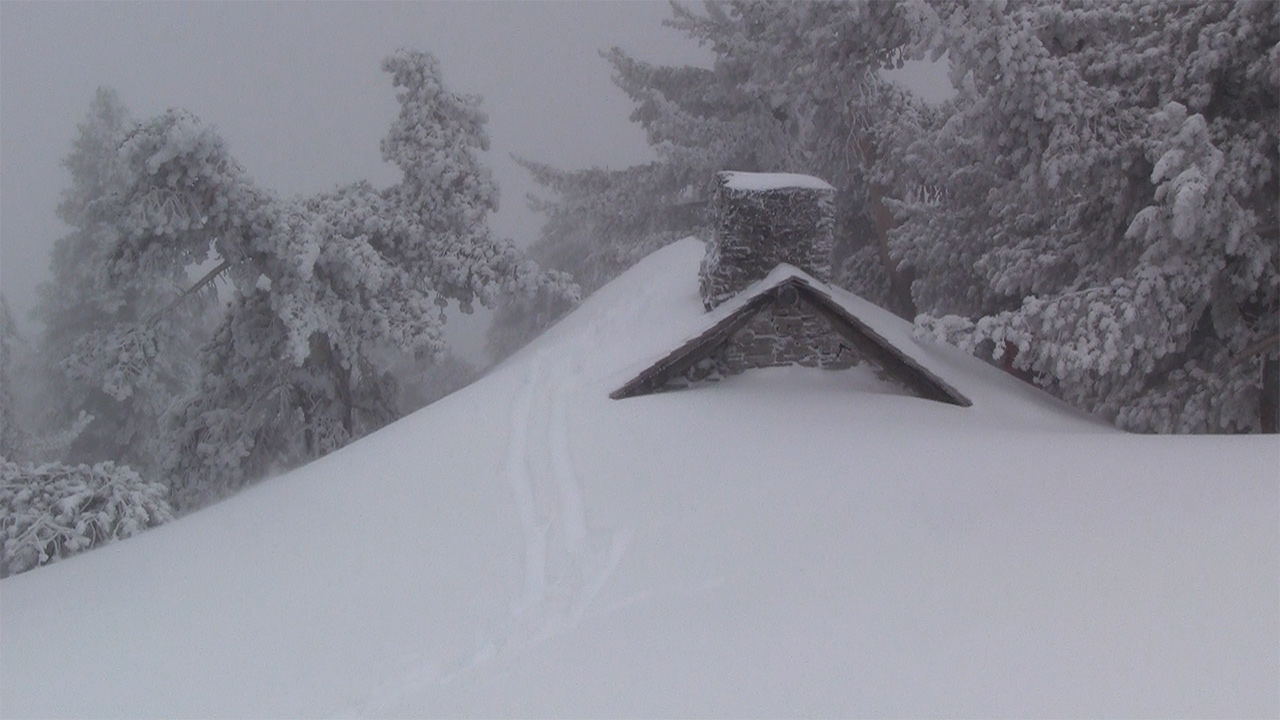 Maybe one of the things to remember about an El Nino year is that the storms love to ambush the Southland. I don't think anyone was expecting the rain intensity we saw Friday through Saturday morning. I certainly wasn't.
Saturday I drove to Palm Springs, figuring the tram would get me to snow with the least amount of winter driving. That was true in only the most technical sense: the drive itself proved to be the day's biggest adventure, with rainfall between the 15 and 215 freeways entering the awesome and frightening range.
In hindsight, it would have been a good day to stay home.
The other factoid about El Nino winters that occurred to me as I was watching accident after accident unfold along the freeways, and listening to continuous coverage of homes being washed away by mud on the radio, is that there is such a thing as too much rain. As much as I love seeing snow blast the mountains, these storms impact others in much less happy ways. And getting to the snow, for most of us, can become impossible.
Up high, the storm came in much wetter than I was expecting. It was cold at my home in the basin. I'm not sure why snow levels were up around 8000'—maybe partly because the storm picked up so much moisture; maybe partly because the upper atmosphere was just very dynamic. Under these conditions you expect to see a lot of hail, pellets, and/or graupel, and that's exactly what we did see. Note that graupel may well be one of the biggest threats to SoCal backcountry skiers, because it can be extremely localized (ie, hard to find), and buried beneath a foot or two of heavy wet snow, it makes an ideal weak layer for slab avalanches.
The graupel threat is probably short-lived—I don't believe it's considered a persistent weak layer—but with another large storm on the way Tuesday, do be aware that it's out there. In addition to the graupel we saw a very prominent rain crust deeper in the snowpack around 10,000' in elevation on San Jacinto's east face. The crust appeared well-bonded to the new snow, but the hardness difference both above and below was alarming. Within the new snow, a weak layer about 8" down (probably graupel, again) led to easy failures in compression tests. Reactivity was generally low, which, along with our descent route's 25-30° angle gave us cautious confidence that the skiing was safe.
Still, when we neared San Jacinto's summit on our ascent, we flirted just a hair with the edge of a northeast aspect, where we immediately saw cracks propagating. Snow Creek climbers/skiers beware. As for the skiing down the east face, the highlight was definitely skiing off the roof of the Civilian Corps Shelter (summer photo is here), which is nearly buried in snow.
The snow otherwise proved very grabby on the way down, skiing much like a breakable crust. I guess three weeks in a row of smooth powder was a little too much to ask of Southern California.
— February 7, 2010
Andy Lewicky is the author and creator of SierraDescents
Tom Kane February 7, 2010 at 11:41 am
Great site, love the accounts of local descents like cucamonga peak, telegraph etc. I need to get a split board at this point,I do quite a few backcountry hikes as well but with my board on my back, not as efficient for sure. I'm going to try whitney's east face sometime this spring, after reading your account it looks quite doable. Just need to descend before the shadows.
Eric February 7, 2010 at 11:01 pm
Went up Jean Peak on Sunday. Saw lots of the graupel you mentioned. It sorta looks like the "Dots" ice cream of the future. The conditions I believe were a bit better Sunday -- didn't come across much breakable crust, just powder (at least amongst the trees). Much colder -- in the 20's, although they were gusts of 50+ on the ridge. It appears there may be some windloading on the graupel. Didn't venture completely up Jean, as I was by myself and was a little unsure of the stability.
Brent February 8, 2010 at 9:41 am
Thanks for coming out on Saturday... I think we made the most of a stormy day with some less than ideal precip. My pics from the day are here.
Andy February 8, 2010 at 9:57 am
Brent, you got some great shots! Looking over them I've having flashbacks of being soaked and very, very cold. Brrr! :)
Chad February 8, 2010 at 3:36 pm
I've heard the north aspects of SJ are better reserved for Spring. Baldy had similar conditions on Saturday. Lots of Ice and breakable crust. Not much fun to ski but those who stayed the night were well rewarded on Sunday. The drive up in the dark was terrifying.
Jake February 8, 2010 at 4:22 pm
Skied Jean on Sunday and it was excellent (best so far this year for me)...especially the steep portion near the top. Mid to lower section was a bit wind scoured, but still great fun in the tighter trees. There was 6 inches to 1 foot of soft stuff depending on wind and altitude. It was so good we went for a second lap.
Charlie February 9, 2010 at 7:33 pm
Anyone who doesnt want to go solo, I am looking for ski mountaineers to hit the trails with. I am also looking into a splitboard. I would buy one tomorrow if I had friends who were into it in socal.....especially midweek.

I climbed hiked SJ many times, whitney, doing russell this summer and can ride just about anything.
Eric February 10, 2010 at 10:10 am
Charlie or Tom,
This is my first year splitboarding (have been out 4 times both in socal and the sierras) and still learning constantly about route finding and snow pack. Would love to have a partner just to bounce ideas off -- especially considering Andy's discussion on avies. Can only really ride on weekends however.
Jeff February 10, 2010 at 10:29 am
Eric, Charlie, or Tom,

I have a splitboard and climb/ski at last once a week--both locally and in the sierras. I have 5 friends who all splitboard too. I'm always looking for people to go with. Email me if you want to go: jscommit@hotmail.com
--Jeff
Charlie February 10, 2010 at 8:15 pm
Eric, my e-mail is cagerman45@gmail.com. Email me so we can discuss.

Jeff, I will shoot you an e-mail now.

Thanks for the responses!

Charlie
Charlie February 10, 2010 at 8:27 pm
What kind of splitboards does everyone have. Do you like them? What would you buy if you were buying now?

I got my first burton in 1986 (I was 12) and have ridden them ever since. But the Burton splitboard doesnt come with bindings or skins and it is about the same price as the VOILE (that has all the goodies).

Any strong opinions to share?
Jeff February 11, 2010 at 2:25 pm
Charlie,

I cut my own using Voile's Split Decision Kit. I bought a really stiff board (Ride Yukon 168), and cut it. It works better than I thought it would! I also bought the Spark R and D bindings, which are amazing. I didnt have the money to buy a new splitboard...