Last Days at Baldy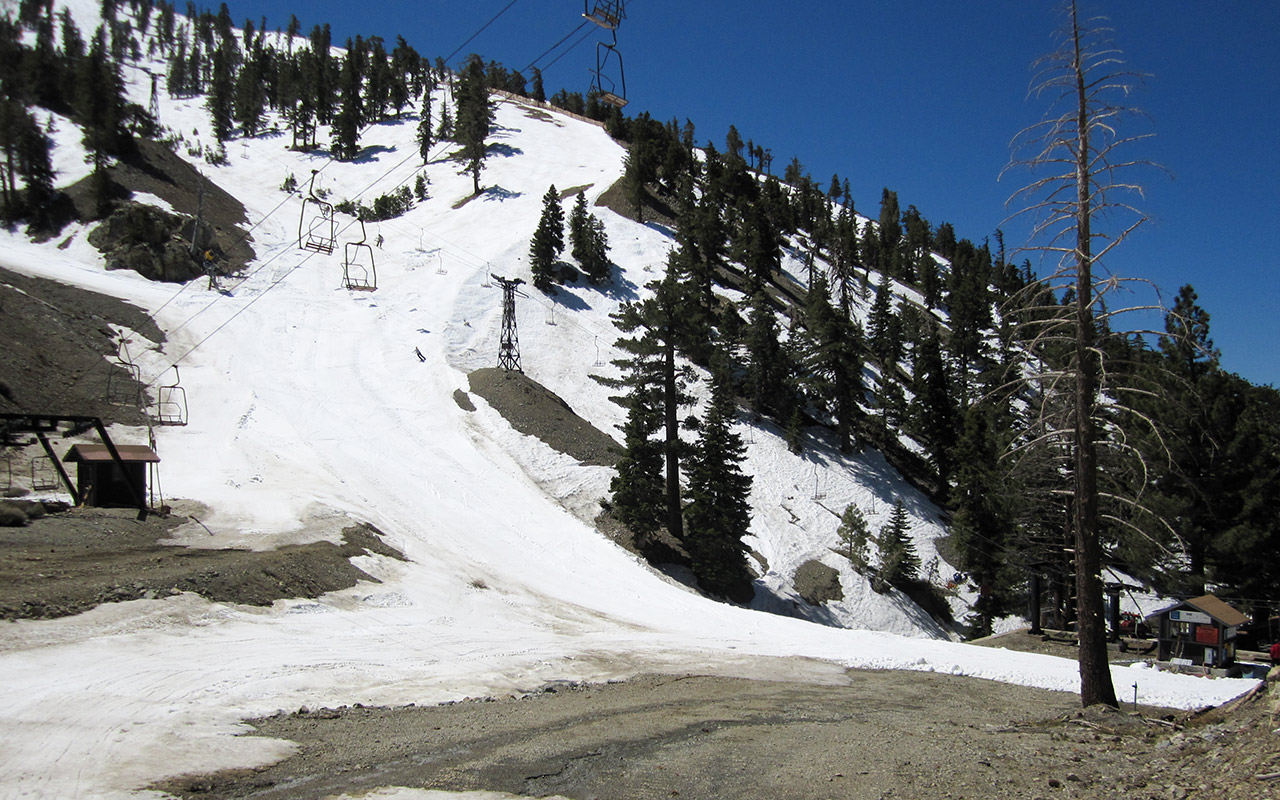 Looks like this weekend is it for skiing at Mt. Baldy resort. I was there yesterday to enjoy one last day on my pass, closing out what has been a surprisingly strong year at the always-quirky Mt. Baldy ski area. Rumor is Mt. Baldy got a double cash infusion this past season, first from a new investor, and then from the sale of those variously priced Chamber of Commerce passes.
On the subject of the cheap passes, I will say I definitely got my money's worth out of mine, though the limited quota and long wait times to pick up a ticket were always annoying. Going ahead next year, they raised the prices considerably on the CoC passes without addressing any of the ills. That was enough to keep me from pulling the trigger again, though I probably will buy a physical pass at some point down the road for next season.
Skiing yesterday was warm and quite good despite the late date. As you'd guess from the photo, things were not exactly busy up there. I must say I really enjoy skiing Baldy. Aside from the (occasional) weekend crowds and ancient machinery, you just can't argue with the area's in-bounds and slackcountry terrain. But seriously: those chairlifts do terrify me.
The worst is chair 2, which rises way too high for a lift that old. I have sort of a mental limit when it comes to chair height. Below a certain height (20'? 30'?), I figure I'll eventually recover if I fall. But when you're up a hundred feet or more, there's no fooling yourself.
I try to go to my happy place and imagine that all the chairs are inspected regularly until the ride is over (which would be easier if you weren't sitting on rotten and/or missing wood slats). Then again, if they did replace the lifts with modern quads, the place would probably be bankrupt in matter of weeks. So, I figure we're stuck with the vintage lifts forever. Get up there and ski it if you can—tomorrow's the last day of the season.
— May 8, 2010
Andy Lewicky is the author and creator of SierraDescents
Dan Conger May 9, 2010 at 1:59 pm
Given what you described about fear of heights on a chair ... how does riding Mammoth's summit gondola over the dry creek area make you feel? You're several hundred feet above the ground over that gully, but being in an enclosed space probably helps.
Andy May 9, 2010 at 3:21 pm
I should say I have less a fear of heights than a fear of ancient rusting technology. If you haven't seen the Mt. Baldy lifts in person, you might not understand what I mean... :)
ScottP May 11, 2010 at 8:58 am
Maybe you have your chair numbers confused? Isn't Chair 2 the dinky little one that goes from the base of Thunder Mountain back up to the Notch? It only covers 250' of vert from top to bottom. It doesn't ever put you up very high.

http://www.mtbaldy.com/images/trail-map-l.jpg

The weekend crowds are pretty awful simply because the chairs are so slow and can't move any sort of line quickly (this is ignoring the traffic due to clueless-in-slippery-conditions southern Californians, which is by far the worst part of the experience). On the other hand, weekdays are fantastic. No lines, no traffic, fresh stuff all day. Sometimes being a grad student with a flexible schedule is nice.
Andy May 11, 2010 at 10:05 am
No, Chair 2 is the worst of the bunch. It goes over that little gully, so at its highest point it's way up there.
ScottP May 11, 2010 at 6:05 pm
I'm still much more worried by Chair 1 because it has all the height and for most of the year has no snow. Plus, it's long, so it's much more likely to fail.
Wally May 13, 2010 at 8:12 am
Great wrap up. My favorite Baldy moment was a couple of seasons ago I arrived early for what I hoped was 10" of light and dry only to observe some of the chair 1s cable and chairs on the snow. Around 1:00pm the chair was running and all was forgotten until the fog rolled in.