A Four Hour (Cold) Shower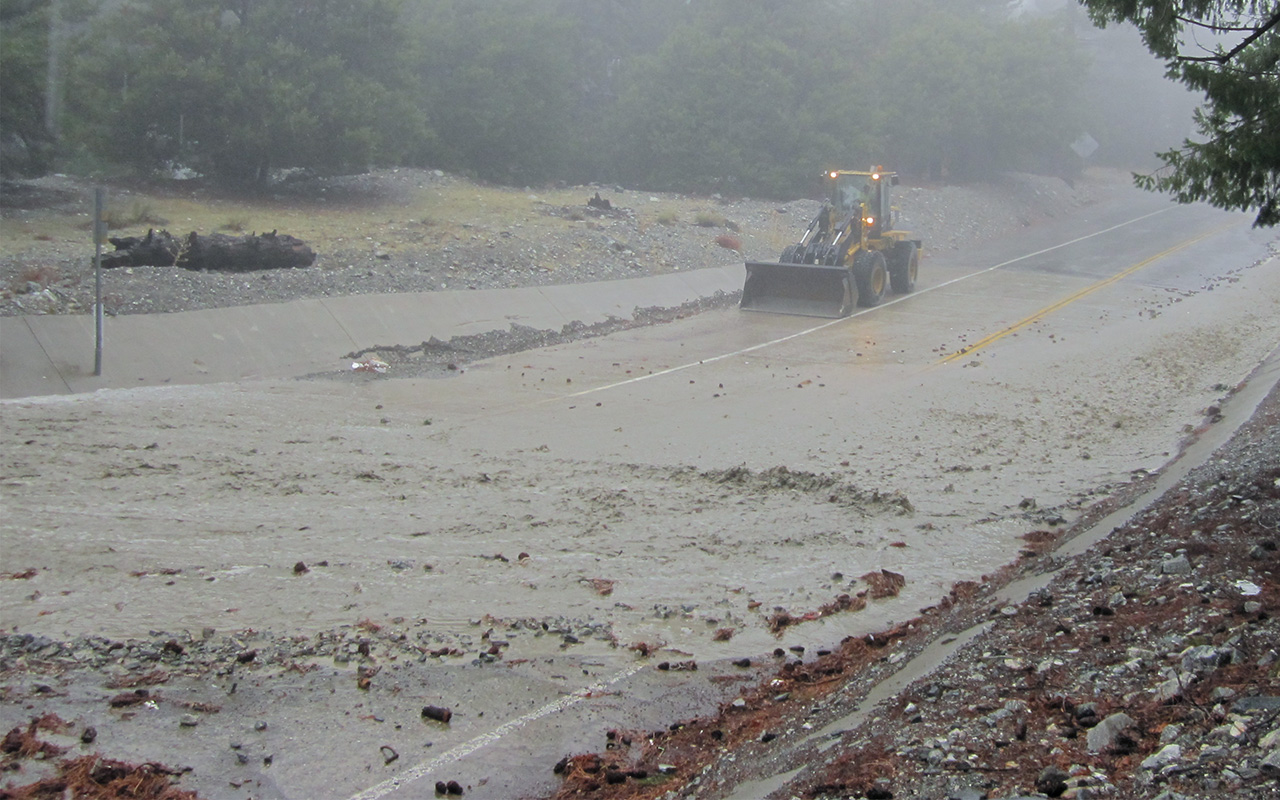 There are only so many days in a row I can watch heavy rain pound the pavement outside my apartment. But that stubborn snow level refused to come down. Finally, on Sunday, I decided to take the initiative and go find some snow. I drove up to the parking lot at Manker Flat (or, at least, I tried to), parked my car, and started hiking up the Ski Hut Trail.
My hope was to hike to the ridge above the Ski Hut, set up my loaner Brooks Rocket Tent, and then get the heck outta there. I didn't even make it to the hut.
I would describe the experience as much akin to hiking for four hours in your shower, water running cold, while simultaneously standing in a rushing creek. The hike utterly exposed the weaknesses in my rain gear, which failed miserably. I got soaked from mid-chest down, arms, hands, and feet included. Pools of water collected in my gloves and boots.
As I neared the hut, I could tell that the rain was about to change to snow—but it was still rain. Heavy rain. With wind gusts topping 60mph or higher, and my entire body dripping wet, I realized I was flirting with a whole lot of trouble. I spun around and walked back down. Glad I turned around when I did. I was freezing by the time I reached the car, and Mount Baldy Road was partially blocked by a flash flood just below Manker Flat.
— December 20, 2010
Andy Lewicky is the author and creator of SierraDescents
Dan Conger December 20, 2010 at 4:10 pm
That's crazy. My folks got a foot of snow last night at 6,000 feet where they live west of Bishop. They said there are chain controls this morning (12/20) on 395 all the way south of Big Pine. How can the snow level be below 4,000 feet there and over 8,000 feet in So Cal? My trip home for Christmas should be interesting ... and by interesting I mean a mind-blowing powder day at Mammoth!!!

I got my degree at Humboldt State and totally understand the completely soaked/pools of water inside clothing feeling ... not fun.
Michael December 20, 2010 at 6:20 pm
On the west side, we are up to about 12 inches of rain at the south entrance gate to Yose. Epic.
Andy December 20, 2010 at 7:13 pm
Epic for the Sierra, but down here I'm pairing up the animals and starting work on an ark...
Dan Conger December 20, 2010 at 7:18 pm
When you pair up the animals, leave out cockroaches ... :-)
Jonathant L December 20, 2010 at 11:57 pm
Went to Peru a few years back in the rainy season. A couple thoughts. I used an entire bottle of Nikwax per piece to re-waterproof. If you can't run your gloves under the faucet and stay dry, they're not waterproof. Hoods suck. They make me want to scream from claustrophobia and the brim on them sucks even harder. They don't keep you dry and now you can't see. Plus if you are exerting yourself at all, you will overheat with them. I bought a Goretex hat with a huge brim from Kokatat - company that makes river gear. I think they sold it as an offshore Kayaking hat or something. It works. When it's cold, I add a helmet liner to it.

This is not to say I was comfortable stayed entirely dry. But the suffering was diminished some.

Manker Flats in the rain.... You are a loon.
Joseph December 22, 2010 at 9:34 am
Really, so sick of this, there will be thick snowpack in the Sierra into September, but the entirety of the San Gabriels is getting eroded away. There just a tall dirt pile anyway... here goes my spring plans....