9500 to 1500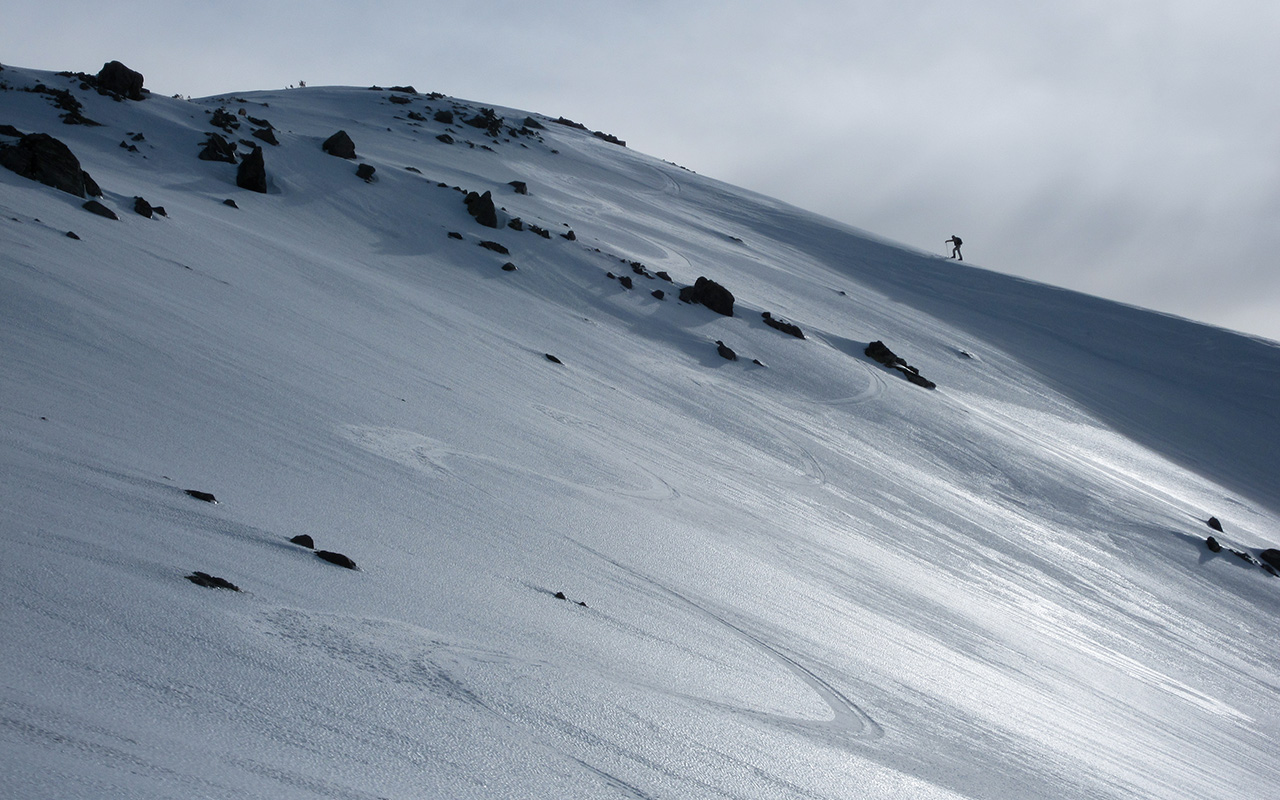 Was it really only two weeks ago that I was climbing in heavy rain on the ski hut trail? Snow levels have dropped from an awful 9500' to near-record 1500' in Southern California, putting snow where you don't often see it, and causing travel havoc, including closing the 5 and 15 freeways.
It's enough to make you think that SoCal weather is dynamic after all. In case you're wondering, Mt. Hollywood above Griffith Park Observatory is 1602', Sandstone Peak in the Santa Monica Mountains is 3111', and the highest point in the Verdugo Mountains above Burbank is 3125'. So grab the skis (or at least a camera) and get out there. :)
— January 3, 2011
Andy Lewicky is the author and creator of SierraDescents
Joseph January 3, 2011 at 8:27 pm
Heh, I would like to say that you called it as far as the mysterious nature of our current La Nina year conditions you can prolly ski Baldy's south face right now.... ;)
Charles January 4, 2011 at 4:50 pm
Thanks for your ever useful snow updates- I'm planning to finally get down that way from SF to explore San Jacinto this month. It looks like a huge year there!
Scott January 5, 2011 at 5:38 pm
Plenty of snow in Baldy bowl and probably a ways down the ski hut trail, but definitely not skinnable from Manker Flats right now. We really need just one more storm to make the San Gabriels perfect.

On the other hand, from Baldy ski area on Tuesday, Baldy Bowl looked pretty dangerous, with a lot of slide activity (more than I've ever seen). All of the chutes (particularly the northerly-facing) had pretty nasty looking cornices on them, too. I would wait at least until this weekend to try it out to let it settle down some.
Bill Adams January 6, 2011 at 2:10 pm
Just discovered this site. LOVE IT!
Jacob January 6, 2011 at 8:11 pm
I can attest, the bowl is dangerous right now. Dug a couple of columns (one at the hut and another around 10,000 and there are two super unstable layers. One at about 8-10 inches and another about 20+...both just resting on sugar. Couldn't get one slap in without the top sliding. I cam down the lookers left side of the bowl. Some of the chutes look epic but I don't have the avy equipment necessary to be willing to huck:( Still a blast though.
Andy January 7, 2011 at 6:55 am
Beware those NE aspects on Baldy Bowl (the left side of the bowl, seen from the ski hut). These do get wind loaded, are of prime steepness, and absolutely do slide.

Baldy Bowl and the Manker Flat trail in general provide you with no good options for safe travel in storms or when avy danger is high. I much prefer going to San Jacinto and staying on low-angle terrain when things are dangerous elsewhere.
Charles January 7, 2011 at 7:07 pm
Yes, this site is awesome... From what info I can get online, San Jacinto seems to be having a good freeze thaw cycle, so I'm looking to get down there some time during the next 6-7 days for a first trip. Looking to ski from the tram, if anyone has suggestions or needs to ski some, I'll get you my email...
Jonathan L January 8, 2011 at 2:23 pm
FYI all. Waterman was in quite good shape on opening day Jan 7. Tree skiing down to the road with excellent conditions. I judged the avi chute too thin at the bottom to to ski safely. At the end of the day there were one pair of tracks on it by folks braver or more foolhardy than I. If conditions hold, it should be excellent by the next storm.