Cornell Peak?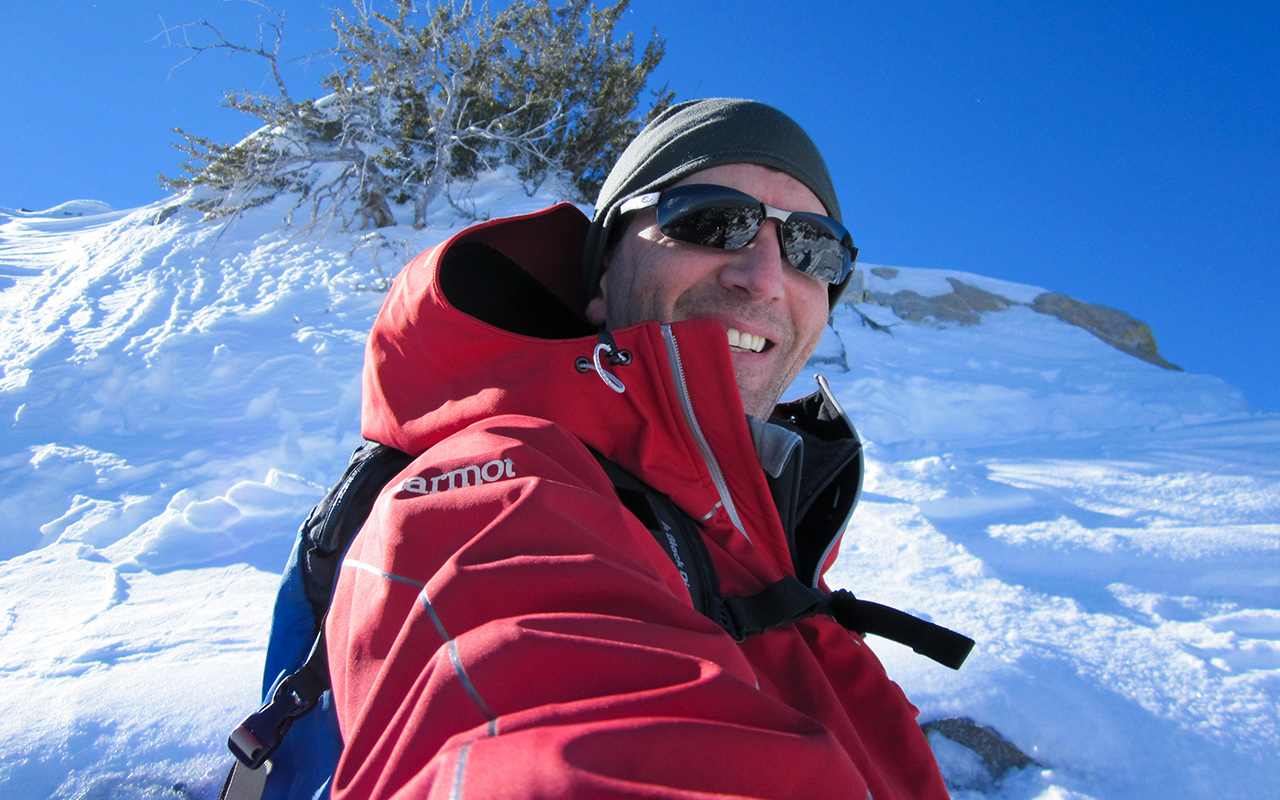 Back to San Jacinto I went for the last skiing day of 2010, this time with the man formerly known as the man formerly known as Bullet (ie, once again Bullet. Or Bill. Just don't make him angry...) Our plan was to climb up Cornell Peak and ski whatever might be skiable. As usual, however, thanks to my incomparable sense of direction in desert ranges, we ended up climbing the wrong peak.
What did we actually climb?
If my read of Goggle Earth and Nat Geo Topo is correctly, we scrambled up an unnamed peak just east of Cornell, topping out right around 9376'.
The skiing down this spiny little nub turned out to be a whole lot more spicy than the day's agenda called for. Steep and exposed, with a nice little rock band/mini-cliff to put the fear in you, especially with temps in the low 20's and a fierce wind blowing.
Adding to the trickiness was a 6" slab on top that erratically broke loose.
Interesting thing about the San Jacinto range: stray northward from the gentle slopes of Tamarack and Round Valleys, and things can get really interesting in a hurry.
Interesting thing #2 is that the San Jacintos are arguably closer to an Intermountain than a Coastal range, with a more finicky snowpack.
Just to be official, and to try out my loaner Brooks Range Scientist Snow Saw, we dug a pit.
Why was that top 6" of snow shearing so easily? It was probably due to surface hoar from the clear and cold weather that preceded last Wednesday's storm. Was this cause for concern? Not entirely at our location—the snowpack as a whole showed very little reactivity (ie, it was flexible rather than brittle), likely with help from the potent SoCal sun.
That said, moving from our peaklet's lower, due east aspect to the higher, colder, shadowed north slopes of San J proper could very well have found very different results. In any case, it's worth remembering that a tiny 6" slab can still knock you off your feet if it gives at the wrong moment, which can be consequential when you're playing around on steep slopes over rocks and trees.
It's also good to remember (as our pit showed) that even here in Southern California, phenomena like surface hoar, wind slabs, and instability do exist. Almost forgot to mention: you can now get an annual pass for the tram, which I did, and which I intend to use to full advantage. Happy New Year!
— January 1, 2011
Andy Lewicky is the author and creator of SierraDescents
Bill January 2, 2011 at 1:42 pm
It was nice first day out for me. Nothing like threading a steep rock band in conditions that varied from rock hard ice to soft sun effected snow for the first turns of the year. Shakes the rust off quickly.