Snow Valley $199 Pass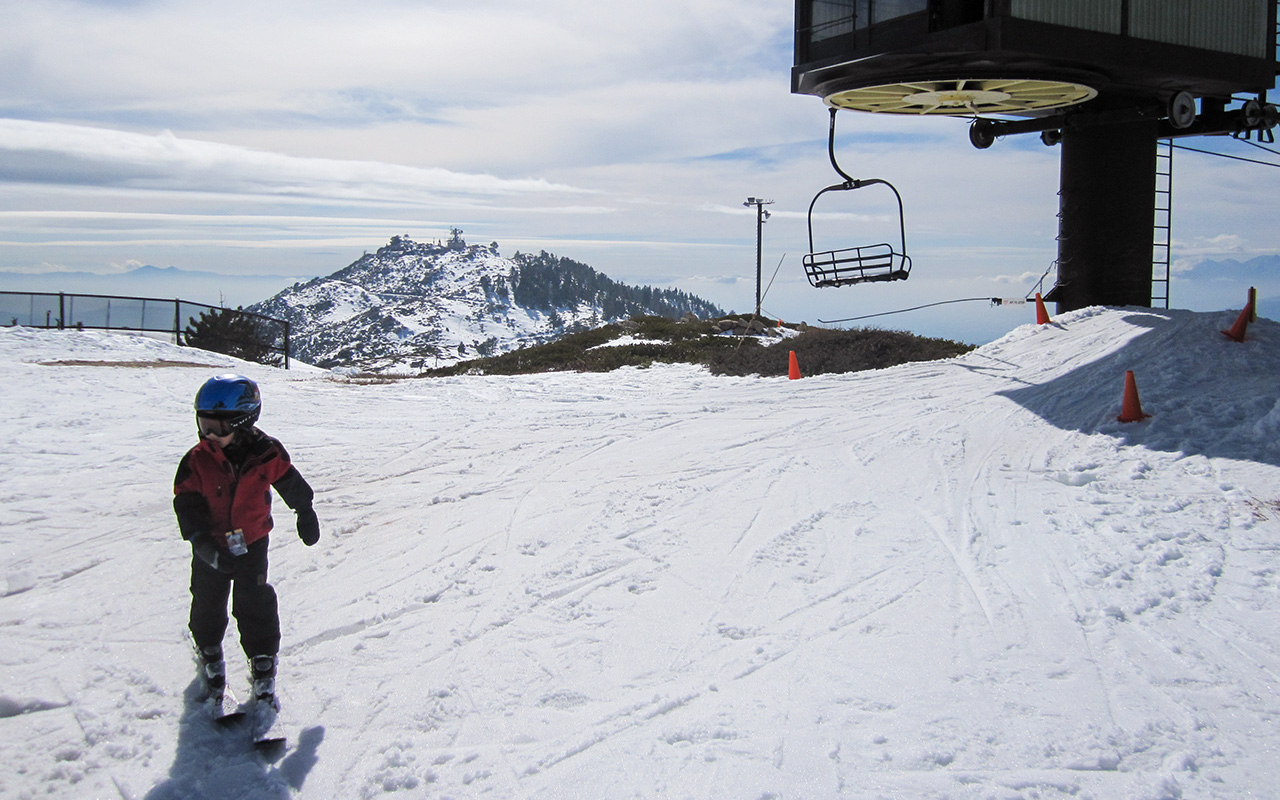 One of my never-ending quests is finding an appropriate place to ski with my four-year-old son in SoCal. We drove up to Snow Valley today, motivated by distant memories I had of high-quality easy intermediate terrain.
As it turns out, Snow Valley is offering $199 Season Passes, good for the remainder of this year and all of next season, which works out to be a pretty decent deal by modern lift ticket standards.
Snow Valley is in the San Bernardino Mountains, but the drive isn't nearly as bad as the Snow Summit/Big Bear grind. Right now, with Highway 330 closed, the drive undeniably does suck, but assuming the 330 reopens for next season, you're looking at about the same total trip time as Mountain High from the city.
So I rule out Snow Summit because it's too far; Mountain High is too crowded, and the terrain at Mountain High East includes two pitches which are too steep (MHE also tends to be closed much of the year); Mount Baldy is Mount Baldy (additionally, kids are only free when you buy a full-price adult ticket—Virtual Pass holders have to pay(!) for a 4-year-old); Mt. San Jacinto has good snow play options, but no ski area.
That pretty much leaves Snow Valley as the only remaining contender. What you'll like about skiing with your kid at Snow Valley is the terrain: great flat green runs, and lots of rolling intermediate runs with speed traps all over the place to catch the runaways. It gets old skiing the same short beginner run over and over; at Snow Valley, you can actually ski most of the mountain with your kid. Fun for them, hopefully fun for you also. At the $199 season pass price point for you (6 and under ski free), your only real costs are going to be food and gas money.
What's not so good? Snow Valley has one of the shorter, less reliable seasons for a SoCal resort, though lately they've upgraded their snowmaking capacity. Crowds are generally light, but if the masses do arrive unexpectedly, the resort can be slow to move people through the various lines at the base of the hill.
On a more functional level, there are no high speed/detachable quads, so getting your little one on a lift does take some skill. Most of the on-ramps seem angled up just enough to make for a bit of a game of chicken with you and the chairs, especially when you're skiing without poles and simultaneously trying to walk your kid uphill to load before time runs out.
Skiing without a kid? Total vertical is modest, but there is descent terrain variation, and a top lift with a few good pitches on it. Backcountry access is apparently forbidden from the resort, despite (or perhaps because of) some very impressive drops to the east into a very deep canyon.
You also get a solid terrain park with good sized ramps, and some very nice looking spines. One last perk—and it's a big one. The parking lot is paved, so I designate Snow Valley an official mud-free resort. :)
— March 6, 2011
Andy Lewicky is the author and creator of SierraDescents