395 Report (South)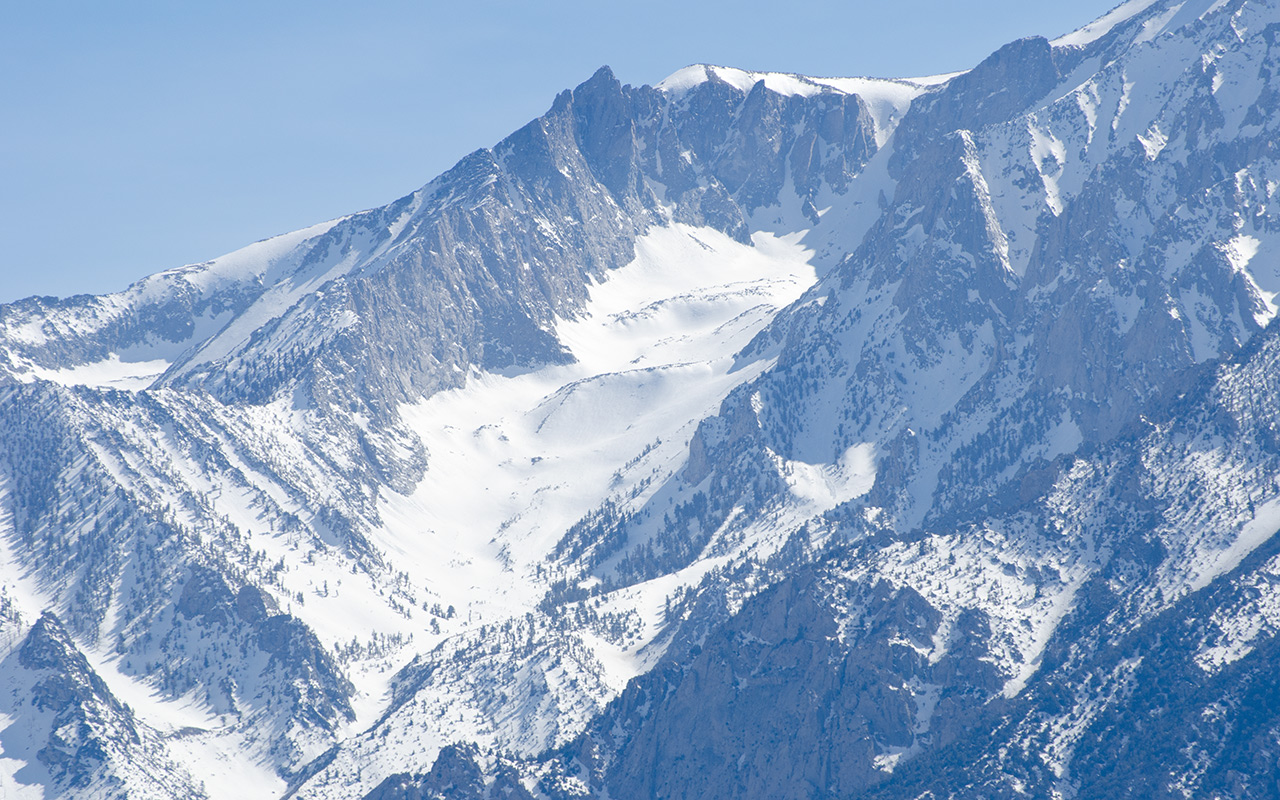 Scouted Highway 395 between Olancha and Independence this past weekend. As has been the case the past few years, snow coverage varies greatly depending (I assume) on wind effect history. It appears generally true, once again, that high altitude north faces have been blasted clean.
This is not universally the case, but given how much snow fell over the course of the season, if you're expecting Tyndall's north face to be blanketed with snow, for example, you'll be disappointed.
Some of the more wind-protected areas, however, look quite spectacular. Check out Williamson's Bairs Creek Cirque, for example—that looks about as good as it gets, with coverage going all the way down to about 7500', and the majority of the cirque above well filled-in. I can't help thinking the higher-altitude peaks are supposed to be white this time of year—but many are not.
So, for eastern Sierra skiing south of Mammoth, it's probably best to collect as much beta as you can about current coverage on your intended route—and a have a backup plan...
— April 18, 2011
Andy Lewicky is the author and creator of SierraDescents
Scotty April 18, 2011 at 3:08 pm
How fresh is you 395 South report? I thought the Sierra was loaded, but perhaps not? Thinking about Elderberry Canyon and Wahoo Gully soon...
Andy April 18, 2011 at 3:38 pm
Sorry -- posts don't have dates yet since I switched looks. This photo was taken April 17, 2011. Expect coverage improves farther north. South Sierra is erratic, with some aspects huge, others pretty shabby.
Scott April 18, 2011 at 4:05 pm
It's been like this all season, even in February we found coverage south of Mammoth to be erratic.
Dan Conger April 19, 2011 at 7:55 am
Does this mean you're planning a trip of Bair's Creek?
tim April 19, 2011 at 9:24 am
Yeah Tyndall was bulletproof. Wished we'd brought crampons so we could have ditched the skis halfway up instead of trying to kick in pant-loader steps. Superbowl on the other hand was nice :-)
Andy April 19, 2011 at 9:33 am
Bairs is very tempting...
Dan Conger April 19, 2011 at 9:38 am
Perhaps there is enough coverage that the Hero's Traverse won't be so bad. :-)
Dan Conger April 20, 2011 at 4:42 pm
So, I just finished reviewing your Bairs Creek trip report for the umpteenth time. If you make a go at it this year, let me know. Depending on the timing, I would love to rent the needed equipment and get back into the backcountry game.

It should be noted that Williamson, at 14,375, is not only the 2nd tallest in CA, it is the 6th in the lower 48. Anyway, I look forward to the vicarious thrill I experience solely by reading the report.
Dan Conger April 20, 2011 at 5:13 pm
Although the brutal depths of Williamson's greatest challenge might not be the best way for me to get back into the game.