April Snow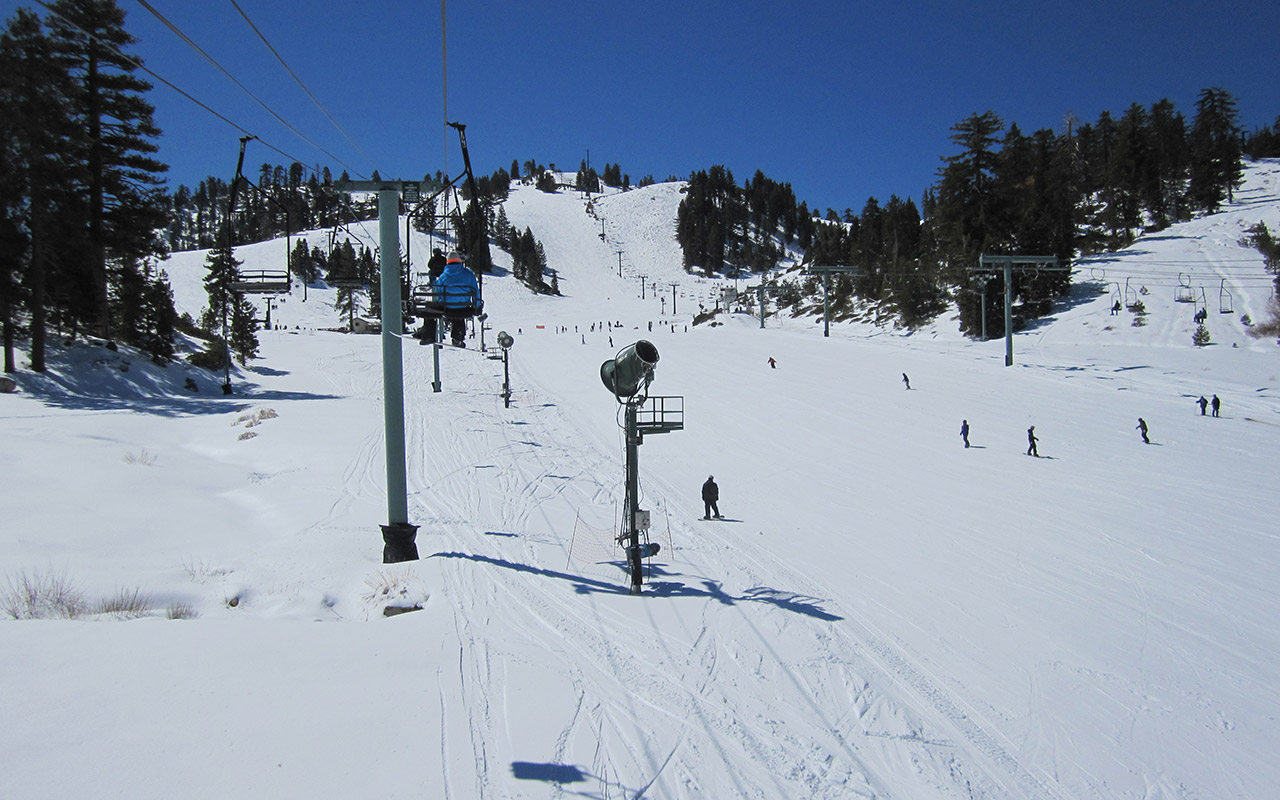 I wish I had a comparison photo. Last Sunday looked to be the bitter end at Snow Valley. They'd done a fine job with the snow cats to get a few lines into passable shape (at least until the sun cooked everything), but the mountain was bare dirt everywhere but for a handful of thinly-covered runs.
Today they could have opened every lift on the mountain. Everything was covered, top to bottom.
I am trying to search my memory to remember a series of potent late-season storms such as we've had here in Southern California. It started with this and then there was this and this and now...this. You'd almost think we weren't having a totally sucky year down here!
Yesterday about 2 p.m. in the San Jacintos, I crawled back up the tram walkway, stashed my skis against the wall, and sat down for a slice of pizza and a cold bottle of water. Powder laps on my Czars had my hip flexors totally wasted (it's a 14lb "touring" rig). I was dehydrated, a little shaky, exhausted beyond belief. I just sat there a moment, head down, taking deep breaths, and then I broke into this wild grin. What treasures our local mountains are, especially when transformed overnight by a fierce Pacific storm. Sometimes life is sweet, no?
— April 15, 2012
Andy Lewicky is the author and creator of SierraDescents
Matt April 15, 2012 at 7:00 pm
I had plans for B-P Saturday but Caltrans had the 2 closed at Big Pines so I just went to Mountain High. Insanely crowded but everyone was saying it was the best conditions all year, and you could find untracked snow in the right places in the trees. Mid-April powder day in LA? Yes, yes please :)
Chad April 16, 2012 at 2:21 pm
So those were your tracks up there on the east face of Jean? We headed up there for our first time ever and had a little route finding fun. Snow was decent, only wished we had hit it a few hours earlier. That place is a treasure up there.

We got a view of Mt Tahquitz on our ascent. Looked really filled in. Have you ever been out that way? I was thinking of hiking from Humber later this week to round out my Palm Springs vacation.
Ronnie April 19, 2012 at 9:23 am
Skied Mt Waterman last Saturday, roughly 10 laps and got into the Avi shoots. About a foot of powder. Super sick! Skis took a few rocks though.

What's good this week? Badden Powell? North side of San Jacinto? Let's go!
Will April 21, 2012 at 9:43 am
Anyone know if there's any cover still in Baldy Bowl? Or Baden Powell? Trying to decide on the destination for tomorrow.
Bill April 22, 2012 at 2:44 pm
Best snow all year on Cuyamaca on Saturday, then hit Baldy the next day with kids and wife. Brought all my gear hoping I might break away for a little Baldy sidecountry. Didn't happen but great to see the kids catch the fever. very thin at the bottom of baldy runs.
Ronnie April 23, 2012 at 12:04 pm
Hey Will,
Did you get into Baden Powell? Any snow left? Might be good on Thursday this week after it snows about 1 foot up high. Does it run all the way through, or do you need rope?
Will April 23, 2012 at 12:34 pm
Didn't get to B-P this weekend. I've only skied one of the east side chutes, last spring, but it skied all the way to the road. There was one steep rock band, but we were able to side-slip it, axe in hand. With less coverage, might be a short rap. But others here probably have far more expertise on the topic.