'The Couloir to Nowhere' on TV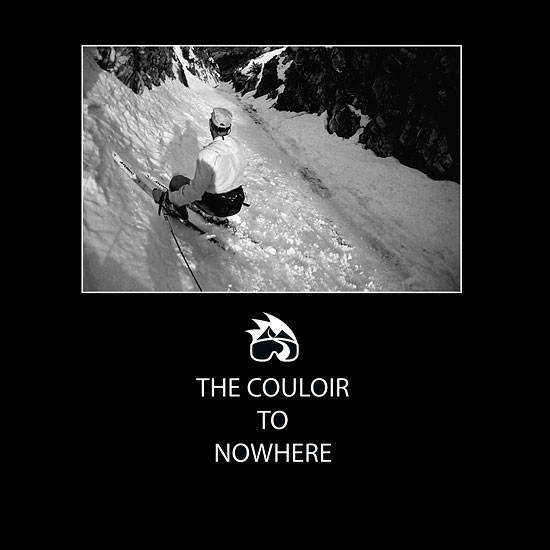 I am so delighted to make this announcement: my documentary, The Couloir to Nowhere, is now available on television via The Ski Channel. That's right, you can now watch my adventure filmmaking masterpiece in the comfort and privacy of your own home, on your very own big-screen TV. You'll laugh, you'll cry, and perhaps most importantly, you'll pay nothing, because it's 100 percent free.
Yes, no need to order my DVD, you can now see 'The Couloir to Nowhere' free of charge on the Ski Channel. Just press a button and before you know it you'll be climbing and skiing Iron Mountain alongside Dave, Lou, and me, experiencing first-hand one of the fiercest ski mountaineering adventures ever to take place in virtual sight of the beaches, palm trees, and freeways of beautiful Los Angeles, California.
How can you find the Ski Channel? It is available on-demand from the following providers: Time Warner Cable, AT&T U-verse, Cox, Verizon FIOS, Directv, and (coming soon) Comcast. For specific instructions for finding the Ski Channel on your network, click here. Don't delay: watch 'The Couloir to Nowhere' now and share the excitement. There's much more than just skiing to amaze you. Watch Lou battle endless brush. Hear me play the guitar...and the triangle. See David Braun in shorts.
True, this is my first film, and it is a little rough around the edges, so please keep your expectations reasonable. But I can personally assure you that watching 'The Couloir to Nowhere' will change your life. After watching it, many of you will actually grow smarter, better looking, and taller. You'll make more money, too. Okay, seriously, you're probably going to stay the same height...although who knows what might happen if you watch it over and over again...
— April 17, 2012
Andy Lewicky is the author and creator of SierraDescents
Jeremy Hamm April 17, 2012 at 11:33 am
I saw it on TV and it was great! I loved seeing the way you portrayed the local mountains. When does the next installment come out :)
Bill April 22, 2012 at 2:45 pm
Congratz!
charles April 22, 2012 at 10:18 pm
"no need to order my DVD" but i just saw the preview and had to order the dvd... looking forward to watching!