Mt. San Antonio and Downtown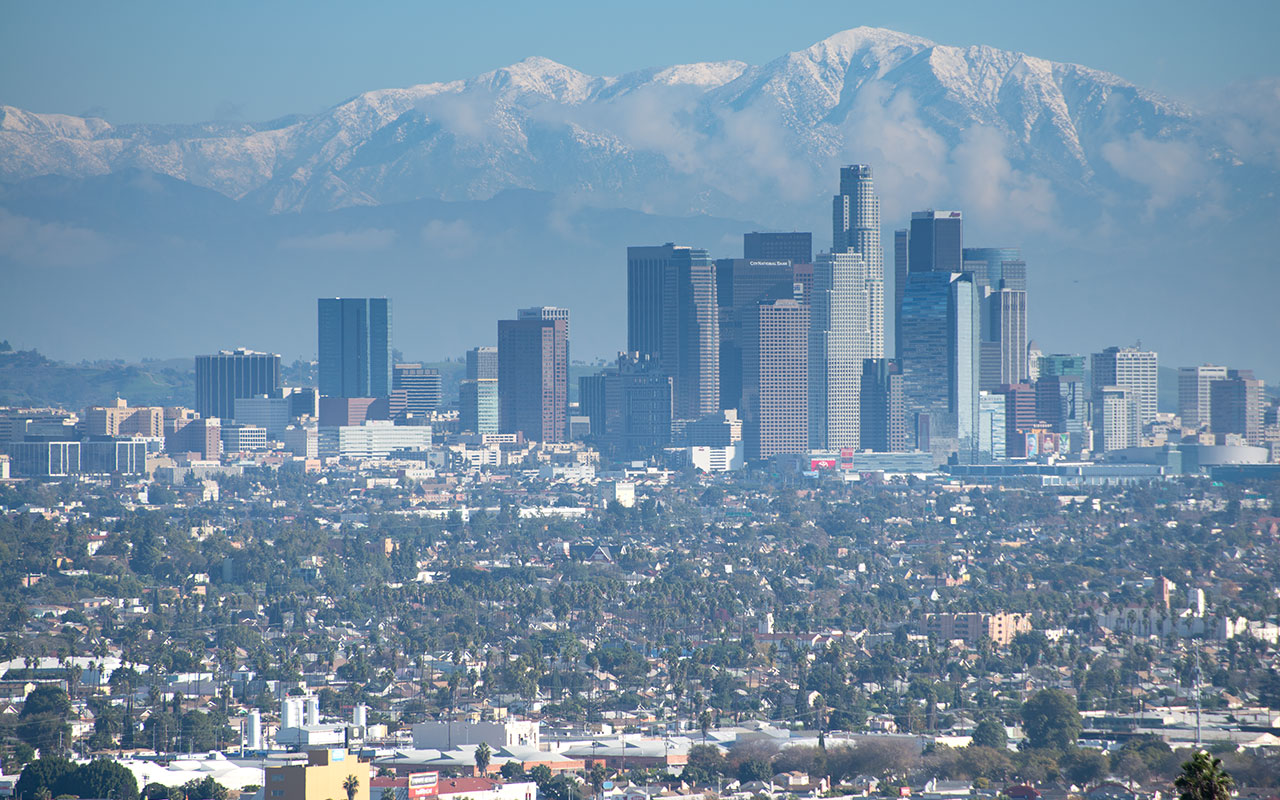 I'm out with my camera today, partly because it's a beautiful day in Southern California, mostly because it's easier than sitting at home and reading the news. Here's downtown Los Angeles with the San Gabriel Mountains and a very snowy Mount San Antonio in the background.
For you local resort skiers, Mountain High, Snow Summit, and Snow Valley are open, thanks to this week's storm.
Despite how promising that glorious wall of white on Mount Baldy's west aspect looks today, the Socal backcountry will no doubt need another storm or two to put enough snow on the ground for viable skiing, though my friend Brent down in San Diego appears to have gotten the jump on all of us with yet another ski descent of Cuyamaca Peak.
— December 15, 2012
Andy Lewicky is the author and creator of SierraDescents
Dan Conger December 16, 2012 at 11:43 pm
Living in San Jose, it is only 3.5 hours from my front door to Kirkwood. It's a doable day trip. But, there are ZERO mountains like the San Gabriel's here in the immediate Bay Area. There is no 30 minute drive to a 10,000' peak. There is no Mt. Baldy, Old Greyback, or San Jacinto. LA has real mountains very nearby, and on that score you have the Bay Area solidly beat. Enjoy the views!!!
Phil Miller December 17, 2012 at 10:58 pm
Yeah, I found that out when I moved here from Campbell 12 years ago. I knew there were mountains down here, but not how close they were! I grew up in Sacto, skiing Tahoe, but skiing in Los Angeles is even closer, though not as big, varied or numerous.
Brent December 18, 2012 at 12:31 am
Haha, yeah I was just going to email you about Cuyamaca, socal's most epic green run. We got it into our heads on Thursday night to go give it a shot, and it worked, sorta. There were a few sparks lower down the road but I slid on snow in an upright position. I suppose we'll call it skiing. The east side is calling, will you accept the charges??
Andy December 18, 2012 at 12:55 am
Phil, true only if you're confining yourself to the resorts...
brad brown December 21, 2012 at 4:50 am
You guys are hilarious, it's like reverrse hibernation harldy a comment for andy's summer posts then first snow hits and the ski bears awake. Well I'm a bit grumpy too from my long summers nap and am tired of dry land sessions-will hit summit saturday. Dan, Kirkwood looked insane earlier this week.
Mark December 29, 2012 at 7:10 pm
I hiked Mt Baldy yesterday and there is a good 1.5' of firm base covering the rocks across the floor of the bowl and more in the trees on the west side of the bowl. Met a bold skier who made tracks off the summit and again into the bowl just skier's left of the trees.
Krusty January 9, 2013 at 9:15 pm
Has anyone been up Baden-Powell or San G yet this season and/or recently? Was gone during the recent storms, coverage on N aspects looks to be holding up as seen from Costa Mesa(web cams at resorts)!?