How to Empathize With Your Freezing L.A. Friends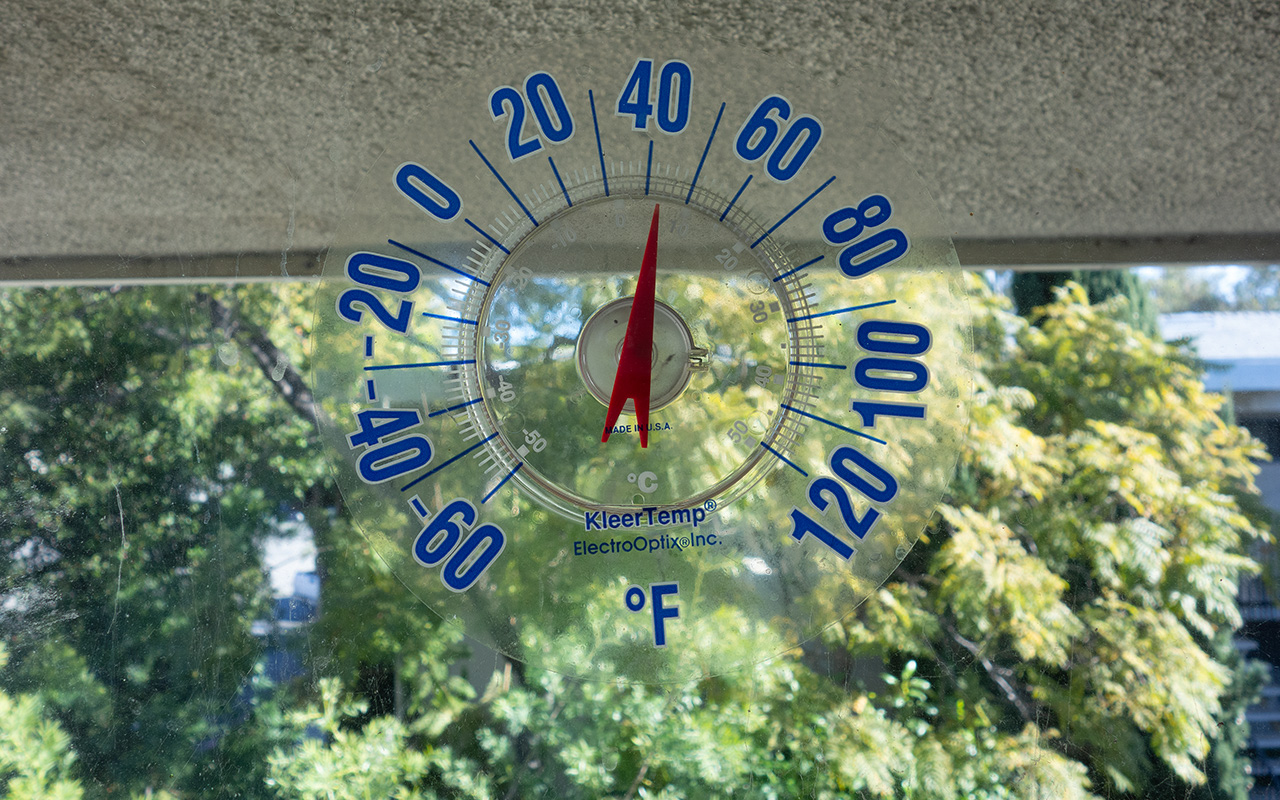 You are looking at an actual photograph of the thermometer outside my West Los Angeles apartment taken 10 a.m. this morning, looking out at a bright and sunny Southern California day. In case you are wondering, this photograph has not been doctored or altered in any way. Temperatures are indeed currently in the 40's throughout the coastal L.A. Basin. In other words: we're freezing!
The overnight temperature in downtown Los Angeles hit a record low of 34° early this morning, the coldest measurement in 23 years. Redondo Beach literally froze: 31° F. Despite these horrific and near-historic lows, and the widespread suffering they are inflicting on the otherwise preternaturally happy and attractive people of Southern California, many people outside the L.A. region are finding it difficult to understand what all the fuss is about.
For you, then, I've written a quick primer so you, too, can feel appropriately compassionate. The problem, you see, is not so much what the temperature is outside as it is what the temperature is inside. Yes, Los Angeles does indeed typically enjoy a shockingly temperate climate—neither too warm nor too cold, 365 days a year, year after year. And when the weather is so well behaved, not just for years but for decades in a row, homes and apartments tend to be built as if it never gets unpleasant.
Consequently, we have mid-century windows which can never be closed, paper-thin, uninsulated walls, and giant unsealed gaps randomly occurring throughout our architecture. The sum effect of these engineering quirks, paired with out ubiquitous lack of central heating, is that the temperature inside our homes, at any given moment, is likely very close to or even exactly the same as the outside temperature.
So, if you'd like to experience a little L.A. living right now, here's how to do it: crack open every window in your house. Crack open your front and rear doors too for good measure. Be sure to block every heating vent inside your home except one. Now, go find a thin, open-weave cotton blanket and a pile of screenplays, wrap yourself up, and start reading. Voila: instant empathy!
— January 14, 2013
Andy Lewicky is the author and creator of SierraDescents
Michael January 17, 2013 at 12:50 am
Huh. Last couple days it never got over 28º here in Oakhurst! At least nothing is melting, and considering the ridge of high pressure over the west, that's gotta be a good thing...
brad brown January 17, 2013 at 2:39 am
23 in agoura sunday am.