The Mid-January "Hmm"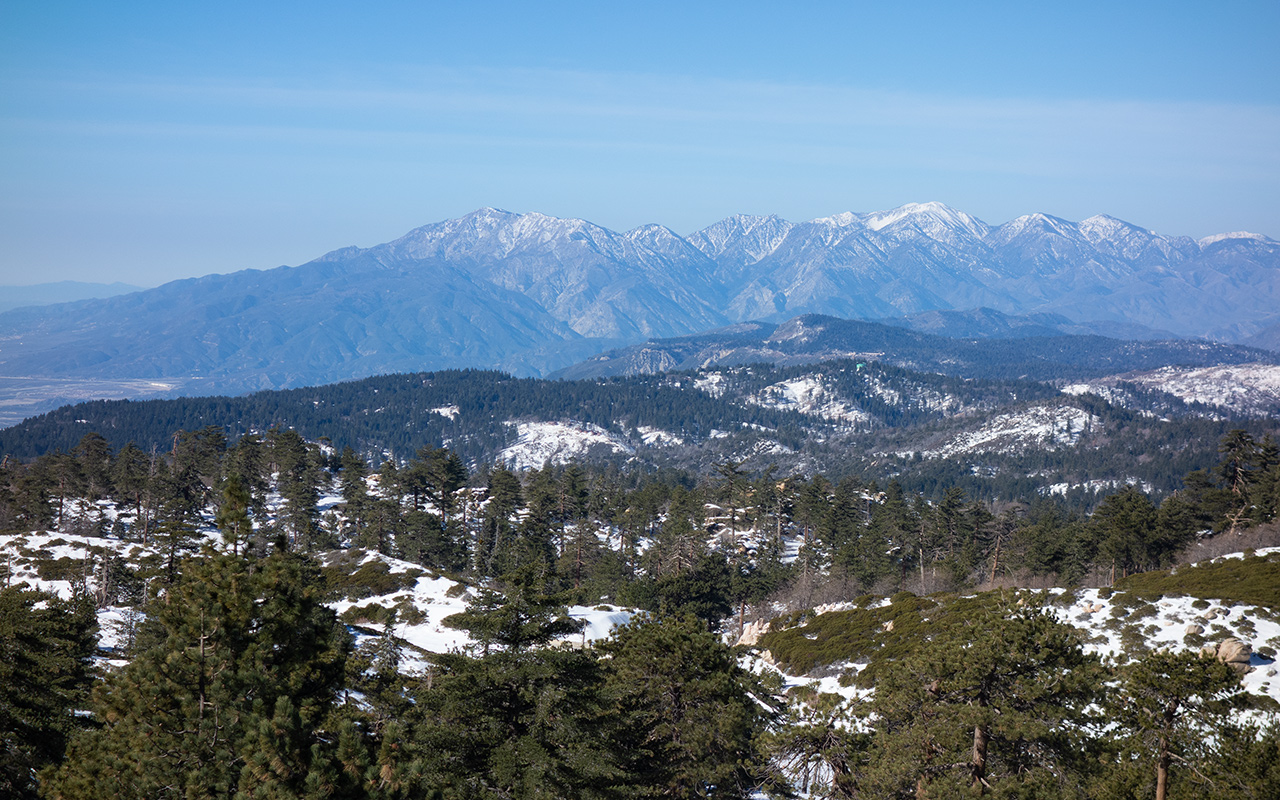 Well, temperatures are back in the 70's here in SoCal, so things appear to be getting back to normal. A big thanks to all of you for your kind thoughts and support during our historic cold snap—it was touch-and-go for a while there, but it looks like we're going to pull through just fine.
Here in mid-January, we've reached that time of year when I find myself looking outside, rubbing my chin, and saying, "Hmm..."
My armchair canary for Southern California backcountry conditions is Mt. Baldy ski area's Thunder Mountain. If Thunder is closed, or all-but closed (as it is now), the backcountry probably stinks. Conditions in the southern ranges this time of year can be be just about anything, from bountiful to bare dirt everywhere. We're not quite bare, right now, but we're a little too thin for comfort.
Perhaps the real agony of that extended cold snap was that it was accompanied by almost no precipitation. We don't need a lot of storms here in SoCal—we just need a big one to hit at the same time that cold air is pushing through. That's what gives us the miracle of one-storm wonders that turn bare mountains, overnight, into this. Remember that? The memory still puts a grin on my face.
Without that convergence, we're left with the kind of winter we've got now, where I start looking at the big peaks on the horizon and mentally calculating how many days of winter are slipping away. Yes, there's the Sierra—thankfully. But those SoCal mountains play a key role in my Sierra experience. They're where I get tuned up, toned up, and fired up. Crunching through unexpectedly big days in the San Gabriels puts body and mind in ideal condition for just about anything the Sierra has to offer.
It also quickly shakes out any liabilities in the gear arena. Without that prep, the Sierra starts looking like a long ways away. And the beach starts looking a lot closer. Hmm..
— January 18, 2013
Andy Lewicky is the author and creator of SierraDescents
Andrew January 19, 2013 at 11:54 pm
Andy,

I feel your pain-but look at the date of the post you linked to: March 19. Every year I start to get a little down about the conditions around this time, but then I remember that many of our best snow in So Cal comes late in the season, in Feb and even March. Don't despair... yet!
Matt D January 21, 2013 at 5:39 pm
A friend hiked Baldy on Saturday and said there wasn't much snow. I skied Baden-Powell and I was happy with the coverage... but my only point of reference is last year.
Chris M January 23, 2013 at 11:57 pm
How's San G coverage? Anything over there to speak of?
Was just in Vail/Breck... and it's not much better. Be glad you don't ski there regularly.
Scott January 24, 2013 at 4:32 am
Patience, yes, but the banner years we've had at least teased us in January. Winter's so far told us it has a headache and rolled over.