Slide Peak Sunday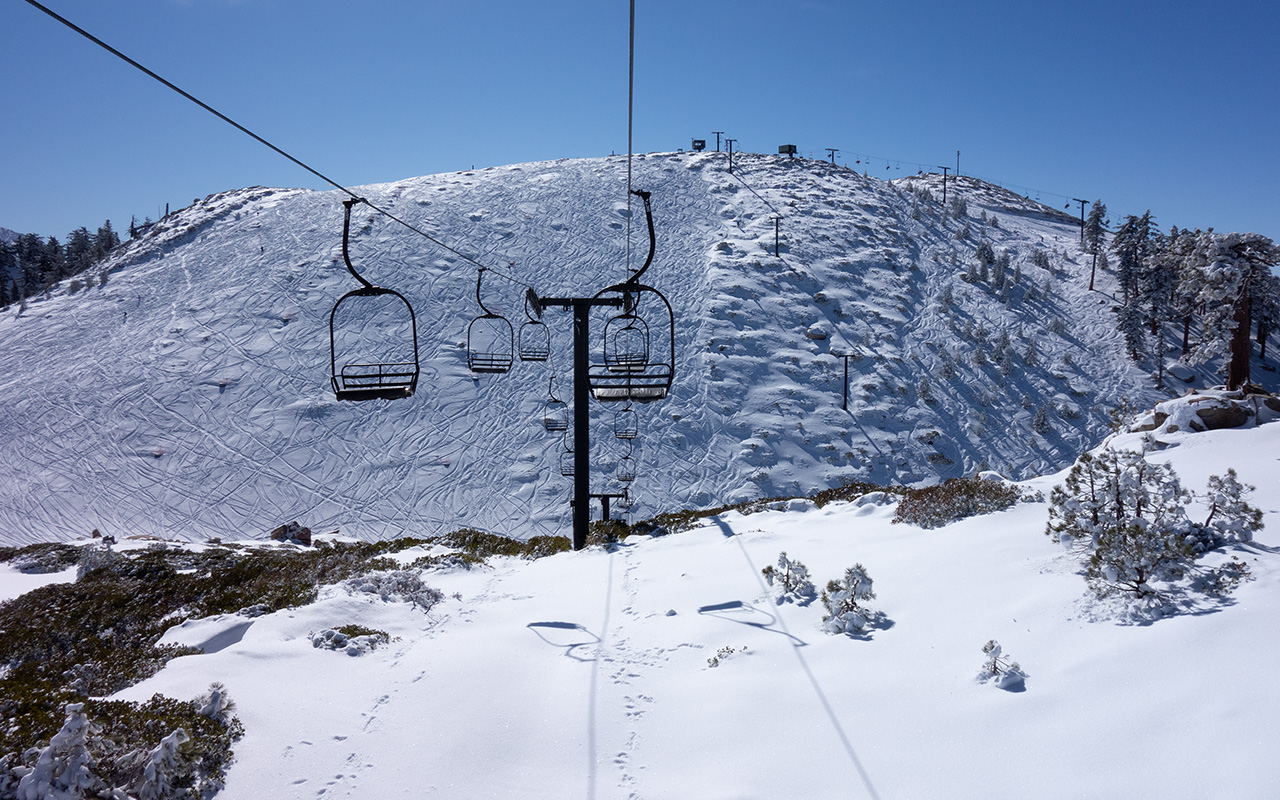 Okay, maybe it's because I've got a season pass, but if you ask me, Snow Valley has by far the best vibe of any of the SoCal mountain resorts. It just feels like skiing here. Yes, the lifts are awful, but the value is great—especially if you bring your family.
And on a day like today, with 14-18" of fresh snow blanketing the hill, the mountain really shines. No shortage of fresh tracks were had on Slide Peak today.
Elsewhere, I assume someone played guinea pig and tested out some backcountry stashes. I couldn't bring myself to get up the Palm Springs tram yesterday, but there's got to be something on San Jacinto's east face—right? Maybe the big cirque at San Gorgonio/Jepson? Baldy Bowl? Anything? We're getting snow this winter, but the storms are coming a little too infrequently to build upon each other, and baseless winters don't tend to be good winters in the 34.04° lattitude range.
Looking ahead on the long range, I see nothing but sunshine ahead. I think it's time to start putting our faith in a huge March, massive wet Pacific storms smacking into Arctic cold fronts right over SoCal, over and over again. Until then, there's always the High Sierra. Or Snow Valley with the kids...
— February 11, 2013
Andy Lewicky is the author and creator of SierraDescents
charles rittmann February 11, 2013 at 5:07 pm
I've got faith in March!!!
Pieter Kaufman February 11, 2013 at 7:26 pm
Damn, I missed it! Slide was closed on Saturday, which was a bummer. I would have liked to have gotten up there.

I should take this opportunity to tell you that your site is part of what got me visiting Snow Valley. You, and a couple other skiier dads with youngsters have all recommended SV over the other local resorts, and I'm quite pleased with the place, especially as a place to work on my downhill skills for the BC after returning to the sport this winter after a couple decades away.

I too am curious about what conditions are like up on Gorgonio. First chance I have I'd like to get up there.
Jake February 13, 2013 at 9:09 pm
Charlton Peak was insane on Monday 2/11...easily 3+ feet up high and some of the deepest powder I've ever experienced in socal. Skinned from the car no problem. Chomping at the bit right now for 38 to open for round 2
Andy February 14, 2013 at 3:34 pm
Nice!! Maybe I'll try to get back there this weekend to look around...
Sean Murphy February 15, 2013 at 1:05 am
I'm considering a pass there, next season. For my daughter and I. Seems like a solid place that gets overlooked a lot of the time.

Also, just curious to know if you're aware of any SoCal BC groups that a guy could join up with for weekend trips. I grew up boot-packing Mount Washington in New Hampshire but I'd like to start playing with skinning around LA.

Your site has been a great resource, thanks so much.
Andy February 15, 2013 at 2:19 am
Sean, thanks! Try this: http://www.sierradescents.com/skiing/2011/01/21/partner-up.html
Bill February 19, 2013 at 5:32 am
I have good memories of Snow Valley from 20 years ago but we made our season pass commitment to even funkier Mt. Baldy. Our 4 & 7 yr old boys have been shredding the only run that's been open on Thunder, and I wish I didn't get rid of my rock skis cuz my Dynafits have been taking a beating. But I think our loyalty to Baldy will be rewarded this weekend!