Mount Hollywood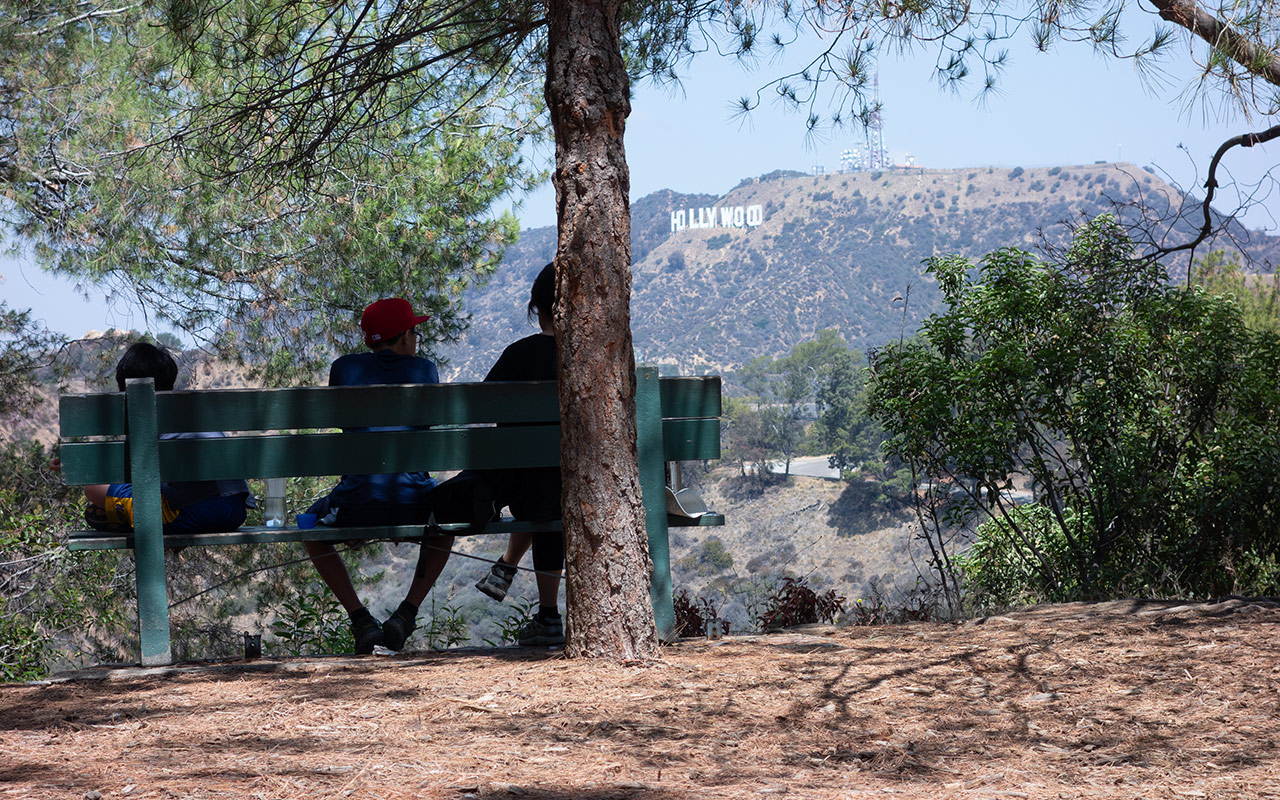 Rising only 1625 feet above sea level, Mount Hollywood may sound lowly. But it is surely one of the must-do summits in Southern California. You won't need much more than a pair of sneakers and a water bottle to make it to the top, and from there, you'll be rewarded with incomparable views of Griffith Park, Los Angeles, and the surrounding L.A. Basin.
The real trick to climbing Mount Hollywood is to pick a clear day. Alas, as you might expect, your odds of success are poor in this regard. Winter offers the best chance of good visibility, especially if you go right after a storm has blown through. Spring can be good as well if you get the timing of the daily fog just right. In summer, expect a smoggy horizon and you won't be disappointed.
The hike begins at the Griffith Park Observatory parking lot, elevation 1131'. The observatory is a worthy destination in its own right, built in 1935 as the realization of mining and real estate baron Griffith J. Griffith's dream to build a public observatory and "Hall of Science" for the benefit of the people of Los Angeles.
Park your car at the observatory or, if the lot is packed (as is typical on weekends), wherever you can find space on the nearby road. From the parking lot it's about 500 vertical feet and 1.2 miles to the summit of Mount Hollywood, following a meandering fire road that makes a series of long switchbacks.
Right away you'll pass into a pleasantly shady glade with impressive city views plus occasional peeks at the Hollywood sign poking out through the trees.
The shade soon vanishes, however, and you'll discover the real challenge of this hike: contending with that hot Southern California sun. If you haven't brought water, you'll probably soon be wishing you had. And a hat and sunscreen.
Follow the fire road across the bridge and keep walking. Scramblers can alternately take a more direct path, but the ground is steep and loose, and there is fall potential. Either way, the distance to the top is modest, and with a little effort you should soon find your way atop Mount Hollywood.
Thanks to the peak's prominence and its central location, the summit offers very nearly unobstructed 360 degree views of Los Angeles, including downtown, which is less than five miles as the crow flies, the San Fernando Valley to the north, the San Gabriel Valley to the east, and, depending on air quality, pretty much every other major peak in Southern California.
And of course the Pacific Ocean to the west.
Congratulations! You're not quite at the very top of the Santa Monica Mountains, but it sure feels like it. Surrounding you are the 4,210 acres of Griffith Park, the largest municipal park (give or take) in the United States. Enjoy this mad juxtaposition of city and wilderness. From here, the incomparable Los Angeles metropolis spans horizon to horizon in all directions.
You may be wondering if the view might not be even more spectacular at night. It probably would, but the park closes at night, and the trails close at dusk, and you probably don't want to be sneaking around in the dark here even if you are willing to violate the closure. The area is not considered safe at night. That said, you might try to catch a piece of the sunset.
You can loop around the upper bluff of Mount Hollywood to rejoin the main trail from the opposite side if you choose. You can also hike right into the San Fernando Valley via more fire roads if you've thought to drop a car near the zoo, thus crossing the Santa Monica range. For now, head back down to your car—and don't forget to check out the observatory.
— June 12, 2013
Andy Lewicky is the author and creator of SierraDescents
brad brown June 15, 2013 at 4:42 am
Start the hike in Fern Dell and it's a pretty good trail hike. Used to live somewhat near there and have been on those trails since the early 60's. BTW we have have a local gem in Agoura, Lady Face mountain. Steep east to west trail with about 100' vert of class 3. Awesome training + airplane view due to steep vocanic sides . Kanan exit from 101, south +- 1 mile to markers 2.47 (steep dirt road) or 2.62 (more single track). Approx 1K vert in less than a mile.
Andy June 16, 2013 at 1:55 pm
Brad thanks for the tip -- I'll check it out. Sounds similar to Strawberry Peak...
brad brown June 17, 2013 at 3:53 pm
The least I can do. I always wondered if anyone had descended San Jacinto, asked and answered. Ever considered the Cactus to Clouds btw? A few years ago my son and I did the backside (Marion campground) to SJ summit (4400 12+ mi) and am considering this one at least to the tram (8K, 16 mi, yikes).
Andy June 18, 2013 at 12:00 am
I figure I have to hike Skyline/C2C at some point, but I've never really been in a rush... :)