Reading the SoCal Backcountry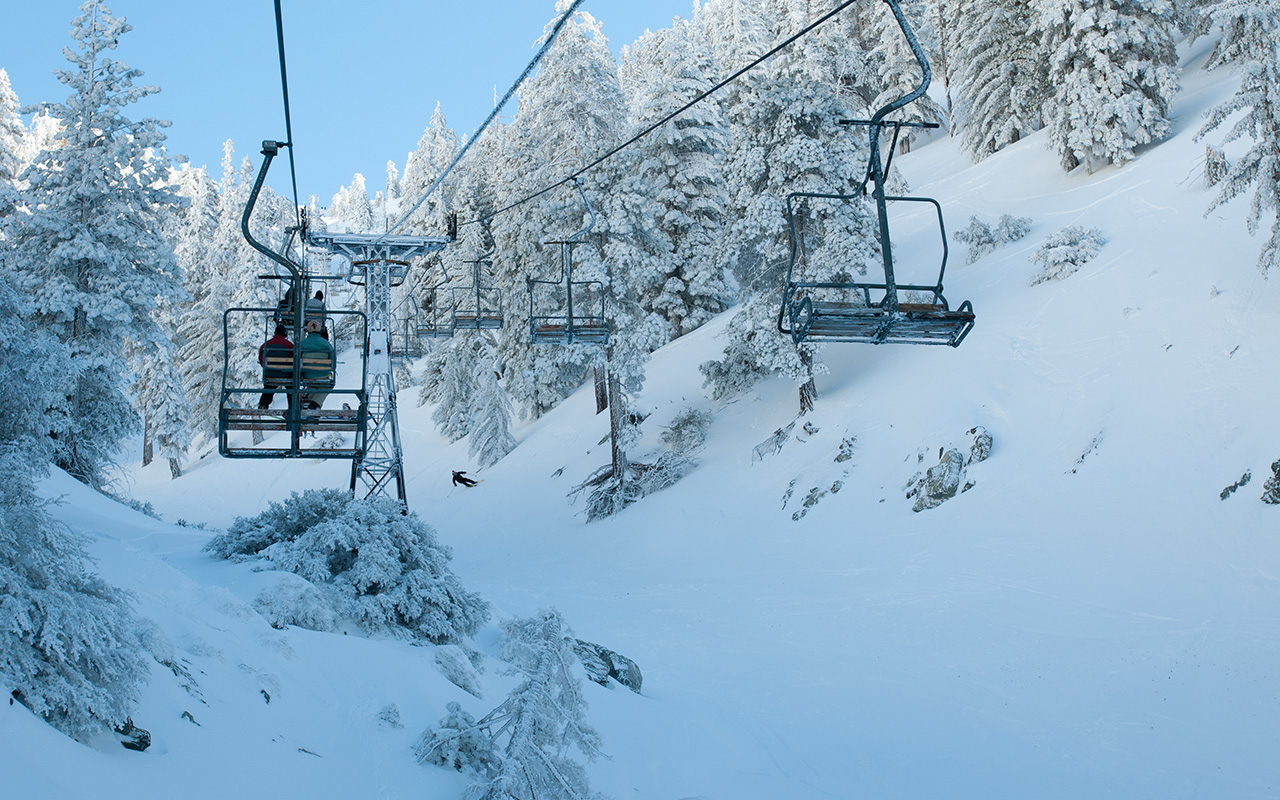 I know what you're thinking: it's snowing! How much has it snowed? Has it snowed enough? It is worth it to try hitting the SoCal backcountry? How do you know if it's deep enough out there? Well, as it turns out, there's a great and easy way to find out what's happening in the local mountains that involves neither freeway driving nor hours of possibly futile hiking.
Just check the conditions report at the Mt. Baldy ski area website and then translate as follows:
NOT OPEN FOR SKIING
Don't be fooled if Baldy claims they're running Chair 2—they're still closed, and the SoCal backcountry is desperate at best. Savvy locals may know where limited snow stashes can be found. Then again, you'd probably be horrified if you got a close look at their ski bases...
SNOW DEPTH at Notch in the 15" range
Hey...things are starting to get doable! Look for good skiing at higher elevations—say, above 9K. That means long hikes in the San Gabriels. It's probably time to visit the San Jacintos via the Tram, or maybe even take the long walk up the South Fork Trail in the San Bernardino Mountains.
SNOW DEPTH over 3' and/or skiing to the parking lot
Whoo-hoo! Things are officially popping. It's time to get out your topo maps and start looking for any peaks, canyons, or features with evocative names. Note that if Baldy is reporting a 3' base and a big storm is coming, you'll probably want to stay in-bounds at Baldy, for one of those rare days when the resort actually earns its sweet-16 Powder Mag rating.
— December 9, 2013
Andy Lewicky is the author and creator of SierraDescents
brad brown December 10, 2013 at 11:27 pm
Kirkwood did report 3'
Matt D December 11, 2013 at 5:23 am
You wouldn't even need a close look at my ski bases to be horrified after the last two weekends.
Scott December 18, 2013 at 11:04 pm
Thanks for the beta, Andy. I moved back to SD in the spring and have been itching for some snow.
Andy December 19, 2013 at 1:38 am
Sorry I don't have more to report!! (really, really sorry...)