Summit: Still Solid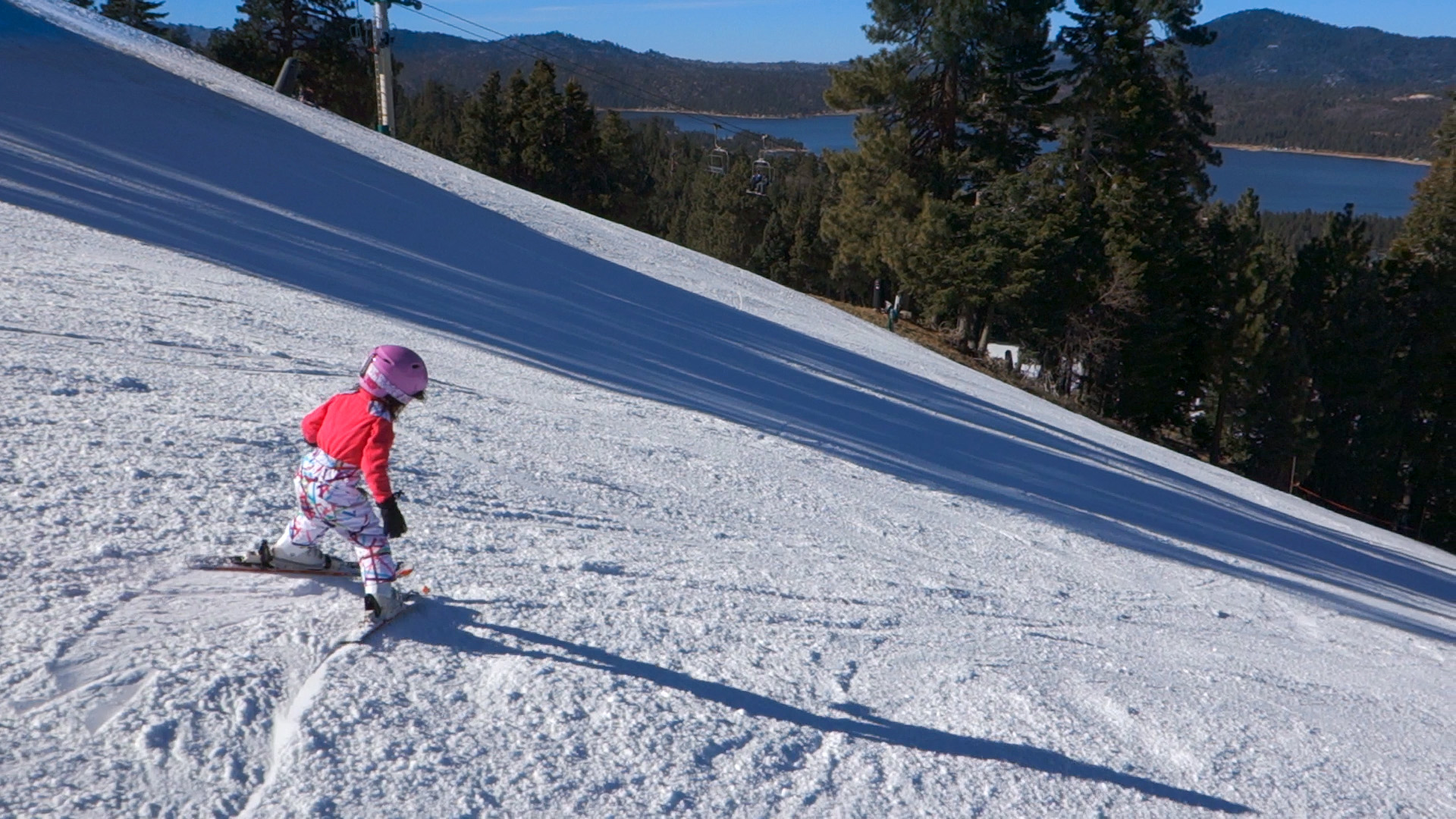 I can't say if Snow Summit is currently offering the best skiing in California, but I can say their snowmaking capability remains unmatched. Where Snow Valley just down the road seems about ready to flatline, Summit's ski runs feature full, abundant, rock-free coverage from top to bottom and edge to edge.
It's a little odd seeing snowy runs adjacent an absolutely snowless landscape, but it's great skiing either way, and baring a major warmup, Summit looks like they're in great shape for the foreseeable future. I picked Summit today because I was alone with both my kids, and I just couldn't face Snow Valley's archaic chairlift system.
With Summit, I hate the extra drive, and I hate the inflated rates, but once I'm skiing, there's no question they offer the most complete resort skiing experience of all the Southern California ski areas. And maybe I should relax a bit about the extra money: you can put a lot more turns on little tiny legs when you're riding a high speed detachable lift.
So I say go up there and get it if you want good groomer/cruiser skiing. Summit is not hurting—not yet, at least. As for the rest of the SoCal resorts, Summit's extra five hundred feet or so of base elevation makes a big difference. Things are getting desperate elsewhere. Finally, for all you backcountry masochists, here's a shot of Gorgonio's north face.
— January 21, 2014
Andy Lewicky is the author and creator of SierraDescents
Brad Brown January 21, 2014 at 6:15 pm
Before I got sick I went to SS for first runs of the season and knocked out 19 full runs by 1. If you start early, break at 11 for a quick breakfast, then hit it and quit by 1 you can get your vert fix, get a bounce back voucher for $19 ( less for us seniors), and be home by 4. This strategy yields close to lifts parking for a quick entry/exit to the car and beats traffic coming and going. My twins and youngest all learned on their consistent beginner slopes. Since they restrict ticket sales there is hardly a huge line and if you stay on the upper lifts there's never a significant wait. It sucks now because they haven't opened the bowl or other advanced runs due poor snow making weather so a little tame right now. Surprisingly they personally responded to my email when I enquired about same. The break even on season passes is around 8 trips but wait until mid March to buy as you pick up the last month plus the entire next year on one pass. Powder days are a frenzy with a crew of about a 100 knowledgeable guys looking for the goods so it cuts up pretty quick. Look for late season dumps for less crew to compete with. 2 or 3 years ago we killed it on a Mid April morning on 16" while the nonbelievers stayed home. And ditto on the elevation and rock freeness. Hey it's not Mammoth or Kirkwood but it's close to home and if you obsesses about weather (see Ben's Weather for consistently accurate forecasts that understands skiers) like I do you are usually rewarded with a few days of fresh annually.