SIA 2014: The Skis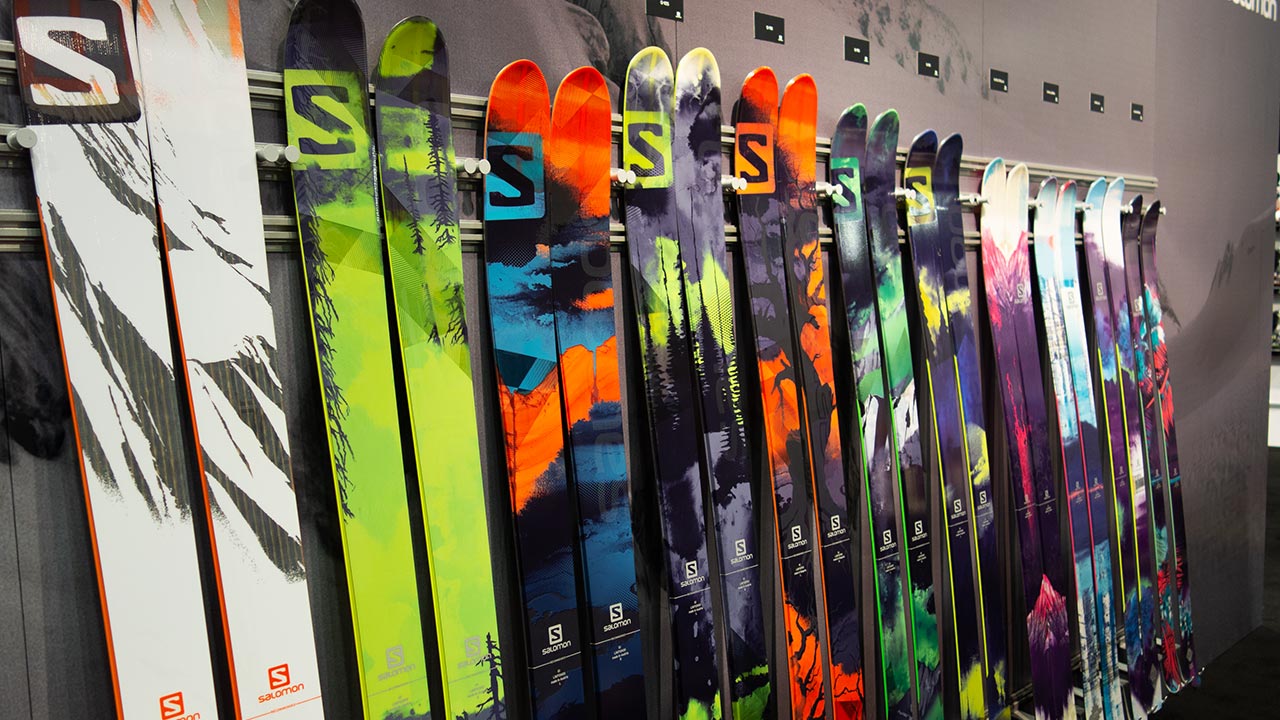 If you want a quick narrative for the trends in ski design for the upcoming 2014-2015 winter, let's go with a combination of consolidation and chasing. With a few notable exceptions, makers aren't offering big, audacious changes. Rather, many of the best skis return unchanged (or with minor tweaks), and many second-tier skis come back looking more like this year's winners.
Also interesting: some of the more progressive or non-traditional designs return with less radical geometry. That includes DPS, which is subtly tempering its Spoon line, and reissuing the Wailer 105 as more of an All-Mountain carver, in the style of the Blizzard Cochise. As for the Cochise, it returns a little softer, and with a dash of camber underfoot to make it quicker and snappier.
The Bonafide and Kabookie come back unchanged, but all the Freeride Blizzards now have mounting scales printed on the deck, along with a true-center dimple. Blizzard apparently heard enough 'I feel back on the ski' complaints, to which they respond (1) 'we're Austrian: deal with it' and (2) mount 'em 1cm forward if you must'.
Salomon continues to aggressively target Freeriders, offering the new Q-Lab ski, which brings race-room tech to the 104mm All-Mountain carver class. The Q-Lab looks (and skis) a lot like a response to the Cochise—I found it immensely fast, like a guided missile for long-radius turns, but more Big Mountain than AM. A lighter, wider version, called the Q-Lab BC, is offered for Touring use.
Meanwhile, Atomic has completely reinvented the Bent Chetler to make it Spoon-like: whether you call it 3D or transverse or horizontal rocker, the Chetler's got it, making it a powder specialist's specialist now. Other acts of boldness include Volkl's redesign of the much-beloved Mantra, which gains full rocker and freakish quickness. But will the Mantra faithful accept it?
Nordica fearlessly retires the award-winning Hell and Back, and introduces a new line of 'NRGy' skis and boots to replace it. The NRGy skis look a lot like a response to Rossignol's Soul 7 (and 7-series skis), as does Elan's intriguing (and asymmetrical) Spectrum series. Speaking of the Soul 7, after a year of riding, if anything the ski just keeps looking better.
K2 is content to mostly leave the AMP Rictor and Annex series skis alone. Standout elite carver the Bolt returns unchanged (as does its need-for-speed competitor, Nordica's Fire Arrow EDT), and the BackDrop is retired, replaced by the Coomback, in two widths (104mm and 114mm), and two new Wayback widths (88mm and 96mm).
I rode a Black Diamond ski—and I liked it! The new Carbon Convert gives us a 105mm Touring plank at a very nice sub-seven pound weight, per pair, and more importantly a versatile hard and soft-snow ski with nary the grabbiness or awkwardness of BD Touring skis past. If the Convert seems too heavy, La Sportiva dares you to try the five-pound Carbon Vapor Nano.
In the Touring Powder/Big Mountain realm, Dynafit's Huascaran gives us an absolutely delightful ride (reminiscent, I thought, of the excellent Salomon Czar) at a very reasonable eight pounds per pair. That's it for this year's SIA Snow Show ski news; stay tuned for boots, bindings, and some interesting accessories...
— February 20, 2014
Andy Lewicky is the author and creator of SierraDescents
brad brown February 21, 2014 at 1:16 am
As promised I am reporting back on the Soul 7. I am amazed at their ability to hold dust well and retain their original shape despite lurking in the garage for some 6 weeks. I agree they are quick and light as I was able to move them quickly and easily from my truck to their present location. I can further report that others are still reporting it is a great ski. Thankfully you have not downgraded your rating thereby increasing my confidence that once I actually ski them I will be in for shock and awe. And yes I'm signing the finally got over the H1N1 flue, started up training and boy have I got a ways to go, and am hoping for local snow that may allegedly fall late next week blues. Actual report to follow, likely after Tahoe late March.
brad brown November 16, 2014 at 7:34 pm
The Soul 7, after a summer of reflection, is still without doubt the finest ski I have ever stood on (or in ski day dreams, rode on over and over). They seem to handle all conditions to near specialty level ability despite being an single quiver type ski. And this is what I was looking for, the ride that floated the morning pow, handled the late morning chop, the late afternoon pow/bump/where that ice come from/sun came out and made oatmeal out of silk runs you encounter on a big mountain-sometimes on the same run. And then come out the next morning and rip groomers at mach 1, not to mention steep, bumped out entries into holy crap zones. They ski like a longer ski yet snap short radius turns and inspire to charge harder. As a senior skier I was looking for a confidence inspiring ski that I could rip on like 20 years ago-this is it! Thanks for all the work you put it so we don't have too. Also, please explain what those white flake like things were in your recent chair lift ride ski reviews, is this a new snow additive?