Mount Diablo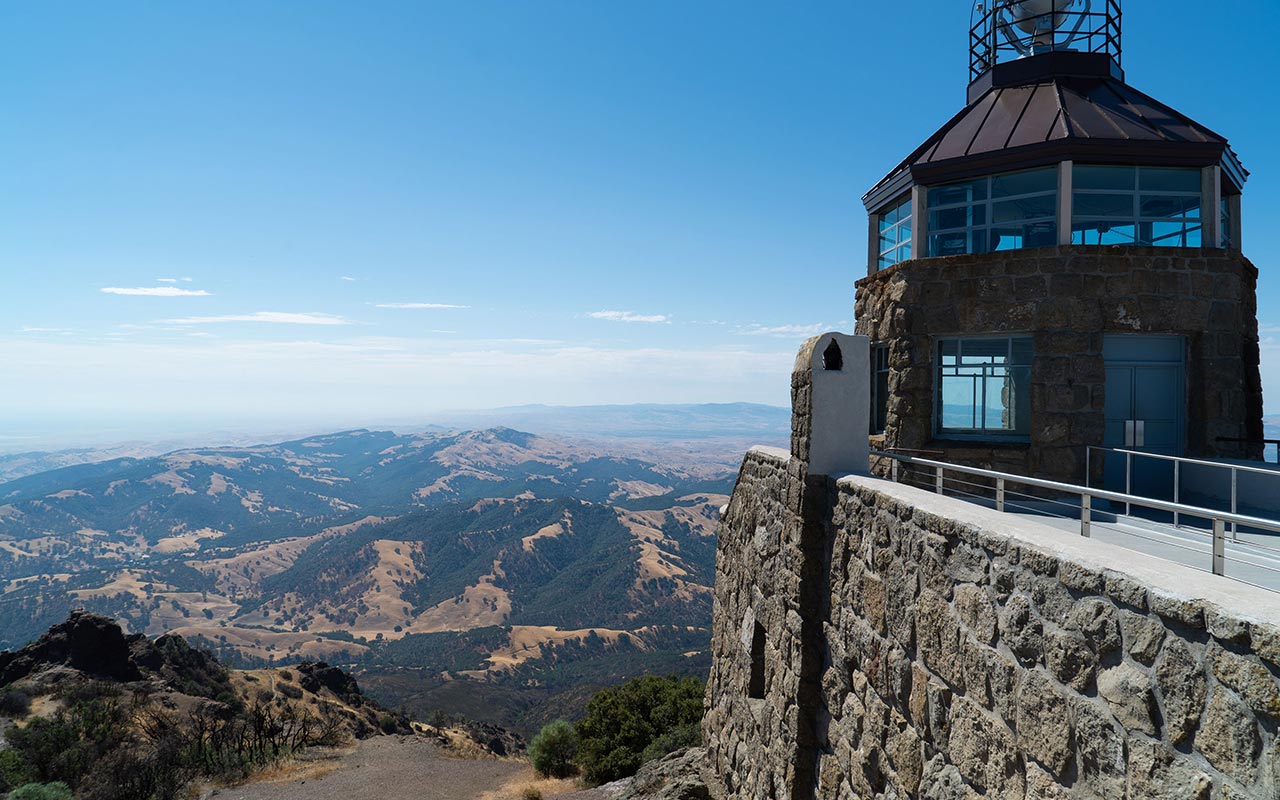 Rising a decidedly non-devilish 3,849 feet above sea level, Mount Diablo is not quite the highest summit in the Bay Area, but it is Contra Costa County's highpoint, and, thanks to its remarkable prominence, Diablo offers not just fine views from San Francisco to the Sierra, but in fact one of the largest viewsheds in the western United States.
Jay Anderson calls it "the only true mountain in the area", referencing Mount Diablo's almost total isolation from the otherwise meandering coastal ranges that surround the Bay Area. That makes Diablo feel much bigger than it actually is—and it makes the mountain a worthy peak-bagging target, elevation notwithstanding.
The crux of this route involves not your feet but your car. First, you'll need to pay the access fee to Mount Diablo State Park to gain entry. Second, after navigating an interminably long and winding road, you'll need sharp eyes to avoid passing the start of the hiking trail (at the Juniper Campground) and inadvertently driving all the way to the summit parking lot.
Yes, Diablo is a developed mountain, and in a particularly unsporting twist, the true summit is covered by a visitor center whose centerpiece is a wholly-enclosed 360-degree view tower. Alas!
On the day I visited the views were impressive but marred by the hazy flat light that we typically see mid-day in California's inland basins. A better (ie contrasty) time to visit would be sunrise or sundown, though that may set you in conflict with the park's operating hours. Winter can see snow atop the mountain—18" fell here in December 2009—so keep those boards handy.
From Juniper Campground it's about a mile and less than a thousand vertical feet to the summit. If you want a climb more worthy of the mountain's namesake, try biking up from the 680 freeway—though be advised the road is narrow, and with its countless blind turns, not at all bike-friendly if there is traffic.
— July 19, 2014
Andy Lewicky is the author and creator of SierraDescents
brad brown July 21, 2014 at 8:02 pm
What no medical report lamenting travel hardships. No blisters, plantar fascitis, electrolyte imbalance, AMS, bee stings, crayon insertion into young eye sockets? And how about a gear report? Type of vehicle used, tire size/tread/inflation, fuel usage, ice chest selection, strapping method for gear on the car roof, bear canister alternatives, mosquito repellant, water treatment (did you bring bottled water or did you chance it on indigenous water sources), in vehicle DVD player used to entertain the kids, and so on. Never mind how reservations were obtained, navigation methods employed, gift store discount secrets, suggestions for dealing with "are we there yet" and "Dad, were hungry" comments, etc.. I've come to expect excellence and professionalism at the site, this TR falls short of the bar you have set. I will be reporting this the the Auto Club for further investigation.
Andy July 22, 2014 at 12:28 am
OK, it was a little hard to put the right oomph into this one given you can drive to the summit. But the picture is nice, no? And I think I did need an Advil to cope with the sudden elevation gain... :)
Dan Conger July 29, 2014 at 8:25 pm
Best views from the summit are mid-winter mornings just after a big storm clears. On the best days, Mt. Shasta is even visible from the summit.