Summit Opens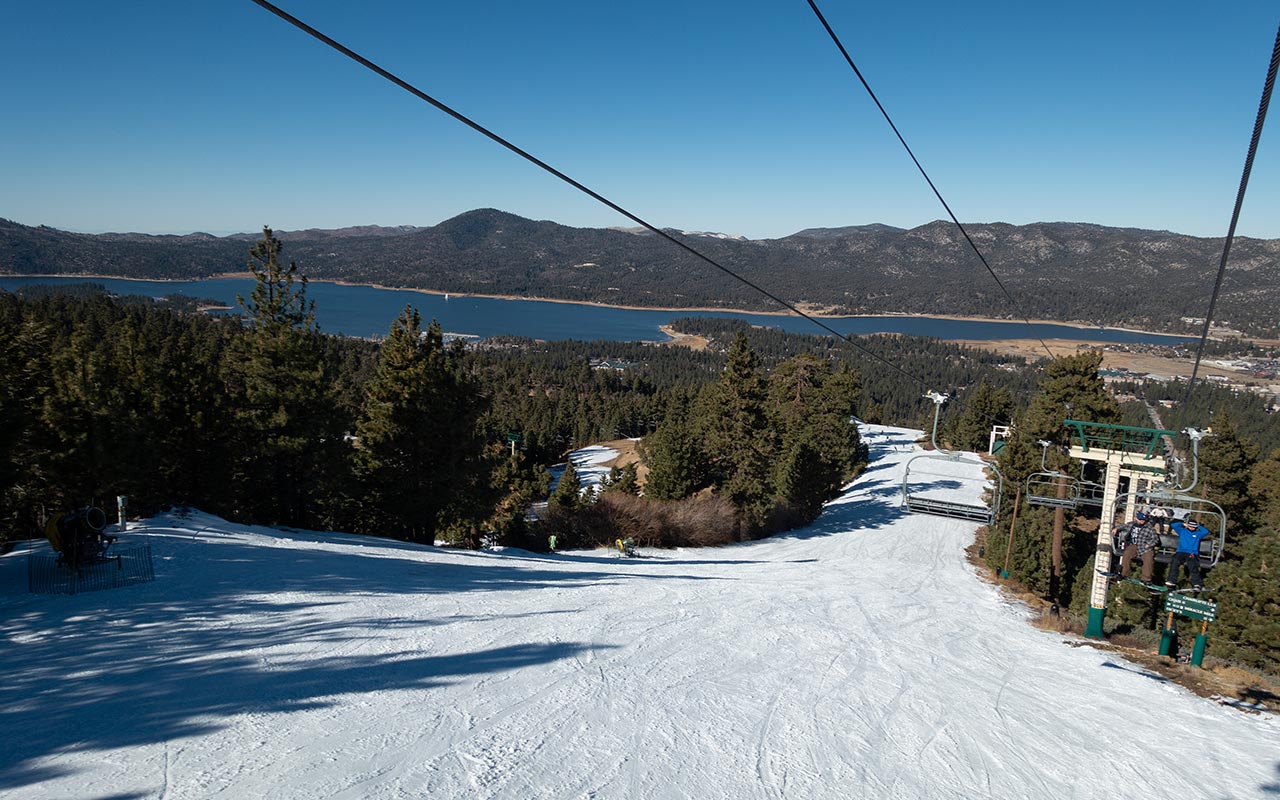 Skis touch snow once again and I say AAHHH it feels good. Opening day 2014: once again I am in awe of Snow Summit's snowmaking capability. We drove past an utterly bare Snow Valley (my 5-year-old called it "dead") and I began to worry, but Summit with its higher base elevation and its bountiful lake water had created a fully-covered top-to-bottom Miracle Mile for us.
First let me note that nearby Bear Mountain opens this weekend, and if you are a skier of the independent-legs variety, you have good cause to wait for that event before you try everyone-on-one-run Snow Summit. My God ski patrol was just AWOL today. Given I was skiing with my kids, I found their lack of presence on the hill today incomprehensible—Mammoth overlords take note.
Gripes (and countless near-misses) out of the way, it's good to see snow! Man-made, sure, but we'll take it. Elsewhere in SoCal, yes, Mountain High is open also, Baldy too is "dead", and San Gorgonio's big north face is looking...less than optimal. But take heart: Howard says a major storm is en route to Mammoth, with big rainfall potential here in SoCal. We're hopeful.
— November 27, 2014
Andy Lewicky is the author and creator of SierraDescents
Dan Conger November 27, 2014 at 3:03 am
Here in the south Sacramento area, our local weather folks are saying we could see 4" of rain by Monday. Crossing my fingers, patting Buddha bellies, and praying.
Brad Brown November 27, 2014 at 4:54 pm
Summit opening days, absent natural snow fall, effectively becomes a 3rd world snow based urban traffic nightmare. At 6-2, 195 I fare better than most though it still creates more nerves than a blind cornice drop . Example, a few years ago I was operating at normal groomer speed while holding a tight edge of run line, theoretically avoiding carnage, when a genius decided to pull over and block. Well the advanced skier understands snow is required to make skis slide but a dirt gap was all that remained. In this case speed didn't kill because I executed an impromptu Ollie over the substantial gap, perhaps with a slight dirt rooster tail, and headed on my unscathed way. Pretty cool to observe I guess but not so good for the tighty whities. But, being a die hard, I will probably ignore common sense and hit it in the next couple of days. And yes, when the US ski team was here in the late 80's for lack of the "worlds greatest snow" it became clear how advanced the SS snow system was. Hope Howard and Ben (Big Bear Weather) are on it and enough cool air mixes in to start this party-pray for snow! I have a pre-Xmas Tahoe week booked so snow, please.