Mammoth Wind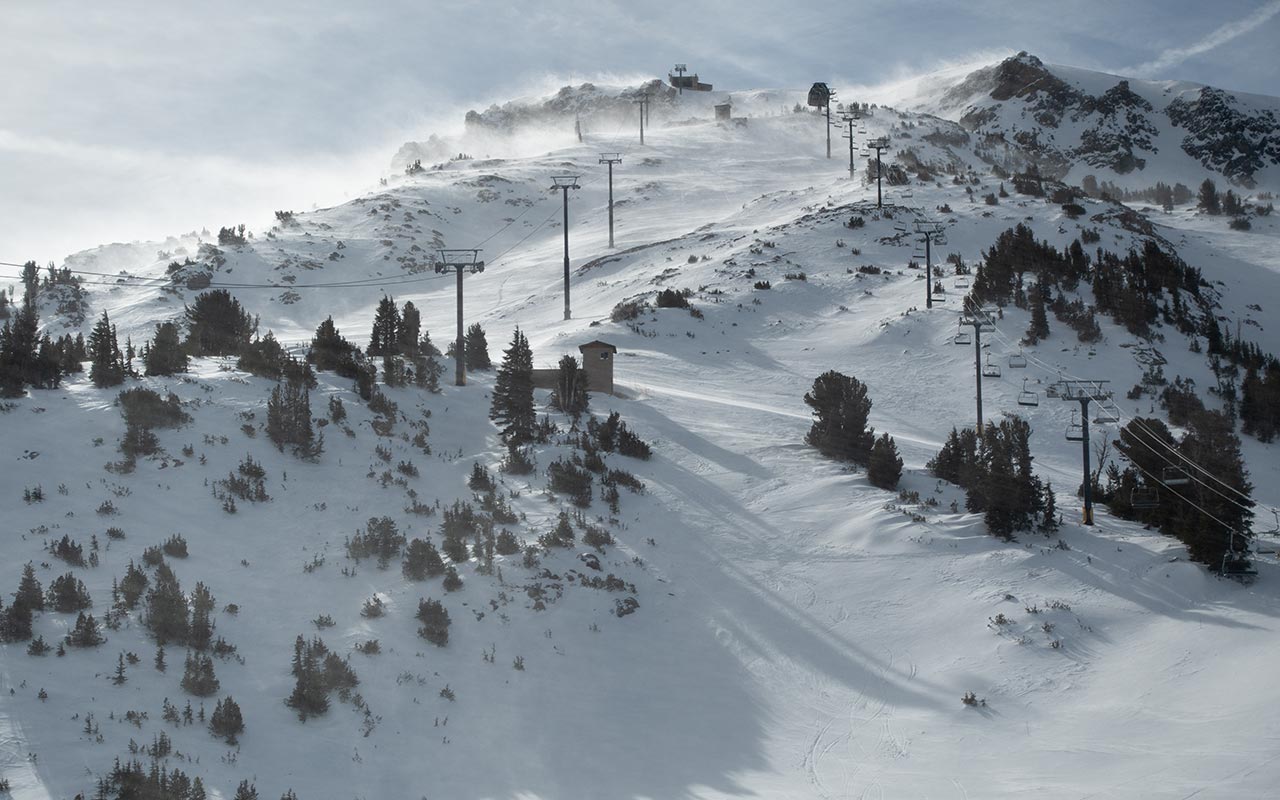 If the north wind is the scourge of the Sierra (as Mingori and Greenberg write) it is doubly so for isolated, treeless Mammoth Mountain. High winds and holiday crowds made for harsh conditions on the hill Saturday and early Sunday, with Mammoth forced to shutter not just the top but also many of their key arterial, lower mountain lifts.
That's holiday skiing at Mammoth, I guess. When the lifts were running, you found thin but feasible coverage across the mountain, with a nice dose of wind drift for those who scored the late-Sunday opening of the top. But crowds made much of the mountain untenable during the worst of the lift closures—even the lifties seemed flummoxed by the scale of the snafu.
Looking at the Eastern Sierra in general, this is better December coverage than we've seen for several years, but it is not good coverage, by any means. Backcountry users will find scattered doable stashes of snow in the usual protected locations, but certainly not the see-it-ski-it winter we're all hoping for. That said, we're closer to the point where a real storm would start opening up the standard lines (if not the specials).
Down south I saw a lot of snow on Mount San Antonio's north face. Granted it was hazy and I was a good hundred miles away or so, but my possibly-optimistic eye says Baldy's north face is skiable right now, provided it's not icy, or deceptively thin, or dangerously unstable, or all of the above. For SoCal we are at the point where any good sequence of storms will deliver us a backcountry season.
Alternately, one good heat wave will probably nuke it all. So, watch the weather closely and keep your fingers crossed...
— December 22, 2014
Andy Lewicky is the author and creator of SierraDescents
Dan Conger December 25, 2014 at 9:14 pm
Growing up in Bishop, we all feared the post storm winds that would often demolish a big dump of powder. A storm will load up the east and north faces at Mammoth, then on the morning after the winds kick up and blow it all away.

A good alternative for big powder days is June Mountain. No crowds, lots of trees, and deep stashes when you know where to look.
Brad Brown December 26, 2014 at 2:33 am
Squaw was on wind hold last Friday but its version of June, Alpine Meadows, was in play. Probably 10" new during the day but such low visibly that only treed areas or actual runs were in play and play I did. At late afternoon run in poor vis lead to an unanticipated rock drop to embankment incident where tips speared and stuck resulting in a forward non twisting fall. Poor release on bindings (new Look 14 xxl) lead to a nasty 360 degree left ankle sprain, picture pulling your foot straight out of concrete to get a visual. Thankfully not season ending but definitly December ending and maybe January. Sad, was looking forward to SV opening on Saturday. By all local accounts best December in recent memory, seems to have been a cloud magnet even more the snow Titan Kirkwood. Pray this trend continues.....and thanks Dan for the June reminder though when the wind blows and lifts run at MM it's hard to beat, IF they run.
Dan Conger December 26, 2014 at 4:35 pm
My wife and I passed by Kirkwood on Christmas Eve on our way to my folk's place for Christmas. The mountain still looked really bare. Need the storm cycle to continue fresh deliveries!!!!!