2015 WWSRA Mammoth Mountain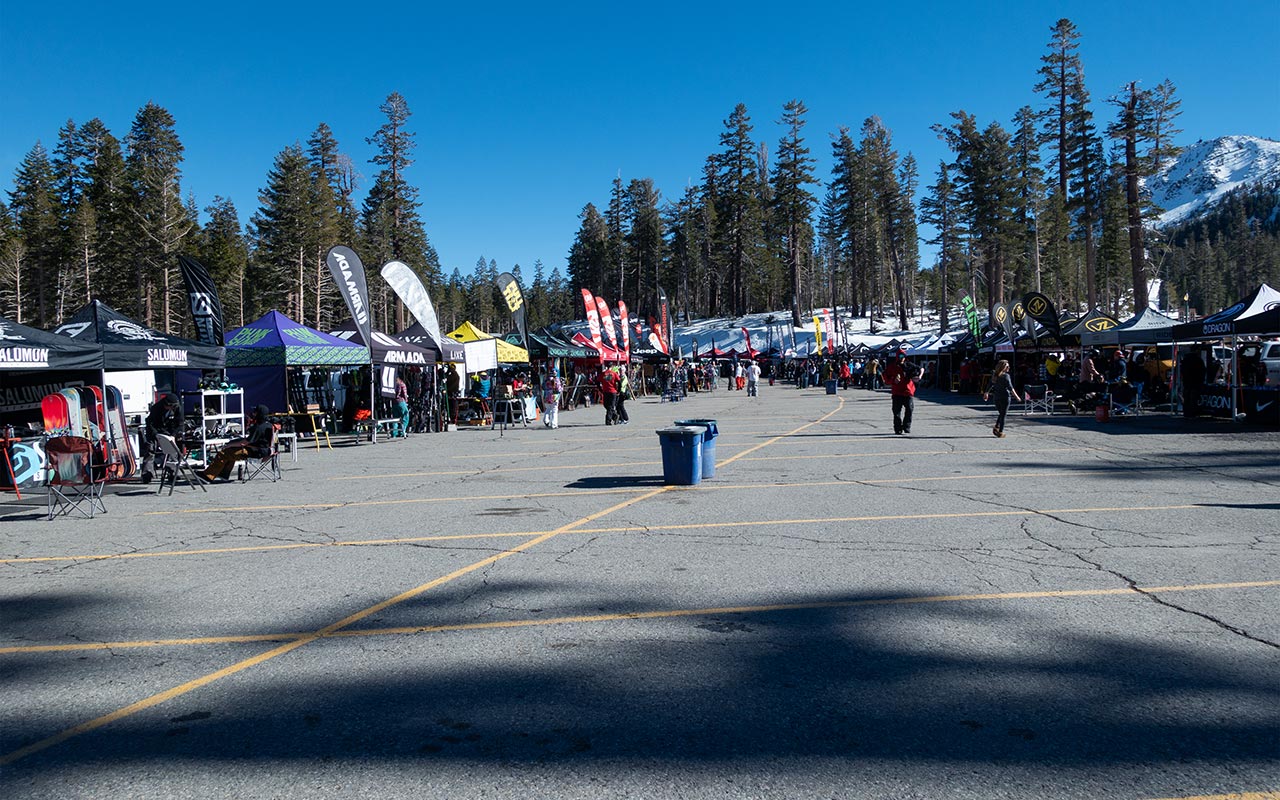 It's been hard, these past dry years, to think much like a ski buyer, but the makers have continued their work notwithstanding, and, snow or not, they've made some fantastic skis. To see what's coming for 2016, last week I attended the WWSRA (Western Winter Sports Reps Association) demo event at Mammoth Mountain.
While not quite as expansive as SIA, the WWSRA show gave me the chance to try out a broad sampling of next years' skis. And I must say it was positively a delight to be testing skis at Mammoth, my home-away-from-home mountain. With all due respect to Winter Park and Copper in Colorado, Mammoth offers testers quite a proving grounds, especially when half the mountain is ice and half is wind-blown powder.
Overall, 2016 looks to be another year of incremental improvements, rather than blockbuster advances, but as always if your present gear is wearing out, it's a great time to be upgrading.
K2 gives us the Pinnacle 95, a light All-Mountain carver which sits very much in the Sin 7 class, with a little more traditional feel overall. Nordica's NRg 100 is another impressive AM ski, and Atomic's upcoming Venture 95 might be the best AM carver at that width we've yet seen.
Blizzard's Bonafide is redesigned for 2016, to make it lighter and softer, and the Kabookie is replaced with a new carbon-infused touring ski. I didn't like the new Bonafide, but the demo guys were reportedly having some tune issues, so possibly I was reacting to a bad tune rather than a bad ski.
The new Mantra returns unchanged. That's a ski I should have skied at Mammoth but didn't—Volkl seems to deliberately under-stock their key sticks to create a heightened sense of demand at these demo events. I've heard the new Mantra described as skiing on autopilot, which is a great way to think about its strengths and liabilities.
Dynastar's Cham line gets a 2.0 revision for 2016—less metal and less weirdness in the tip, but still the same great All Mountain performance. Dynastar also gives us the ski mountaineering-focused Mythic, a 97mm 6lb ski designed for technical Chamonix descents. This would be a direct competitor to Black Diamond's Carbon Convert.
Speaking of Black Diamond, they give us the Boundary line, including the Boundary 100, which is possibly the best Black Diamond All Mountain ski yet—for hard(er) snow. BD continues to lag the hard snow performance of the industry heavyweights, but the leap in carving performance is noticeable and most welcome.
Of course I also like to go fast, so I skied some elite carvers: Rossignol debuts the Pursuit 800 next year, and this is a gorgeous ski for those of you seeking civilized high-speed thrills. I still like my old Course Ti's better than the newer, rocker-tipped Dynastar Course Pro, but at GS speeds the Course Pro is hard to argue with.
Also in this class is the asymmetrical Elan Amphibio 16 Ti2. Let's call it the Lexus of elite carvers: advanced, refined, and (no doubt) expensive. The Amphibio is ridiculously smooth and silky, even at speed, but some of us like our skis to talk back now and then—as opposed to being perpetually quiet.
Head has the chip-implanted Supershape Rally. The tech sounds a little gimmicky, but the ski does a brilliant job at both GS and slalom turns. I also fearlessly revisited Volkl's new-and-improved RTM 84, and this time I liked it, so all you Volkl owners can finally sleep well at night.
For fun, I took a few quick runs on Volkl's Racetiger GS. This isn't a fully-qualified FIS racer, but it's close. In my video notes I talk not so much about the ski itself (it is what it is, in a good way) as the differences, for those of you who are curious, between a true race ski and what I call this elite carver class (leaving out a discussion of FIS rules and sidecut).
I did not get to Voile, or DPS's new Tour1, or Blizzard's new Zero-g touring line, and unfortunately Dynafit did not send a crew to Mammoth, but all remain on my radar. You can find my on-the-snow, first impressions WWSRA ski review videos at YouTube; I'll do more considered written reviews as well over the coming spring and summer. Enjoy!
— February 17, 2015
Andy Lewicky is the author and creator of SierraDescents