Dust to Dust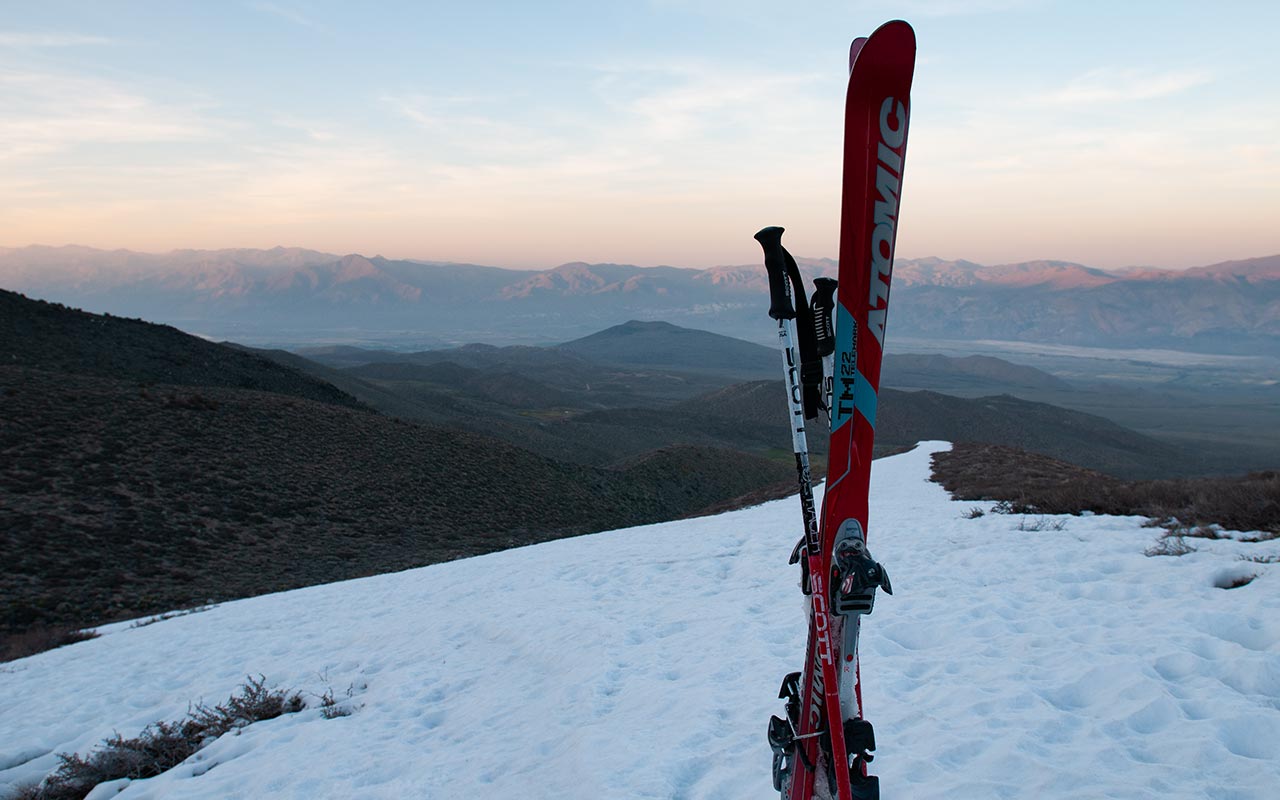 Those of you who made it to the Big Bear area this past weekend found conditions about as good as they've been all year, thanks to fresh snow and a furious bout of snowmaking. Curiously, despite 60-ish temperatures at resort-level, the snow wasn't particularly slushy, which got me wondering: why?
My point of reference here would be Snow Summit two weekends ago, when temperatures were cooler, and the sun angle was (presumably) lower, and conditions began as rock-solid ice in the morning and then devolved into puddle-jumping by mid-morning. Heck, there was even cloud cover on Sunday. So why was the snow holding up so much better under so much warmer conditions?
First of all, I'm going to discount the possibility that the sun angle, though higher, was more favorable to the resort somehow. The runs were basking in sun yesterday. I'm going to allow the possibility that the snow had more air in it, as it was newer, and thus made it more likely to sublimate than melt (helped, I assume, by less relative humidity).
But my guess is the prime culprit is dust: this weekend's snow was noticeably whiter and brighter than the dingy brown snowpack I saw two weeks ago. So my guess is, the whiter snowpack reflected rather than absorbed the sun, hence the lack of puddles. Don't get me wrong: it still got soft and gloppy late in the day. But there was a giant difference in the amount of standing water on the runs yesterday (ie, none) compared to two weeks ago.
Dust is one of the wild cards in the climate change puzzle that doesn't get talked about that much—at least in the mainstream narrative. But dust plays a crucial and killer role when it comes to snowpack. With a dustier environment, the snow gets browner faster and thus absorbs a lot more energy, and melts out a lot faster. Seeing the resilience of Snow Summit's gleaming-white snow yesterday really hammered home just how big an impact dust has.
Naturally, this got me pondering mitigation methods. Advocating bleaching resort snowpacks sounds a little too crazy even for me, but perhaps a next-generation snow cat might clean the snow in some way—maybe by filtering it thorough some kind of electrostatic system. Improving atmospheric particulate pollution levels might be a good idea too, except dust in the air actually holds down global temperatures (in the models, at least) so returning Earth's air to its pristine pre-industrial state could theoretically be accompanied by a savage temperature spike.
Anyhow: on to the news. Over at Mammoth Weather, I see Howard writes, "The idea of an atmospheric river is off the table for Central CA until further notice..." which I believe is Sheckter-speak for: no March Miracle. Yes, I admit it, after two months' worth of promises, I do feel a bit betrayed, and suggest we all gather our pitchforks and storm Howard's castle.
Locally, I am delighted to report my esteemed colleague Al successfully skied Baden-Powell this past weekend, thus keeping alive a (record?) 16-year streak. Good work Al! So, there is (gloppy) snow out there, for those of you willing to hike for it. No promises on how long the glop will last, but Gorgonio's big face and Big Draw still look promising, at least from afar, and Baldy's north face should hold skiable coverage as well.
— March 9, 2015
Andy Lewicky is the author and creator of SierraDescents
Scott March 9, 2015 at 5:21 pm
Hey Andy,

I patrolled at Bear on Saturday and the snow was great in the morning, but got slushy in the afternoon, as you noted.

Went up a chute of Gorgonio on Sunday with a couple other patrollers from Bear & Summit, as well as the head of the SoCal avy center.
The chute where the "1" is on the "10800" foot contour line is on San G's north face: http://www.mappingsupport.com/p/gmap4.php?ll=39.022967,-117.986084&z=6&t=t1

Hiked in for a few miles then started skinning. Dug a pit near the chute we planned on skiing (snow report forthcoming on www.socalsnow.org).

Snow conditions were amazing: a foot of powder in the chute, photos here: http://i1262.photobucket.com/albums/ii612/beantownr6/150308%20san%20g%20split/4441DA52-82BC-4415-AE4A-084D6683D3BC_zpswsrqadfr.jpg

I bet it's good for another week or two, at least. Get after it!

Cheers,
Scott
Scott March 9, 2015 at 5:23 pm
Ah, map link wasn't quite right. This should work: http://www.mappingsupport.com/p/gmap4.php?ll=34.108064,-116.827123&z=16&t=t4
Andy March 9, 2015 at 6:01 pm
Scott that's awesome -- thanks for sharing the photos!
Brad Brown March 10, 2015 at 1:31 am
I was up a SS on Saturday actually exceeding school zone, nay Big Bear Blvd speed limits for the first time in 12 weeks since accident. I was fully expecting the bowl to soften up so scheduled an early lunch and waited for the sun, but it never softened up (ice bumps still tough on ankle). Even Log Chute remained reasonably firm until 1:00. If asked I would have said stay off of SG until April- absolutely astonished about pow there right now. SJ is looking pretty snowy as well. I concur with the white theory, often cited as a link in the chain towards ice ages so makes sense.. Maybe add increased depth to the equation for mass of frozen material plus less ground heat absorption . Perhaps Mother could provide a bIt more actual snow in lieu of bleach. titanium (clown white), snow housekeeping, etc. though surprisingly Ben's site seems to say we're at 90% of normal for BBL. Not so for the Sierra, maybe pray for an Awesome April, Miracle May......
Scott March 11, 2015 at 7:55 pm
Brad made a video of the day's exploits, check it out here: https://www.youtube.com/watch?v=zzXQKl4b_sQ
Brad Brown March 13, 2015 at 8:09 pm
Wow, hard to believe so good a week after the storm.
Charles March 14, 2015 at 3:44 am
Thanks for sharing the great footage! Hoping for more snow all over CA this spring- Awesome April, Miracle May...
joeglynn March 14, 2015 at 3:20 pm
It would be interesting to note where the moisture originated which was very local and was drawing moisture from the ocean between Catalina and LA, I think? It was pure powder that didn't have time to crystalize micro ice within the flakes in the sky at higher elevations? The storm was moving fast also and seemed to have been in a low moving jet stream. Less moisture, less density and a dustier flake.

I noticed that it was dusty loose dander when I started throwing clouds from my rails! One day like that I think would be better than 10 days of groomed madness. The resorts are better off developing big tarps on the runs with a foot of necklace beads. Some beads could be loose and then you could make one foot strings tied to the tarp that are tied every 1 inch square. I've gone down dry roofs and dunes, can't see what the difference would be? Year long "bead-ski."

Absolutely drooling over Scott's photos above. That chute looks like a holy bowly to me.

I think I need to look for a split-board and skins
406 March 18, 2015 at 9:07 pm
Weekend before last, buddy and I found some good turns on Jean Peak from the tram:
http://www.tetongravity.com/forums/showthread.php/285175-2015-SoCal-Snow-Thread?p=4447750#post4447750