2005: Origins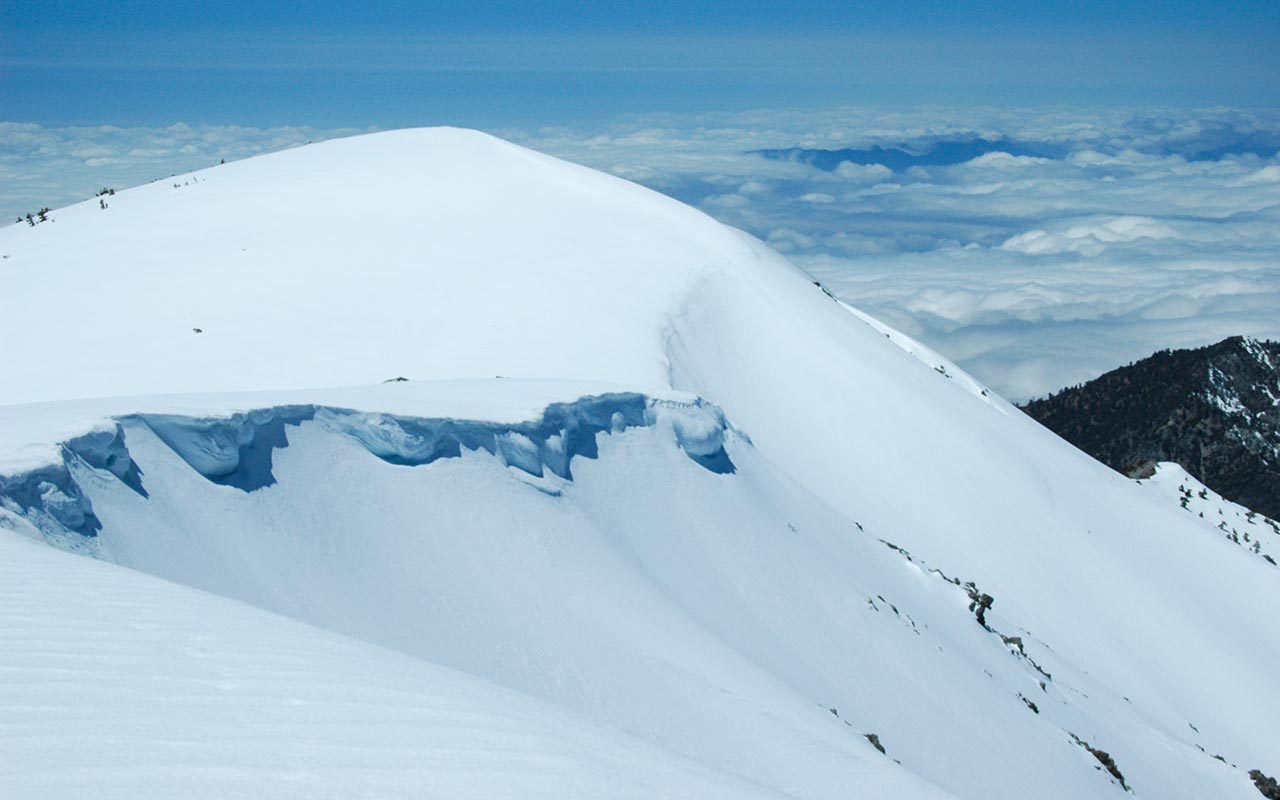 SierraDescents officially started in November 2005 (when the first post appeared), but I tend to think the site began during the 2004-2005 winter, when I was extensively climbing and skiing Mount San Antonio, and when I returned (after a long hiatus) to the Sierra.
Why 2004-2005? First of all, it was a heck of a winter, especially for the Southern California mountains, and for the Southern Sierra.
There were also a few notable personal changes. Prior to that winter, I had a lot of ambition when it came to skiing big lines (see that Whitney link again), but aside from sporadic sorties, a combination of fear and other pursuits kept me sidelined in the city of Los Angeles.
But in 2005 I got married, and that seemed to settle me in some key ways. I stopped feeling so much pressure to be what I thought other people wanted me to be, and I started feeling a lot more freedom to do what I wanted to do (a lot of credit for this, I think, has to go to my wife <3).
That said, I was still scared of the mountains. I'd grown up, really, as a sidecountry skier in Northern Arizona. We did some 'rad' things in the backcountry, but it was always lift-serviced backcountry, with other people, in non-technical terrain.
Instinctively, I understood there was a big difference between that and soloing a line on a big Sierra peak. Still, some sort of crazy spark fired in me, and I began training in the San Gabriels with the specific intent of learning the skills necessary to move on to the Sierra.
Also: the gear got better!
An evolutionary leap in the quality of touring gear was taking place, and the gear really did let us climb farther, higher, and deeper (to borrow a phrase). For me it was bright-red TM22 skis with Fritschi bindings and MegaRide boots. Plus aluminum crampons, light packs and axes.
So we had a convergence of snow, and life changes, and new gear...and technology. I was a writer. I loved to take pictures. I loved to ski. And even way-way back when I first moved to Los Angeles, during the proto-web years, I was thinking about how cool it would be to combine those things online, but the tools just weren't there.
By 2005, however, I'd purchased a Nikon D70 (one of the first consumer-friendly digital SLRs) and I was teaching myself HTML and CSS. It was suddenly possible to do things with digital media that were previously inconceivable. That summer, I reserved the domain name "sierradescents.com" and began building my dream.
So, our ten year anniversary approaches. I've been contemplating those ten years, which began with two slam-dunk winters and then a dry spell that we (oh-so-wrongly) thought was about as bad as it could get. Through it all, I kept climbing, and skiing, and writing about it.
Some sort of celebration would seem to be in order. I thought, briefly, of staging an open-invite party somewhere, but the truth is I'm kind of reclusive, especially when I'm in the city, and therefore far more likely to scowl at you than host a shindig.
I recall Andrew McLean holding a competition wherein the winner had to guess, from clues, where a pair of brand new fancy skis were hidden, and would thus get the pair of skis, which has some appeal, but knowing me I'd hide the skis up in the Bairs Creek Cirque somewhere, so maybe I'll save us both the grief of getting there and avoid that option as well.
There will be reminisces, I think, of these past ten years, over this summer, leading to the big 10 in November, but for now, let me just say the best part of creating this site has been the way it has helped me reconnect with the mountains, and in doing so meet so many wonderful, quirky, intelligent, talented, and often stinky new friends.
So, save the date: November 11. Ten years is nearly upon us!
— June 6, 2015
Andy Lewicky is the author and creator of SierraDescents
owen June 6, 2015 at 6:44 pm
keep on skiing. PS i'll try to remember november 11
Ken Herzog June 7, 2015 at 1:39 am
I've been a fan since your video of skiing Jean Peak. So much snow, just minutes from Palm Springs - INSANE! Had a few decades on my body, but was only a couple of years old as a skier. That video was (and still is) an inspiration to get out there and to pay attention to where I'm at, not just what I'm doing. Makes for a much more rewarding experience. Keep up the great work.
John Trollmann June 8, 2015 at 3:08 am
Happy Anniversary! I've been reading Sierra Descents for about a year. I returned to skiing this year after a few decades hiatus and made my first trip to Mammoth in early April, where I had the best two days of skiing in my life. Your writing, your thoughtful analysis and your reviews have been an inspiration to me to get out there, hopefully, with more adventures to come.
Jeff Steele June 8, 2015 at 4:59 pm
Happy Anniversary, Andy! This cite, along with your climbing and ski adventures got me into backcountry snowboarding about 8 years ago. It has honestly changed my life! After a brief hiatus in Florida, my wife and I moved to the Pacific Northwest and climb and splitboard, year-around, about 100 days a year! Keep up the great work!
Scott June 8, 2015 at 7:15 pm
Andy,

I got into backcountry skiing about 3 years ago and moved back to San Diego 2 years ago. First thing I did was a google search of SoCal backcountry skiing and found your blog.

Unfortunately, the past two seasons have been pitiful, but I have rock skied on Baldy, shredded amazing powder on Gorgonio, joined the Bear Mountain ski patrol, and hiked some amazing peaks in the San Gabriels, San Bernardinos, Sierras, and White Mountains.

You're an inspiration.

My goal this year is to hike all the California 14ers; I've already got Whitney, Tyndall, and White down. Langley is next (Saturday June 20 if anyone is interested). A better goal would be to ski them all - but it's June now so the skis are hibernating in the garage.

Here's to another 10 years!

Cheers,
Scott
Mark June 9, 2015 at 1:00 am
Yes indeed, 2004-5 was a great snow year in socal. I skied the ridge west of Mt Waterman 1/2/05, numerous times on Baldy including 5/7, Mt Charlton 5/1,Baden Powell 5/15,San Gorgonio 6/26, & Mammoth 7/4. Time for another one! What great memories.
Dan Conger June 9, 2015 at 7:31 pm
Congrats on the anniversary! Your trip reports inspire me to get outside and enjoy the world. Look forward to many more trip reports to come!
Brad Brown June 10, 2015 at 12:41 am
I found this site about 3 years ago based on my wondering was there anyone fool hardy enough to ski San Jacinto to the desert. Turns out there was, who knew! Ok so I'm not quite ready-for-prime-time BC skiing but still was hooked in the adventure stories you tell of. So having been on notable peaks back in the 70's including Whitney I felt compelled to get back at it. In the last few years I've added SG (via Vivian Creek), San Jacinto (Marion camp route 4400'), and Baldy (ski hut 3x, last time with West Baldy and Harwood). I got an AMS whoop ass 2 summers ago along with a 30x30 (wind x temp) beat down on Langley (current summer goal at minimum ). We're it not for my wife's illness last year probably would have been bigger (still did SG and Baldy). And I'm looking to summit all Calif 14 in the next few years despite turning 64 in July. The reigniting spark came from this site. While there's a lot of guys writing about this topic none capture the level of insight, self deprication, genuine humility to share the learning curve, and the ability to craft a story that lets you
feel the wind/pain/headaches/suffer fest/pure joy that distinguishes outdoor adventure from safer pass times. Thanks for all the stories, gear reviews, updates, and generally being the journeyman scout showing the apprentices what can be done and how to do it out there. Congrats on the pending anniversary.