Getting to Know You: Dynastar Mythic & Scarpa F1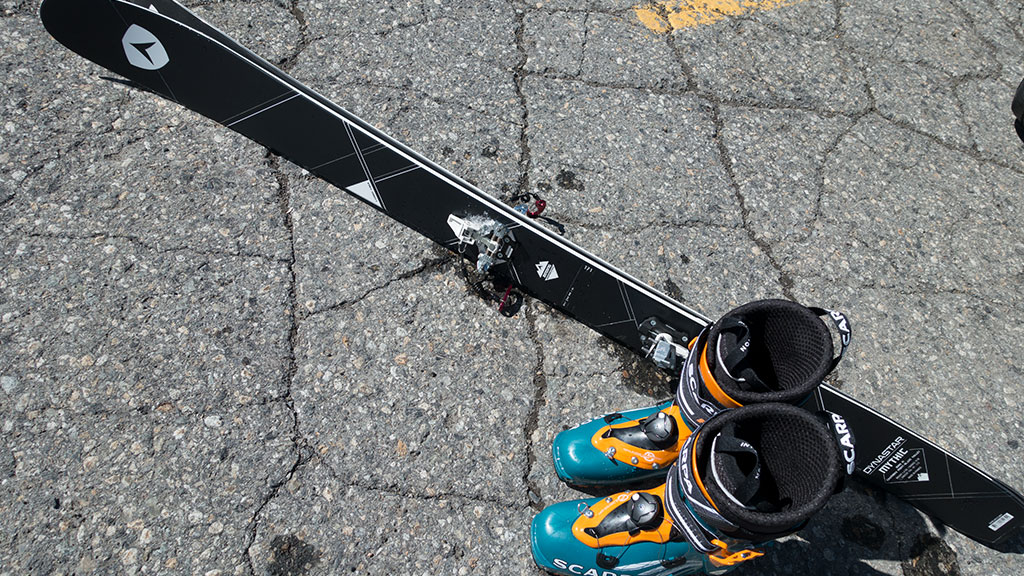 Quick thoughts here on the Dynastar Mythic and Scarpa F1. The Mythics are mine—I bought them after trying them last year at WWSRA Mammoth. The boots are next year's model, sans tronic mechanism, on loan from Scarpa.
UPDATE (5/18/16): On the F1, Scarpa has given us a boot board insert which, while not perfectly flat (ala the Salomon MTN Lab, for example), is much flatter than the usual Scarpa Hump. This allowed me to put in my custom footbeds, and with these the F1 feels MUCH better. If these boots earn my confidence, they could become one of my primary touring choices. Stay tuned...
I love the Mythic. For what it is intended to be, I think I have to call it at least a nine. This is a light ski mountaineering plank designed for technical descents. No, they're not hard snow rockets, but the edge grip is tremendous, the ride is well balanced, and the way the ski effortlessly releases from the snow when snapping steep turns across the fall line is truly magical.
The Mythic is thus achieving my highest possible level of endorsement: I liked it enough to buy it with my own money, and having bought it, I'm not feeling any remorse. Beware: this is not an Alpine ski, and heavier riders may find it too light, even in the backcountry.
The F1: light, light, very very light. I think you have to place this boot in context before you can fairly talk about it. I went straight from a morning session on my Lange RS130's to the F1, and my first thought was "Yuck!" But I stuck with them, putting probably a good 20K vertical of skiing on them, and they held their own.
I would say they meet my minimum stiffness threshold; I don't feel like I'm collapsing forward into the boot, nor overwhelming it laterally. Absolutely I would prefer more stiffness, but for a touring boot, these do get the job done.
Subjectively, I wasn't in love with the feel of the boot, but again, as I kept at them, I found myself adapting to their capabilities, and eventually making quality turns at all speeds on a variety of terrain and on different kinds of snow. Complaints?
The absence of the top buckle is a big one. With Scarpa's half-buckle, half strap design, every adjustment is basically an exercise in experimentation. You can't set to a click and know you're where you want to be. That proved to be a big annoyance. Whatever weight we're saving by dropping a real buckle, it's not worth it.
I also miss the Maestrale's instep buckle. That instep buckle is like a miracle cure for fit issues. You can lock your heel into the pocket and basically not worry about foot slop whether skiing, skinning, or hiking. The F1's boa system works, but it's clearly not as effective in locking the heel down. I worry without resorting to laces that the F1 might induce some blistering on long tours—speculation for now. Check back later to see how that goes.
Initially I thought the shin was harsh, but I realized I didn't have the liner seated properly. Be careful with these. It's very easy to pinch the liner when you buckle up, which will result in uneven pressure on your shin.
Overall: the combination of the Mythic and the F1, with Radical bindings (no brakes), is shockingly light. With our Sierra snowpack levels creeping ever higher each year, it's getting harder to reach the snow line for those Eastside descents. I got this package specifically to make it easier to lug everything up dry approaches, and so far, I'm very encouraged.
I do have a pair of the revised Maestrales (orange w/blue buckles), and I'll do some comparisons with those over the rest of the season. My sense is the Maestrale fits, climbs, and skis better, but they're quite a bit heavier. The F1, graded on a curve (for weight!) is making a pretty strong case for itself. Stay tuned...
— April 17, 2016
Andy Lewicky is the author and creator of SierraDescents
Greg R April 26, 2016 at 12:07 am
I have a pair of Dynastar Chams in the 87 size.. Once you get dialed into how these skis work they are amazing. Tremendous edge grip and great crud busting ability. Really impressed with Dynastar!