Scouting Sugarloaf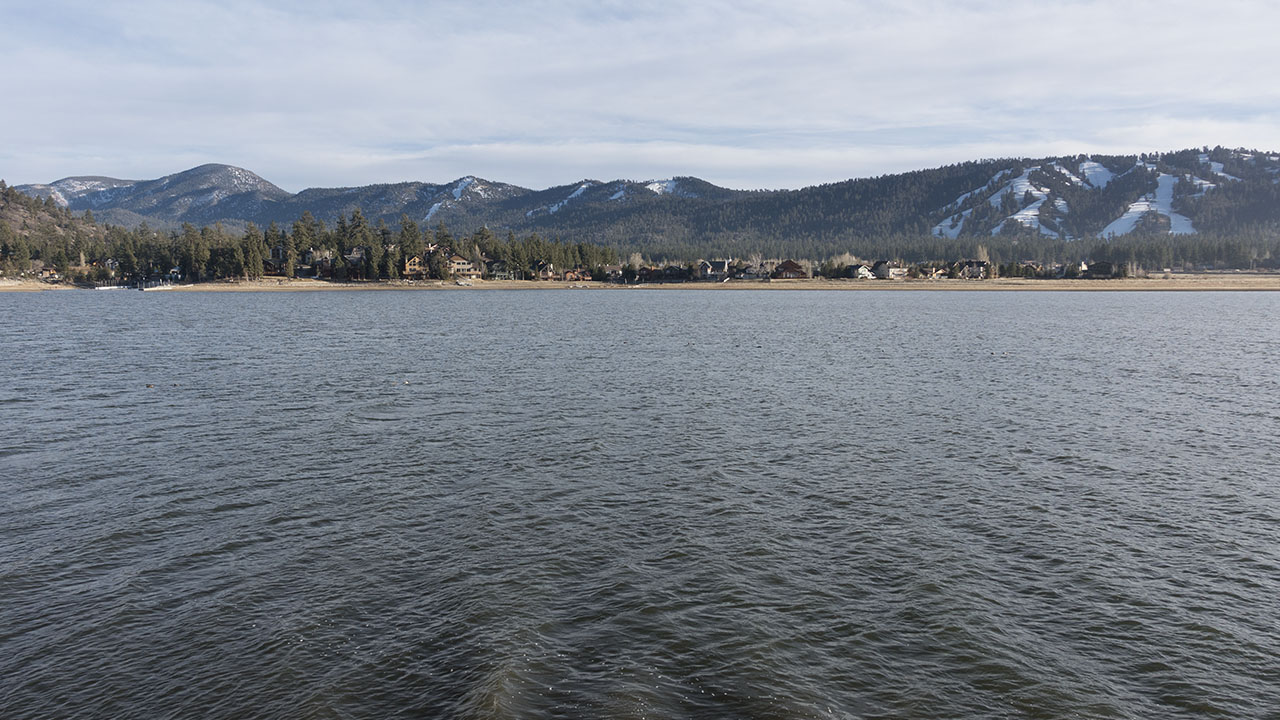 Sugarloaf Mountain is kind of a nondescript bump at the east end of the ridge that connects Snow Summit and Bear Mountain ski areas above Big Bear Lake. I'm tempted to ski it every time I'm in the area, but there's always been something else to distract me along the way.
Yesterday I drove up to try to ski it, finally, which didn't exactly go according to plan because of a suddenly flurry of little things going wrong. Ultimately, I decided I didn't have enough time to both summit and pick up the kids after school, so the kids won out and I headed home.
This is a 10,000-foot peak, believe it or not (OK—9952). Access is either slackcountry via a modest ridge from Bear Mountain's top chair, or else straight up the north face from Highway 38 (more or less).
Probably the views up there are great; Sugarloaf is easily the most prominent peak in the Big Bear area. As for skiing, I've long suspected there are good powder glades on Sugarloaf, but if they exist they're probably carefully guarded local secrets.
I'd go more for the adventure, in any case.
For those of us in the city this may be an obvious target but it's also a tough one. Not only must you drive past the San Gabriels, you must also battle the always-awful traffic up and down the 330, which will put your total round trip travel time somewhere in the Lone Pine vicinity.
Regardless, I'll try again someday. I don't know if Bear Mountain has a formal backcountry access policy, so beware of crossing ropes (and protect your Cali4ornia Pass!). Coming from the highway, you'd probably want to stay on one of the ridge lines. Those gullies look steep and loose and ratty.
— February 24, 2017
Andy Lewicky is the author and creator of SierraDescents
Brad Brown March 5, 2017 at 4:42 pm
I overhead a couple of Summit snow board instructors yesterday talking about access off of Geronimo lift from Bear yesterday so could be legit access-besides you can always blame a boarder if you get caught?! Often wondered about that peak for both BC and lift access options. It has incredible terrain off of all aspects. Having gawked at this peak for 45 years from various parts of the 10,000 ridge (San Gorgonio to San Bernardino Peak region), Summits of both local ski areas, highways 38 (both sides) and 18, and even the LAX flight path, one thing is clear-it was designed with skiers in mind. I been thinking its also a good training spot for Sierra outings when combined with the Lewicky acclimation stretegy of sleeping at 7-8,000 ft. in comfort of nearby Big Bear Lake. As I was driving home yesterday and I was struck with amazement and gratitude to live in this mass of humanity yet be able to view a lifetime of routes and peak bagging a few air miles off the 210 fwy. To barrow your phrase "lucky humans" are we who are aware.
Andy March 7, 2017 at 1:25 am
You can actually see Sugarloaf from the city once you realize what it is. I like to think of it as "The place where they should have put the chairlifts" :)
Insydmyhed Photography March 7, 2017 at 11:07 pm
I thought there used to be a ski area there. If you look at an aerial map it does seem as though it had a ski area at one time. maybe that is just my wishful thinking. I see three possible direct routs to the summit. one of which is a road. straight to the top. the other is a road that comes just short of climbing the north side of the mountain and the another road that approaches from the east ans stops near what looks like a huge open downhill into a valley .. then hike from there up to the peak and ski back down the way you came. or possibly ski straight north and walk back through the valley and up the open area to the vehicles. seems like the geranimo route is way too long and would be hours of wasted time due t the fact that ne would want to drop in on every peak you cross. I use a 3d map that blows doors on google so if you aren't seeing these things then get a better map. lol. I am a photographer that lives in crestline and I am looking in earnest for a crew that would like to have a professional tag along. I'm good for day trips right now and my rates are compulsary to the service i provide and the risks to my equipment your spot requires. I dont really factor in risk to self. I have been known to be a tad salty on occasion and Im told that only the good die young somehow I have made it through big wave surfing, motcross racing, self taught rock climbing and a marriage. I had a heart attack when I was 32 because of stress... I guess I must be a prick. lol.. the equation is easy.. you pay me .. I carry my ow crap... I eat my own food... unless you have sour gummies then all bets are off.. I hike around with you to the location you want to ski. I hang back or ascend with you and catch stills and video of your killer ski runs. I never blab about specific locations and I don't pitch a fit if we need to hang out for one more run. chances are Im taking that one with you. lol. Or I can film you decent while skiing just behind you and keeping the camera rolling. up to you. contact me through my facebook I use it for phone and text. Im ready to go.. atrip I really want to shot is in fact the north side of Baldy. I would kill to get to shoot some seriously balsy guys flying down that face. ... three hours ago! Mike Irwin _ Insydmyhed Photography 909-389-5915
Brad brown March 9, 2017 at 1:58 pm
Sugarloaf would be the new Mammoth if lift served.. Unless they ran lifts up San G...oh did I say that out loud. SP is a little too far east so less snowfall than SS or Bear, though higher , ater season in good years . Access off of Geronimo would yield an 1100' net gain but then what? Similar to north face of Baldy, any footage skied would have to regained followed by a low angled return route? Makes for a big day. Maybe best accessed from Highway 38 up north aspects for an out and back route and 2500' approx . I read TR'son a few sites last summer that describe the access point for the trail head so maybe a good starting spot? BTW Geronimo, the ski run, is really fun. Hitt that late season last year when Summit was in brown out mode. More vert and greater sustained pitch than SS chair 6 runs, though that was going off last Saturday. Also it's the highest lift served run in the Valley so it holds snow later.